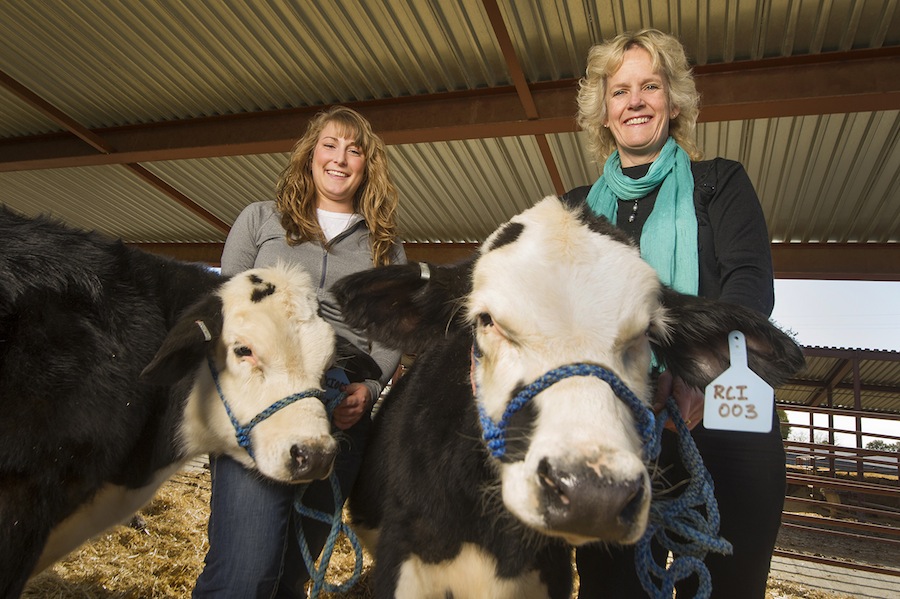 Two genetically-edited calves to not grow horns.
Two gene-edited calves arrived at UC Davis in late December 2015. Named Spotty Guy and Buri, the bulls were developed in a Minnesota lab and brought to UC Davis for further study. Unlike usual dairy cattle, these two calves were born without horns.
The calves were developed under Recombinetics, a Minnesota lab that emphasizes genetic engineering with concentrations in agriculture and biomedicine.
Using a new technology called TALENs (transcription activator-like effector nucleases), the lab carefully edited out the calves' 'horn' alleles (a gene variant) and replaced them with the 'hornless' alleles carried by beef cattle.
"Gene-editing is somewhat analogous to a word processing program where we can go in with site-directed nuclease and make very specific edits in the genome," said Alison Van Eenennaam, an animal geneticist at UC Davis. "This enables us to turn off genes or bring in variations of genes that exist within the species."
Dairy cattle, in contrast to beef cattle, develop horns that are usually removed early in a calf's lifetime in order to prevent piercing other cattle and handlers. Gene editing may save calves and their handlers from expensive and potentially dangerous dehorning procedures.
The gene-edited calves are currently being studied at UC Davis for any health problems, abnormal phenotypes and whether their future offspring will exhibit the same hornless trait.
Genetic engineering doesn't stop at UC Davis. At the University of Missouri, pig genomes are currently being edited to become resistant to diseases such as the H1N1 flu virus, commonly referred to as the swine flu.
Pablo Juan Ross, an animal science professor at UC Davis, discussed the effectiveness of gene editing.
"In general, the benefit of gene editing is that you can breed and incorporate traits characteristic to an animal in a very safe, precise and fast way," Ross said.
In contrast to standard breeding, gene editing speeds up the time an organism can acquire a specific trait.
"I think it has a great possibility of positively influencing animal collection and productivity," Ross said.
As this new technology continues to develop, scientists have their sights set on removing disease-linked genes from organisms. Scientists also hope to edit plant and crop genomes to reduce the use of pesticides and chemicals.
Taylor Peterson, a fifth-year animal science major specializing in dairy cattle and livestock, reflects on the future of gene editing.
"Gene-edited dairy cattle that don't need to be dehorned would save on process costs, calf stress, potential health risks to humans and calves and safety to all workers on the dairy farm," Peterson said.
Written by: Emma Sadlowski– campus@theaggie.org