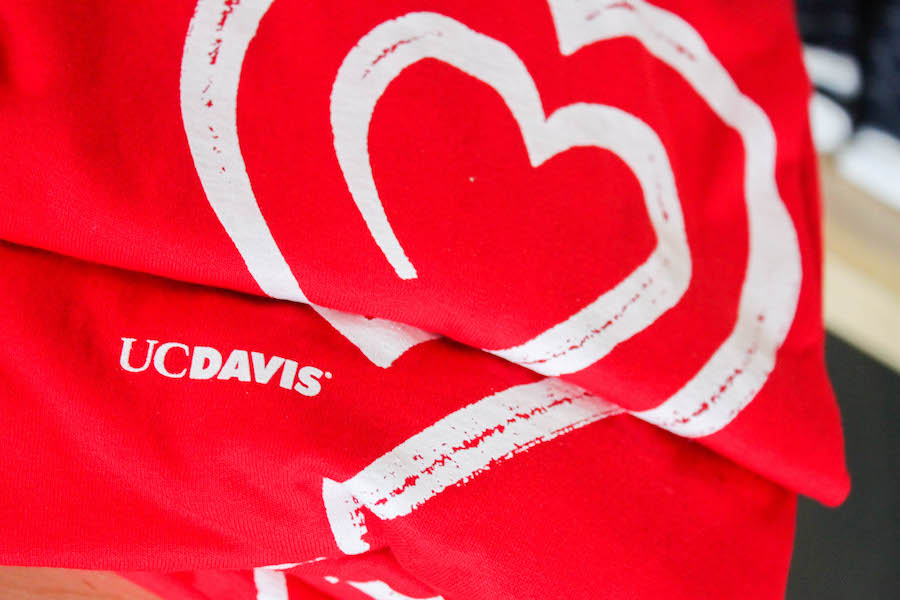 University Red Day campaign to raise awareness of heart disease, teach heart-healthy tips.
The third annual UC Davis Wears Red Day, which will be held throughout the day on Friday, Feb. 5 at Hutchison Field, will welcome all members of the UC Davis community to prove once again that UC Davis has the biggest hearts.
Chancellor Linda P.B. Katehi launched Wear Red Day back in 2014 in collaboration with cardiologist Amparo Villablanca, director of the UC Davis Women's Cardiovascular Medicine Program, as a way to promote heart health. This year, the Office of the Chancellor is hoping to raise awareness of heart disease and different ways that people can prevent it.
"Our number one goal is to make sure the UC Davis campus community (students, staff and faculty) becomes more aware that heart disease is a significant health threat in the U.S. and that they have the power to change that fact for themselves," Villablanca said in an e-mail interview. "I want UC Davis to become even more of a leader in heart-health outreach and education by engaging our campus and the broader communities we serve in heart disease prevention in ways that are appealing, fun and engaging."
This year's event, which was organized by students from Aggie Heart Association, Alpha Pi Sigma and Phi Delta Epsilon, will feature two new activities that will be free to the public. These include an interactive and anatomically correct Mega Heart Exhibit that people can walk through, as well as hands-on CPR training sessions.
Additionally, attendees of the event will have the opportunity to learn a variety of heart-health information at the Battle Heart Disease Fair, which will feature over two-dozen organizations.
The event will also feature a Zumba class and a healthy food drive to support The ASUCD Pantry. As per Red Day tradition, participants are invited to gather at Hutchison Field to help form the world's largest human heart formation — one that the Aggie Heart Association hopes will break the Guinness World Record.
UC Davis community members planning on attending UC Davis Wears Red Day can help promote the heart-health message and encourage participation in the event by wearing the "Wear Red Day" T-shirts that are currently available at all UC Davis Store locations.
"Don't forget to wear your red," Katehi said via email. "We are making a statement, as a community, for heart-health awareness."
One of the organizations hoping to make an impact on Red Day is Chicanos/Latinos in Health Education (CHE), who encourage students to attend the event in order to learn more about health.
"We hope to establish a human connection with the students who choose to attend the event and encourage them to go about the change they wish to establish in the world," Ana Skomal, CHE co-director said in an e-mail. "If you wish to enrich your UC Davis experience and overall perspective on health, I encourage you to attend."
According to Villablanca, the creation of UC Davis Wears Red Day came after Chancellor Katehi visited a Picnic Day Fashion Show.
"The chancellor had the chance to see some of the dresses on the runway of the Picnic Day Fashion Show, and she approached me about doing more to promote heart-health throughout the UC Davis community," Villablanca said. "As a result, Battle Heart Disease and UC Davis Wears Red Day were born."
In addition to creating UC Davis Wears Red Day, Villablanca and the UC Davis Women's Cardiovascular Medicine Program partnered with the department of design to create a collection of student-designed red dresses in order to help broaden heart-health outreach efforts to the student community at UC Davis.
Adele Zhang, a lecturer in the UC Davis Department of Design who has been overseeing The Red Dress project since 2009, said that this year's collection of eleven dresses will become the seventh line of dresses added to the UC Davis Red Dress Collection.
"The red dress is a national symbol for women's heart health," Zhang said in an e-mail interview. "The UCD Red Dress Collection is a wonderful example of two disciplines: design and medicine coming together to inspire one another and in turn advocate for women's cardiovascular health."
This year, Villablanca said the goal for Red Day is to make sure that the UC Davis community becomes more aware of the fact that heart disease poses a big threat in the United States, while helping students understand that they have the power to change that for themselves.
"Heart disease develops over the course of decade well before symptoms become apparent. So the earlier that healthy habits are adopted, the better," Villablanca said.
In addition, Villablanca hopes that young women at UC Davis leave the event with a greater awareness that heart disease is something that they are at risk for and that they should start taking preventative steps now.
"The UC Davis Women's Cardiovascular Medicine Program has been a leader for more than two decades in educating women that heart disease is their leading killer, and that heart disease is for the most part preventable with a heart-healthy lifestyle," Villablanca said.
To help students begin living a heart-healthy lifestyle, Villablanca put together a list of "7 Habits of Heart-Healthy Students" in collaboration with the UC Davis Student Health and Counseling Services.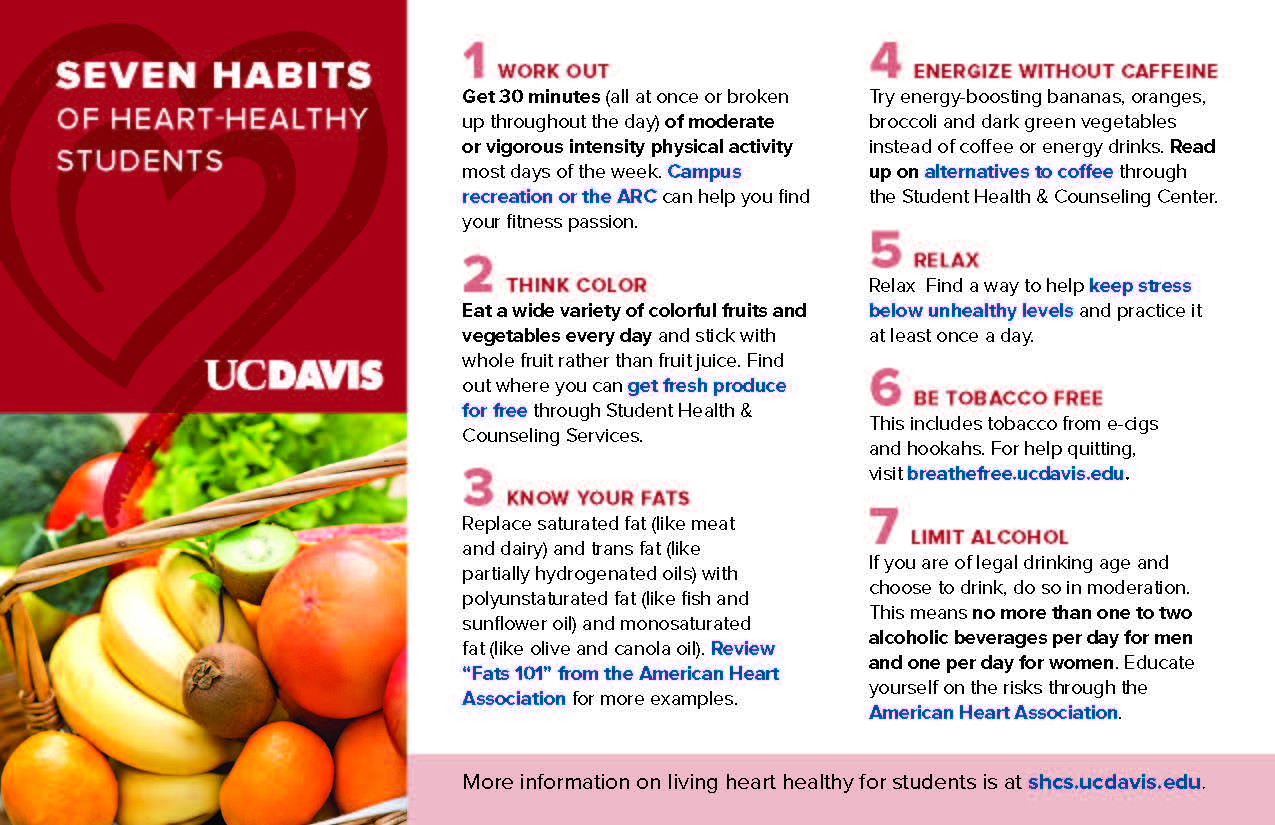 "These are very do-able," Katehi said via email. "Doing this now can help ensure your heart health in the future."
For more information and a more detailed list of events, visit UC Davis Wears Red Day's Facebook page.
Written by: JENNIFER PUZA – campus@thaaggie.org