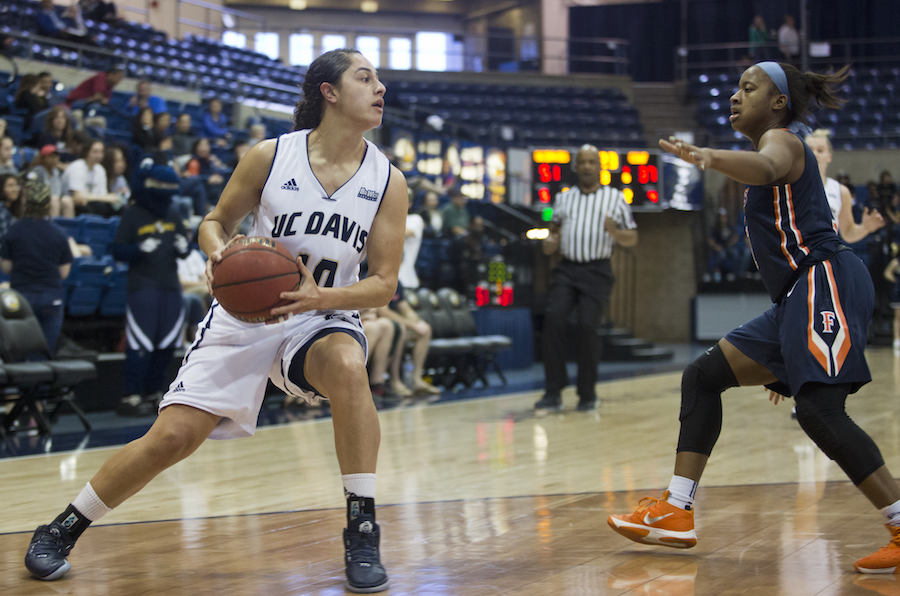 In Big West play, Aggies take on Cal State Fullerton Titans for second time this season.
The Aggies overcame a tough second quarter to beat Cal State Fullerton 80-56 on Saturday, Feb. 13, at the Pavilion, making it a Big West regular season sweep against the Titans. Sophomore guard Rachel Nagel made six three-pointers — her career-best — and tied her career high of 20 points. Senior forward Alyson Doherty's three blocks earned her the number five spot in the UC Davis annals for most blocked shots in a season.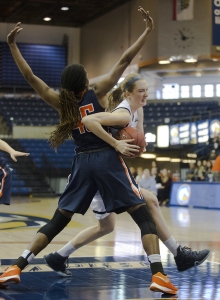 Doherty set the tone of the first quarter with a two-point layup right off the buzzer. The Aggies played aggressively, with Doherty successfully blocking passes and senior forward Celia Marfone capitalizing on the rebound. Nagel was unstoppable with her three-pointers, downing three in the span of one minute. Overall, the Aggies only let the Titans make five shots, ending the first half with a score of 20-9.
The second half was less successful. The Aggies struggled defensively and were not taking as many shots, only making 15 points while allowing the Titans to make 21. The Titans often wove between defenders with quick passes and fast breaks, which left the Aggies with little time to respond.
"[Cal State Fullerton] was taking long possessions in the first half and moving the ball around, using ten seconds or less to shoot the ball," head coach Jennifer Gross said. "I thought that our focus wasn't great towards the end of the half."
The Aggies finished the first half of the game at 35-30, hanging onto their lead thanks to two three-pointers — one from sophomore forward Pele Gianotti and one from Marfone.
In the third quarter, the Aggies returned with a vengeance, outshooting the the Titans 23 points to 10. Redshirt freshman forward Morgan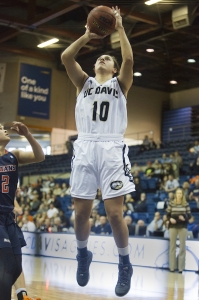 Bertsch and Doherty alternated between making assists and setting up points, allowing sophomore forward Pele Gianotti to hit three out of four shots and two out of three three-pointers. They kept the momentum through to the fourth quarter, where they outshot the Titans 22 to 16 points.
"During halftime, [Gross] gave up a pep talk saying, 'You guys just have to be more confident. You guys are great shooters and are hesitating from shooting,'" Nagel said. "Second half we came out, no hesitation, just shot it when we caught it."
With the win, the Aggies improved their record to 8-3 in the Big West Conference and moved into a tie with number two University of Hawai'i. On Thursday, Feb. 18 they will fly to Honolulu to face off against the Rainbow Wahine and then return to the Pavilion to take on the undefeated UC Riverside on Saturday, Feb. 20.
"Next week is a huge week for us. We're just focusing on staying healthy and really focusing on our game plan," Doherty said. "We've played both teams twice so really learning from the film from the first two games and then [we just need to be] making the adjustments that we need to make. And we are going to come out with tons of energy and play hard."
Written by Julia Wu – sports@theaggie.org