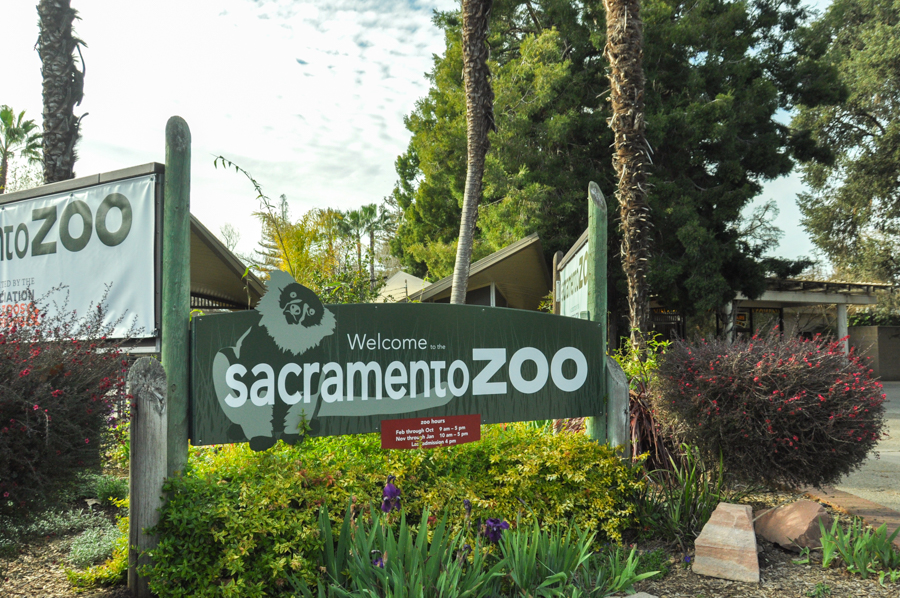 Zoo copes with loss of female tiger, killed during tragic introduction with potential mating partner
On Wednesday, Feb. 10, Baha, a 15-year-old Sumatran tiger, was killed by her mating partner, Mohan, after the two animals were placed in the same enclosure for an introduction at Sacramento Zoo.
Tonja Candelaria, the public relations coordinator at the Sacramento Zoo, emphasizes that Sacramento Zoo made sure that both tigers were used to each other before their introduction. From day one, Mohan was placed in an exhibit that bordered Baha's so they could have visual contact. In addition, the zoo rotated their exhibits so the tigers could get used to each other's scent.
Candelaria adds that the two animals were displaying normal signs of affection toward one another before their first interaction in the same enclosure. Both were making positive vocal sounds, as well as smelling each other and rubbing against one another through the mesh that separated their enclosures.
"We at the Sacramento Zoo have more than three decades of experiences introducing large cats […] All indications were very positive and fell in line with what we've seen historically and so we are not exactly sure what happened," Candelaria said.
While Baha had been at Sacramento Zoo since 2002, Mohan was only brought in from the Memphis Zoo in December 2015. He was relocated for the purpose of breeding, under the recommendation of The Association of Zoos and Aquariums (AZA), which is the largest accrediting body of zoos and aquariums in the United States.
"[The encounter was designed] to finally physically introduce them, with the potential of them producing cubs […] We are definitely looking through the process of what happened and evaluating everything to see what we can learn from this experience," Candelaria said.
The AZA has been one of the organizations at the front line of tiger conservation and monitoring due to a drastic drop in the tiger population as a result of poaching and deforestation. It has set up Species Survival Plans (SSP) for a number of threatened and endangered animals including the Sumatran tiger.
Karen Goodrowe Beck, general curator for Point Defiance Zoo and Aquarium in Tacoma, Wash. and the vice chair for the Sumatran Tiger SSP, points out that the SSPs have goals not only concerning managing the population of a species, but also about ensuring genetic diversity.
According to Beck, these targets would be made in order to obtain a certain percentage of genetic diversity in a certain population over a period of time, in order to ensure that species' long term survival. Beck adds that this was one of the reasons that the AZA recommended that Mohan transfer to the Sacramento Zoo.
"The male that was sent to them was very genetically valuable in the population and he made a good match, genetically, with the female there. He had been housed with a female where he had previously been, but [he] had not reproduced. Because he was so valuable to the population, we wanted to pair him with a female that had experience in breeding," Beck said.
With regard to the Baha's death, Beck admits that tiger introductions can be aggressive.
"They're very large carnivores, it is more rare for a lethal injury to occur. When it does, it is because of the nature of the animal and you can't really do much about it," Beck said.
The SSPs are just one of many conservation programs run by the AZA. The organization fundraises conservation efforts and also aims to raise awareness about the plight that threatened and endangered species face in the wild.
Rob Vernon, spokesperson for the AZA, says that the organization contributes over $150 million every year to support field conservation. This money helps fund anti-poaching, area management and population monitoring efforts in various organizations.
Vernon points out that it's easy to get involved in conservation by volunteering at your local zoo or giving to organizations which are involved in conservation efforts such as the Save the Tiger Fund. According to Vernon, from 2010 to 2014, the AZA's members donated $4.8 million specifically to help further fund field conservation efforts for wild tigers.
With recent reports indicating that the world's tiger population is increasing, Vernon feels that the AZA's efforts have not been in vain and have produced visible results.
"I think what we've been able to contribute has been very successful in not only helping to raise awareness but also to […] slow the poaching  efforts that are going on […] and helping to stabilize those populations in the wild," Vernon said.
Meanwhile, Sacramento Zoo is still coping with the loss of a much loved animal that has grown up there over the last 14 years.
"At this time we are not looking to replace any tigers," Candelaria said. "We are still deeply in mourning over the passing of Baha and we are working through that at the moment."
Written By: JUNO BHARDWAJ-SHAH – city@theaggie.org