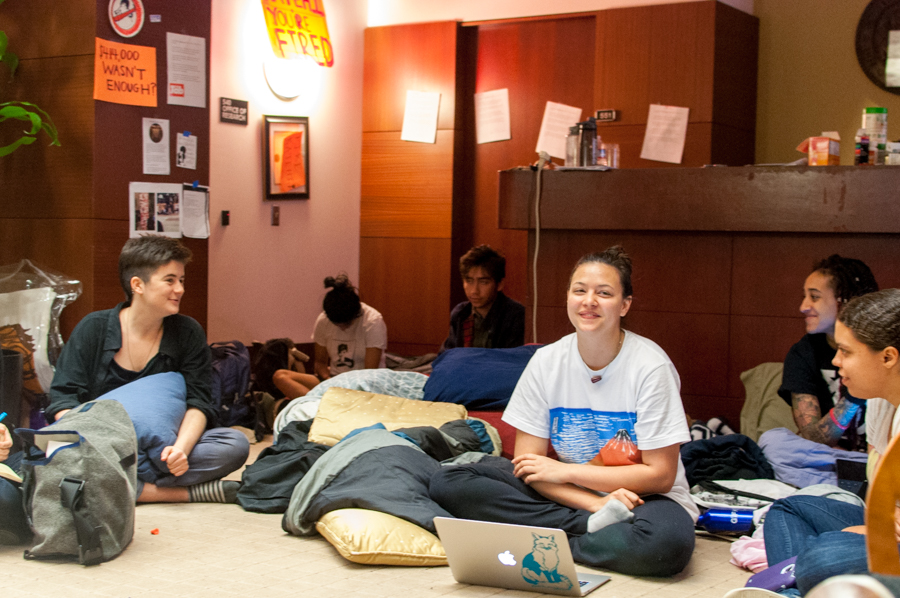 Occupiers reach day six of occupation
UC Davis students occupying the Office of the Chancellor on Mrak Hall's fifth floor have reached day six of their sit-in since beginning their occupation last Friday as part of the Fire Katehi protest.
"For the most part, the atmosphere has been really optimistic. People are really tired; it's finals week, and when we aren't talking about next steps or strategies, we are studying for our finals," said Elly Oltersdorf, a third-year history major and Mrak Hall occupier. "People have been incredibly supportive of each other both inside and outside of the space."
The occupiers, who have been rotating in and out of the chancellor's office with food and supplies brought in by supporters, posted several posters across the office walls calling for Katehi's resignation over her controversial moonlighting activities. Posters included phrases such as "$414,000 not enough?" and "Katehi. The Zodiac Killer," as well as a cut-out of the chancellor covered in resignation forms.
"People have known for a long time that the chancellor doesn't have the best intentions for students," Oltersdorf said. "The instances of moonlighting just spotlighted her corruption."
Additional issues the occupiers raised in a statement include Katehi's alleged failure to address anti-Blackness and Islamophobia on campus, as well as increasing police presence at the university.
"The type of leadership that Katehi demonstrates is just so far removed from the student voice that students lose a sense of the fact that they have a say in how this university runs and how the administration behaves," Oltersdorf said. "By taking up space, we are trying to take back that right. If students aren't given a voice, we will make our voices heard and force the administration to listen, whatever that takes. Even if that means sitting in the building they work in for one week or two weeks or three weeks. We refuse to be silent."
On Tuesday, March 15, Katehi spoke to the demonstrators after five days of their occupation. The meeting resulted in an approximate five-minute talk where Katehi remained tight-lipped on several questions, deferring to other faculty members for answers.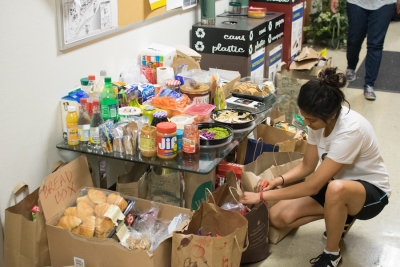 "I'm here obviously to listen to your concerns. You have a number of issues about the university and I wanted to hear your concerns about the institution. I'm here to have that conversation," Katehi replied to a question asking if she was going to resign.
The chancellor, along with several other administrators, attempted to arrange a more formal meeting with the group to voice their concerns.
"I'll tell you one thing. Of all those lists of issues you have outlined, a lot of what has said is totally incorrect and untrue. If you want to sit down and have a discussion and take each one of those, I'm willing to do that," Katehi said. "I will bring my team because these issues, I'm not the only person as a leader of this institution that makes decisions. There is a team of us that make decisions together […] I will get my team together and have a discussion with you about what is untrue about the things that you mentioned and the issues of privatization and defining it and talking about it that is happening to this institution."
According to Oltersdorf, many of the occupiers were frustrated with Katehi's short response.
"Chancellor Katehi is not in touch with the students. She has no interest in speaking to them about their concerns or making changes that students are demanding right now," Oltersdorf said. "It was honestly really frustrating for us to have been there for five days, and she couldn't stay in the room for five minutes before she made it clear that she had better things to do than speak to the students of the university."
Several university organizations have voiced their support for the occupiers in statements, including ASUCD, the Davis Faculty Association, UC Davis alumni and UAW 2865, the UC student workers union. In support of the chancellor, administrators such as UC Davis' Provost and several college deans also released a statement backing Katehi as a university leader.
Written by: Jason Pham – campus@theaggie.org