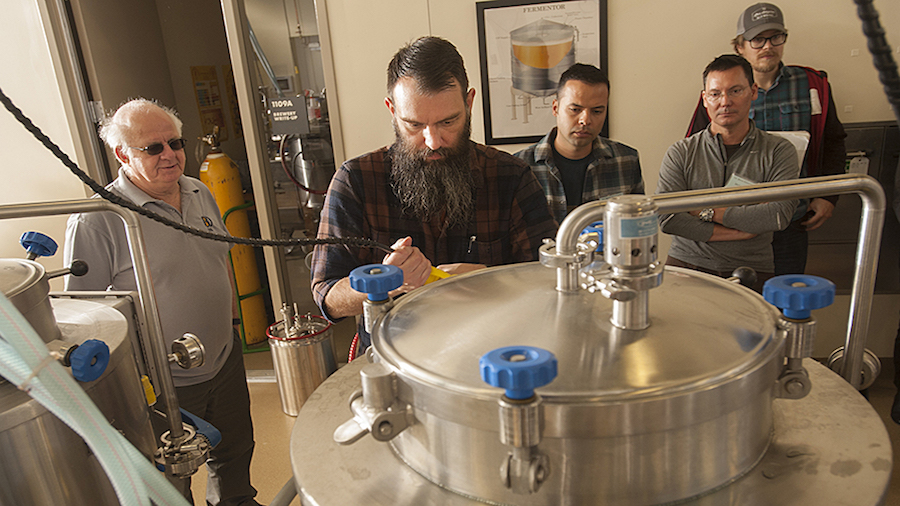 The first endowed brewer will be Joe Williams
Sierra Nevada Brewing Co. owners Ken Grossman and Katie Gonser gave $2 million to support UC Davis' brewing science program. The brewing programs at UC Davis are the only North American programs accredited by the Institute of Brewing & Distilling in London.
The individual selected as Sierra Nevada's endowed brewer will be assisting in course instruction, maintaining the campus brewery and its equipment and mentoring and leading students and teaching assistants.
The first endowed brewer will be Joe Williams, who currently serves as a staff researcher for UC Davis. He will serve as a liaison to the brewing industry for UC Davis and a host for visitors to the campus brewery.
Charlie Bamforth, a professor of food science and an Anheuser-Busch endowed professor of malting and brewing sciences, spoke highly of the Sierra Nevada position.
"We are thrilled to have received this wonderful gift from Ken Grossman and his wife Katie Gonser," Bamforth said via email. "The Sierra Nevada Brewing Company endowed brewer is at the heart of our mission. Joe Williams, the campus brewer, plays a critical role in ensuring that the students emerging through the program have a thorough understanding of the complex practicalities of making beer."
UC Davis and Sierra Nevada Brewing have a history with one another. Grossman lectures three times each year in the Introduction to Beer and Brewing course and often hosts Bamforth and his students for tours of the Sierra Nevada brewery in Chico. Bamforth is a frequent guest speaker at Sierra Nevada brewery and a close friend of Grossman.
"[The gift] reflects the close rapport that we enjoy with the Sierra Nevada Brewing Company, which is the epitome of quality in the brewing industry," Bamforth said via email. "Ken and Katie recognize that we are striving to deliver the very best people eager and ready to get into the industry."
Grossman expressed similar sentiments regarding the relationship between UC Davis and Sierra Nevada Brewing.
"I have a long relationship with UC Davis, going back to the days of starting Sierra Nevada when I'd haunt the library to read material I couldn't afford to subscribe to or was out of print," Grossman said via email. "The goal [of the endowed brewer position] is to allow the program to continue its excellent work in educating brewers who are passionate, dedicated to quality and skilled at their craft."
Serena Uppal, a third-year economics and mathematics double major, has recently become more interested in taking brewing classes due to the gift from Sierra Nevada Brewing.
"I would definitely be interested in taking a beer brewing class with this new funding," Uppal said. "I won't be just getting theoretical knowledge but also firsthand experience [in] the industry itself."
Written by: Yvonne Leong — campus@theaggie.org