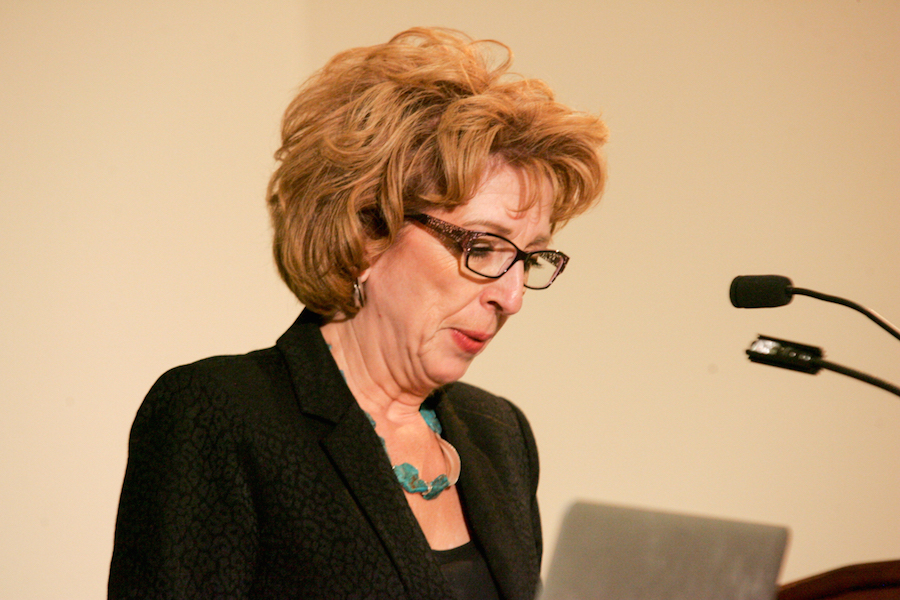 Feminist Research Institute nominates Linda Katehi for director position amid criticism
Linda P.B. Katehi, the former UC Davis chancellor, turned down a nomination this past December for a position to lead the UC Davis Feminist Research Institute (FRI).
"As I wrote to the Board of the Institute in my resignation letter, while I was honored by the nomination, I could not accept it due to the projects and related travel that I have committed myself to," Katehi said in a Facebook message. "This year I am on a sabbatical leave, the first one in my 32 years as a faculty member (usually faculty go on a sabbatical leave for a year every seven years) and I am spending this time working with the National Academies in Washington DC on two separate reports and with the Association for the Advancement of Science also in DC as the President of their Engineering Section. In addition to these activities, I am working to develop a National Think Tank that will focus on Women's Issues."
The nomination, put forth by the institute's board of directors, requested that Katehi be chosen as the new director for the FRI. Since then, many members of the UC Davis community have taken issue with the consideration of Katehi, who last August resigned after criticism of her decision to accept seats on the boards of private education companies and her spending of funds to remove negative publicity after the 2011 pepper spray incident.
Sarah Shemery, a fourth-year gender sexuality and women's studies major and deputy director of the Office of Advocacy and Student Representation (OASR), said that, while Katehi's work concerning women in STEM was admirable, her subsequent scandals were hard to ignore.
"People definitely try to argue that she's done so much for women in STEM, and I'm sure she has," Shemery said. "It's important for women and femme-identified individuals to be in those spaces because those are spaces where you really don't see a presence of people like that. At the same [time] it doesn't cancel out, one, the pepper spraying incident. She should have been fired immediately after that. That doesn't cancel out the unethical board positions. And that doesn't cancel out any of Linda's decisions that were inherently corrupt but ignored by everyone."
The FRI was established in 2015 and focuses on how gender, sexuality, race and other social structures influence the research process, according to their website.
The institute's mission statements says that the "FRI will generate transformative, paradigm-shifting linkages across disciplines by bringing feminist ethics and methodologies to bear on the basic sciences, social sciences, humanities, health sciences, engineering, law, economics and agriculture and environmental science."
In an interview with the Davis Enterprise, Katehi noted that she had not known about the nomination until after it had been submitted. While she is supportive of the institute, she told the Davis Enterprise that she is "working on a think tank for women on a national level."
Shaitaj Dhaliwal, a third-year international relations major and ASUCD senator, believes that feminism should be an inclusive movement.
"Katehi was a strong advocate for women's needs and resources, particular for STEM fields," said Dhaliwal in an e-mail interview. "She was successful considering UC Davis was most recently named the best university for women in STEM. However, being a leader on campus and advocating for women's equality and respect, while simultaneously engaging in false practices as chancellor, sets us further back."
Dhaliwal said that women of color and transgender individuals deserve an equal level of advocacy and that there is more work to be done to make feminism inclusive for all women.
Since the beginning of the 2016-17 school year, Katehi has continued to receive her chancellor's salary of $424,360. Next year she will return to the university as an engineering professor.
"The topics of feminism in education and research and feminist research are important and require discussion and constructive debate," Katehi said. "My views on these issues, informed by my education in engineering and my experience as a female engineer, faculty member and university administration, are broad and inclusive and are demanding the presence of an intellectual space which is progressive and innovative; progressive as defined by its ability to recognize systemic problems, and innovative as defined by its willingness to accept creative ideas and adopt unique methodologies from a broad spectrum of possible solutions."
Meanwhile, Shemery stressed the need for intersectionality in feminism on campus.
"[A goal] that is inclusive, absolutely," Shemery said. "One that kind of goes beyond […] white feminism and that really gives a platform to people of identities that really need it, people […] that are more marginalized and are more vulnerable on this campus. Those voices need to be heard, and yet they're not."
For Dhaliwal, her hope for women in education includes a need for encouragement and equal treatment.
"Women need to be empowered at a young age to pursue certain fields that are male-dominated," Dhaliwal said. "Women should then go on to earn an equal pay and have equal job prospects as men. We cannot expect women to pursue fields that they won't be respected in."
Written by: Ivan Valenzuela — campus@theaggie.org