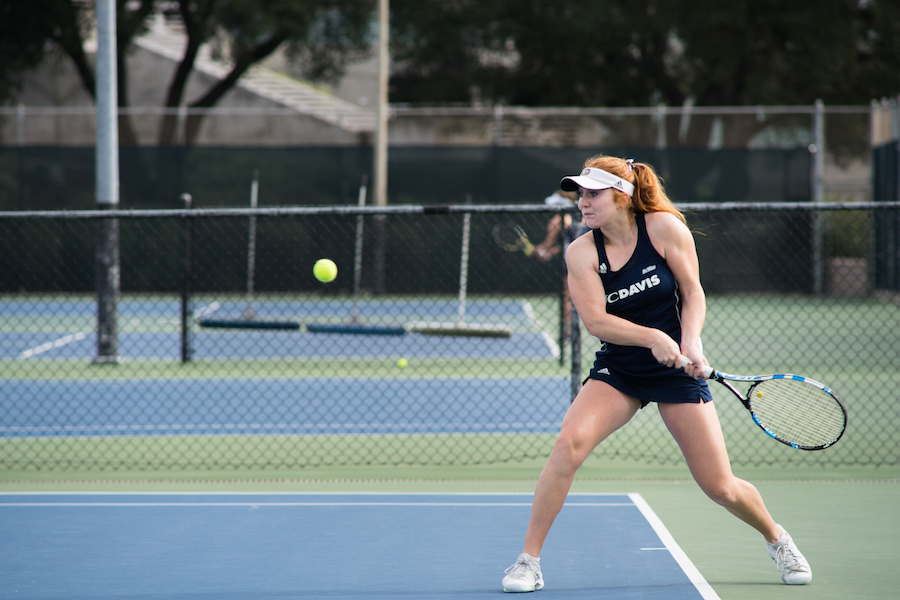 The Aggies swept Stanislaus, Sonoma, in weekend doubleheader
Under testy weather conditions, the UC Davis women's tennis team came into Sunday's match looking to gain momentum before its second road trip. Riding a two-game winning streak, the Aggies readied themselves for their first and only doubleheader of the season. Despite a good effort from both of their opponents, the Aggies swept Stanislaus and Sonoma State 4-0 and 7-0, respectively, improving to 5-1 on the year.
To start the morning, the Aggies faced the CSU Stanislaus Warriors.
Stanislaus did not field a sixth singles player or third doubles team. Due to this, the doubles team of freshman Nikita Pradeep and senior Samantha Martino was forced to watch from afar. With sophomore Kelsie Bryant and junior Kristy Jorgensen winning their doubles matchup, 6-1, the Aggies took the doubles point and the 1-0 lead.
From there, it was all UC Davis. Stanislaus was missing a singles player as well, so senior Kamila Kecki won her match by default to give the Ags the 2-0 lead. Martino then dominated her match in a two-match 6-0 sweep followed by Pradeep posting a 6-0, 6-1 win to solidify the Aggies' first victory of the day.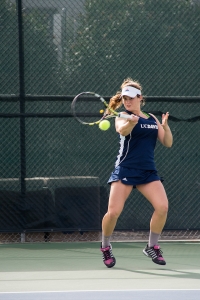 In the second match against Sonoma State, the Aggies relished the opportunity to utilize the players who had sat out. UC Davis took all six of the singles matchups and all three of the doubles matches to sweep the day.
   In light of the doubleheader, head coach Bill Maze indicated that although his players' preparation for the two games doesn't drastically change, mental toughness is key.
"Mentally as a player you just have to be prepared to play two [matches]," Maze said.
Pradeep continued to play strong by posting scores of 6-0 and 6-1 against Stanislaus State and 6-0, 6-0 against Sonoma State. The freshman has had a scintillating start to the season as she continued to build upon her wins at Sacramento State and San Francisco from the previous weekend.
Maze referenced performances such as Pradeep's when discussing his excitement for the team's future.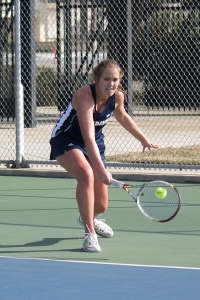 "It's going to be a good year because [this team] is talented and strong," Maze said.
Looking forward to his team's upcoming road trip, Maze felt that the two wins prepared his team.
"Whenever you win a couple matches in a day it just helps," Maze said. "By winning a couple matches I just think [the team's] going to be a little more confident going into Hawai'i."
The Aggies will look to utilize their continued momentum and confidence as they head to Honolulu, Hawai'i for matches against Chaminade and University of Hawai'i.
Written by: Nicolette Sarmiento and Rowan O'Connell-Gates —  sports@theaggie.org