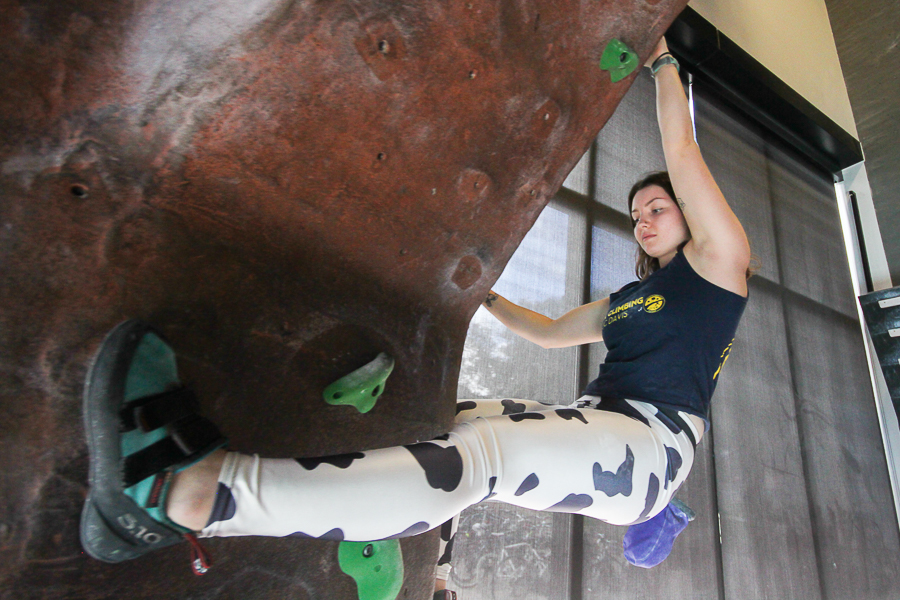 The Rock Climbing Club is one of the more recent additions to the clubs on campus, after a group of students decided to bring the rock climbing community back to Davis. Jonathan Hopkins, a second-year computer science and engineering and cinema and digital media double major, spearheaded its resurgence.
"When I started going to school here I came into contact with a former member of the club as well as an alumni who gave me a lot of club advice," Hopkins said.
Hopkins, the president of the organization, wasn't alone in the process for getting the club started. The summer before attending UC Davis, he had reached out to other rock climbing devotees, including Amanda Milici, a second-year environmental science and management major, and Emily Nguyen, a second-year French and neurobiology, physiology and behavior double major, over Facebook. Together, they came up with a collaborative plan to bring the rock climbing community back to campus. It wouldn't be until the start of the following Winter Quarter in 2016, the start of competition season, that they would decide to seek official club status.
The club is part of the Northern California Region Collegiate Climbing Series, which allows them to compete with other colleges in the region.
Milici, the events coordinator for the Rock Climbing Club, explained that during winter competition, events are held on indoor rock walls. The walls are short enough for climbers to go without the use of a rope and the floors are padded in case of a fall.
According to Milici, the competition atmosphere tends to be laid back.
"Everyone just climbs together," Milici said. "All of the other schools cheer each other on, and you never really feel like you're competing."
Members of the club enjoy the closeness and camaraderie of the rock climbing community within their tightknit group. That feeling of togetherness extends to competitions at other schools where hospitality is the norm.
"Just over a year ago we went to our Stanford University competition with just five members," Hopkins said. "Watching other local colleges with teams of 15 to 20 was intimidating, but the collegiate climbing community is incredibly welcoming and encourages such a positive atmosphere, and we ended up having a great experience."
Hopkins went on to say that at its following meet at Sacramento State in March of 2016, the UC Davis club had over twice as many members. It now has about 30 regular members.
"I hope to continue to establish our community among climbers at Davis so that we could continue to help connect people," Hopkins said.
Ann Grotjahn, a second-year wildlife, fish and conservation biology major, joined the club in Fall Quarter of 2016.
"I have had such a positive experience so far, everyone has been so welcoming and encouraging," Grotjahn said. "What I really love about this club is that whether you are serious about climbing or just want some people to climb with on weekends, there is something for everyone and everyone is welcome!"
The rock climbing club is still fairly new, but will continue to grow with a steady influx of both beginning and experienced climbers. Those interested in getting involved can visit the Davis Climbing Facebook page to find updates and information on the team. Another Facebook group called Davis Climbing Club is a forum in which people can post to arrange climbing meetups; those interested can directly message the page or contact one of the officers.
Written by: David Flores — sports@theaggie.org