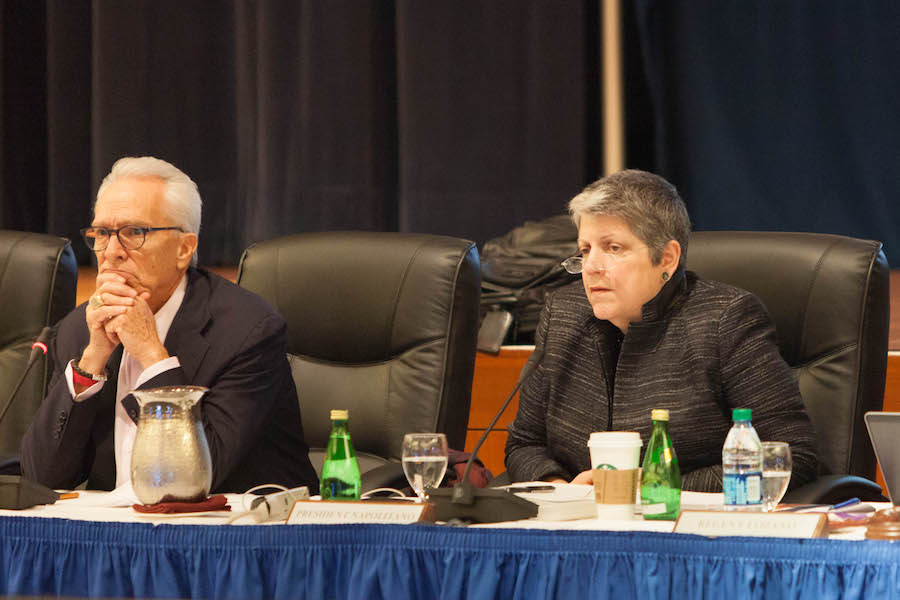 Petition demands sweeping reforms at UCs
Student groups are calling for the resignation of the University of California (UC) President Janet Napolitano in response to the recent UC audit revealing $175 million hidden in UC reserves.
According to the audit, the Office of the President (UCOP) "has amassed substantial reserve funds, used misleading budgeting practices, provided its employees with generous salaries and atypical benefits and failed to satisfactorily justify its spending on systemwide initiatives."
The audit report also accuses the UCOP of deliberately interfering with the auditing process. Among the deceitful actions of the UCOP was its inability to come forward with a complete list of UC systemwide initiatives, costs and their benefits to campuses.
Students and California lawmakers alike are demanding immediate remedial action from the UCOP.
California Assembly Speaker Anthony Rendon and Lt. Governor Gavin Newsom, who is running for governor, have demanded that the UC system reverse recent tuition hikes.
"While we believe we did things appropriately, it is clear in retrospect that we could have handled this better," Napolitano said during a legislative hearing. "I am sorry that we did it this way, because it has created the wrong impression and detracted from the important fact  that we accept the recommendations in the audit report."
UC students are calling for more drastic consequences for Napolitano's mismanagement of funds. Students have organized a petition online calling for the rollback, redistribution and restructuring of the UC system as well as for Napolitano to personally take responsibility for her failure to work as an advocate of UC students.
"I think Napolitano's actions are atrocious and have proven to the UC student body that once again, UCOP severely mismanages their money and unjustly asks for tuition increases," said Daniel Nagey, a second-year managerial economics and psychology major, the legislative director for the Office of Advocacy and Student Representation and an ASUCD senator, in an email interview.
The petition demands that the tuition hike be rolled back. Furthermore, students demand the UC's begin paying livable wages to students and workers, lower class sizes and build more affordable on-campus housing.
Students are calling for Napolitano's resignations among other reforms across UC campuses.
"We believe that the administration is incapable of holding itself accountable," the petition states. "Unfortunately when students try to hold it accountable, the administration has a history of repressing student activists including but not limited to: beating them with batons(15), pepper spraying them(16), drawing loaded guns on unarmed peaceful students(17), and pressing trumped up charges on them(18)."
To address this apparent disregard for student voices in the offices supposedly dedicated to representing students' interests, the petition demands an increase in the number of student regents, an addition of union representatives to the board or the abolition of the regent system entirely in favor of a more democratic system of governance.
Written by: Ally Russell — campus@theaggie.org