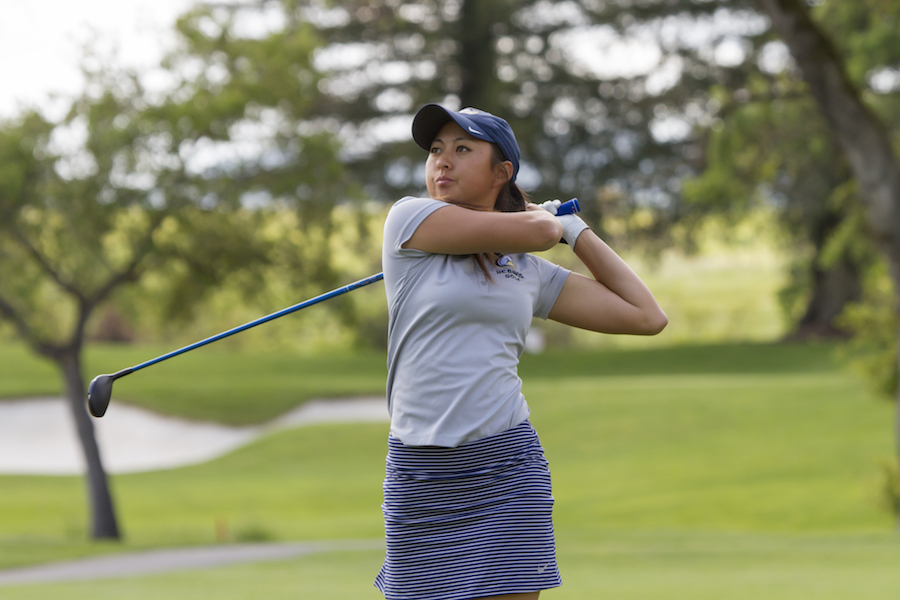 Decorated star graduates from UC Davis with impressive past, bright future
Paige Lee's UC Davis women's golf career ended on May 10 the same way it had begun: with success and consistency. The senior psychology major from Folsom, Calif., qualified for her fourth NCAA regionals tournament and posted a solid three-round total of 226. Consecutive regionals qualifications would be career-defining for most golfers, but for Lee, it only begins to scratch the surface.
Lee began golfing at the age of three. Upon moving from San Jose to Folsom in 2004, she began to participate in junior tournaments. During her time at Granite Bay High School she took on prodigal status, and at the age of 16, Lee qualified for the U.S. Women's Amateur Championships and was featured in her local newspaper, The Folsom Telegraph.
"There was a lot of practice that went into my whole junior and college career," Lee said. "A lot of hard work, but it was really enjoyable too."
After a stellar career at Granite Bay High School that included four All-City selections and participation in three state championships, Lee committed to the UC Davis women's golf team.
"I took a visit here and I loved it, I loved the environment, really loved the community that Davis is," Lee said. "I committed verbally the summer between my junior and senior year."
Upon arriving at UC Davis, Lee found a mentor in Andrea Wong. Wong, another UC Davis women's golf standout, graduated this past year and plays professionally on the European Ladies Tour. In her spare time, she serves as a volunteer assistant coach for the UC Davis women's golf team.
"One of her definite strengths is practice," Lee said. "She has a really good work ethic and I think seeing that and having her on the team and kind of being a role model in that way was really helpful for me."
Lee was stellar during her freshman year, churning out one of the best first years in UC Davis women's golf history. Lee finished second on the team, scoring an average of 75.1. Additionally, she posted five top-10 finishes that year and was honored as an All-Big West first team member. But Lee's crowning achievement came with her qualification for the 2014 U.S. Women's Open.
"It was so cool to have an opportunity to participate in the Open, and I actually had a really good first round," Lee said. "I got to play a practice round with Inbee Park and Jenny Shin, and Inbee Park at that time was definitely top three [in the world]. It was really cool to just play with her and be on the golf course playing with her side-by-side."
In her sophomore campaign, Lee solidified her status as the best golfer in the Big West Conference. She earned All-Big West first team honors for the second straight year and won her first collegiate tournament, the Peg Barnard Invitational. Lee also led the team in scoring average at 73.2 and posted a third place finish in the Big West Championships. These performances earned her the undisputed honor of Big West Player of the Year as well as an All American Honorable Mention.
"Paige is a really good athlete," said UC Davis women's golf head coach Anna Temple. "She works really hard and knows how to get the ball in the hole, and those things are great for golf."
Lee continued her steady success during her junior and senior years, once again earning an All-Big West first team selection in both years and qualifying as an individual for the first two NCAA regionals of her career. After Wong's graduation in 2016, Lee took on an increased leadership role this past season as the only senior on a team with three freshmen.
"She knows how to balance [athletics and academics] and she does that well," Temple said. "I think she was ready for that position and I think she did a good job there."
With her college career on the books, Lee attributes her success to many individuals from her amateur and collegiate years, but one in particular stands out: Noah Montgomery, Lee's swing coach since high school.
"He has been a pivotal part of my high school and collegiate career," Lee said. "He has been my biggest supporter and life mentor and I owe my success to his coaching."
After graduation, Lee hopes to follow in the footsteps of past Aggie greats Demi Runas and Wong by turning professional, but she hasn't ruled out the possibility of a coaching role.
"I want to pursue playing golf first and kind of see where that takes me," Lee said. "But maybe later in my career I would love to come back and be a collegiate coach, kind of get back to the game, I think that's such a big part because I've been invested in golf for over 12 years."
The accolades are astounding, the leadership is lasting and most of all, Lee's future is very bright. While one chapter has closed, another exciting page is waiting to be written.
Written by: Rowan O'Connell-Gates — sports@theaggie.org