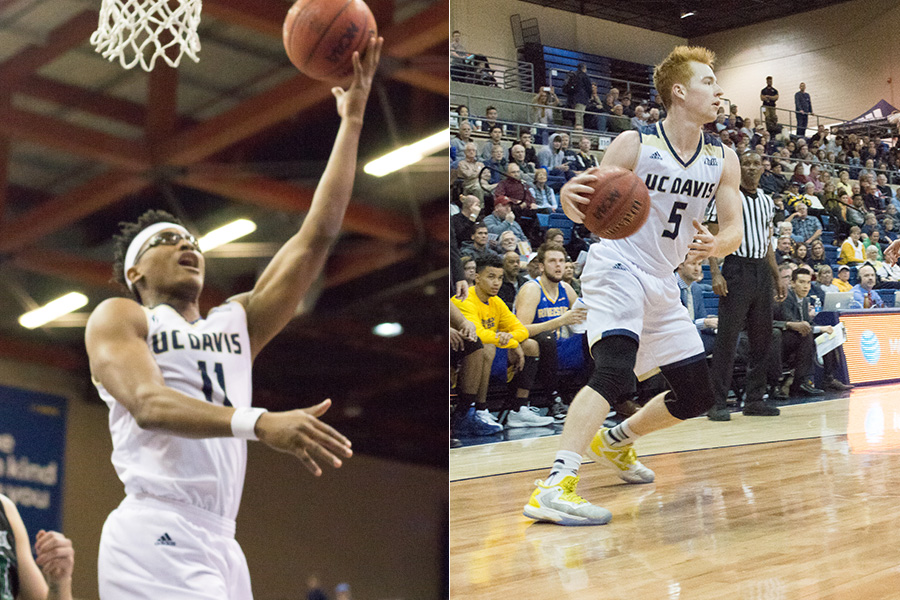 Team has high hopes going into season
For members of the basketball team, November is a special month. For some, like first-year guard TJ Shorts and his fellow newcomers, it is the beginning of a new journey as competitive basketball players. For returning players like senior forward Chima Moneke, it is a chance for the team to build off of the most successful season of basketball in UC Davis history. For head coach Jim Les, it's a culmination of an offseason that is filled with hard work, practice and building together the foundation of a new team.

"When you love basketball you love the fall because basketball season's right around the corner," Les said. "We're excited to compete, and I think as a staff our challenge each year is to, you know, get this group of guys cohesive, get them playing hard and playing well together so they can have some fun."

The offseason is not a vacation for the players and the coaches; it is simply preparation for the following season. Les and his staff immediately take this time to recruit and keep returning players — like Moneke, who spent part of the offseason rehabbing from a minor injury — ready for the upcoming year. Even new players such as Shorts have to start working toward the season months before they reach the court in Davis.
"As a new player, that probably starts right as you commit and start getting your mind ready to start coming out to a Division I program," Shorts said. "Once you get here, [you're] getting your body right and getting your mind right for all the adversity you're going to face, and then from there just being able to persevere through it."

With eight new players, the changes can be jarring, but Les, turning to returning leaders like Moneke, junior forward Garrison Goode and junior guard Siler Schneider, is working to maintain the team's success. With new players, there come new opportunities to improve and build off of the foundation which was set not only by those who are returning, but also by their former teammates who have since moved on. With every new year there are people leaving and people coming, and it is up to the coaches and the veterans to help make this transition go as smoothly as it can.
As a senior, Moneke is taking his leadership role very seriously, taking the younger players under his wing and making sure that they understand that the path to success can be a process.
"We're not going to win the season in October, November, or even December," Moneke said. "We've just got to build habits that will help us come March, because being in a one-bid league, you have to win those three games to go back dancing, regardless of what you do during the season, so it's a marathon, and we've just got to get better every day. No steps back."

Basketball is a yearlong commitment for these players, and if they want to compete at a higher level than last year's team, the Aggies will need to learn to play with a target on their backs which they may not yet be used to. According to Les, how this team reacts to that new pressure will prove its worth come season's end.
"People aren't looking past us," Les said. "They're going to give us their best effort and their best game. And that's new for us. To be the hunted rather than the hunter and that's a whole level of response that we need to work on and make sure we have as we start the season."

With the ultimate goal being another appearance in the NCAA tournament, Moneke and Les think that the team acquired some valuable talent to build off of. Les and Moneke praised the possibilities of the newfound Aggie depth.

"I think we're deeper than last year," Moneke said. "I think we can go 9-10 deep when we're playing during the season and when conference comes. It's a younger team overall, but I think we have just as much talent, if not more."

All in all, as the offseason comes to an end and the new season is set to start, everyone wants to get out there on the court and begin their next chapter. Les sees the season's start as a culmination of all the hard work that his staff and his players have put in over the last few months, and he's beginning to see his the benefits of all the off season's work.
"Probably on paper this team we have this year is more talented," Les said. "But, last year's team — they were just very connected and they were very bought in, especially on the defensive end of the floor. So if we can take this talented group and get them to really get connected with each other and buy into their impact that they can have on the defensive end of the floor and have that mindset, that they have a chance to be in the hunt for another Big West title."

The players are ready to take the court. The scrimmages have been valuable, but Moneke and Shorts both stated that nothing beats the lights of competition. For Moneke, it is that moment, face-to-face with another team, when all of their hard work pays off and they know that the season's upon them.

"I'm ready to go," Moneke said. "We've been playing against each other for a while, so it's at this point you get anxious to play against someone else. I'm ready to see how we're going to look against other teams. So I can't wait."

Shorts has it marked on his calendar, ready to begin his first official competition with his Aggie teammates.

"I can't wait. Nov. 7 is coming around quick, and from there I believe Nov. 13, so I'm just ready to go. Ready to start playing. It should be fun."

The Nov. 7 game against Bethesda will be at 7 p.m. at the ARC pavilion before the team travels to Northern Colorado for its first away game.
Written by: Bradley Geiser — sports@theaggie.org