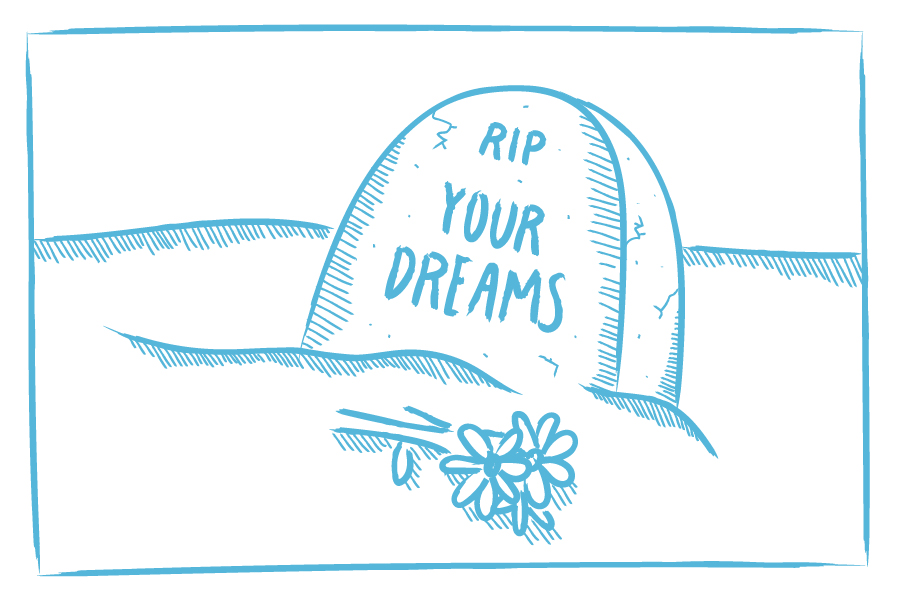 Welcome to the wasteland
"I often find myself wanting to die, and it's not even the crushing depression — it's the UC Davis environment," said optimistic nihilist Drew Hanson in the third person. When asked what specifically it was about the environment, Hanson said, "To quote the Bret Easton Ellis book 'American Psycho,' 'I feel like shit but look great.' That is the essence of this place."
Other students feel the same way, but what's more promising is that they feel something at all. I met with Katherine Weaver, a second-year gender studies major, at an early Sunday service.
"With films like 'Mad Max,' those maniacs on the road know what they're doing," Weaver said. "They're out to mess you up. At Davis, the road maniacs, mostly on bicycles with some on foot, aren't even aware that they're assholes. They're just oblivious and inept ignoramuses. I wish they would recognize how terrible they are because then I would feel more comfortable hating them."
Studies have revealed that many students aren't actually individuals, but are instead a split combination of their parents, who were in turn combinations of their parents. This has led many students to existential crises, as they found that they are vacuous and devoid of interesting qualities.
"I'm having an existential crisis," first-year Christian Romero said. "The worst part is that I don't even know what those words mean, but I'm sure I'm having it."
Some students have learned more about themselves than about the courses they're taking.
"I finally came to the realization that my dreams and aspirations of becoming a doctor or lawyer were not mine at all and had been planted in my mind since childhood. I'm trying to reconnect with who I truly am," said Roy Batty, who was found dissecting squirrels on the quad. "Oh, I don't even go to school here."
"I think the main problem is that we're so terrible at everything outside of academics," said Richard Hicks, a second-year geology major. "We have no enemies or rival schools, so we resort to self-loathing the enemy within. Our only academic rival is Berkeley, but after Trump rolls out some more anti-communist executive orders I think we'll end up as number one."
A common thought is that UC Davis is the home of UC Berkeley rejects. This holds true for some, such as Chad Tucker, who transferred to Davis from a Stockton community college after being rejected by Berkeley.
"As a 34-year-old, I have been through a lot," Tucker said through jail bars at the Yolo County Detention Center. "I'm hypercompetitive and at times I can be pretty cutthroat. That's why I felt like Berkeley would be the right place for me. Instead, I ended up at Davis where the most brutal crime is bike theft or ass-slapping. Those were my childhood activities."
Tucker ripped a column from a bloodstained paper copy of The Daily Californian, showing us a headline that read, "UC Berkeley student poisons city water supply to get ahead in class."
"I wish Davis were like that," Tucker said.
"I like to email myself death threats to make it feel like people read my columns," said Drew Hanson in the third person. "It's a disappointment to only hear compliments and praise. I'm much more masochistic than that."
Some students are regretful of their decision to go to UC Davis.
"I wish I had attached more money to my college application," said John Dong-Chandler, who mysteriously transferred from Berkeley to Davis. "My father works for British Petroleum and wants me to follow in his footsteps, but I don't think it'll happen with a UC Davis degree. This school is too environmentally conscious, and the water in Davis is already poisonous, so there's nothing I could add to it."
Chancellor Gary May commented on this campus issue, saying, "From what I have found in the vault, it seems that UC Davis was designed after Canada early on, being all friendly and stuff. Then they needed to make the campus much more hostile, so they filled the buildings with asbestos, built Cuarto as part of an inside joke (outside, really) and found foreign war criminals to fill the executive positions."
Written by: Drew Hanson — andhanson@ucdavis.edu
(This article is humor and/or satire, and its content is purely fictional. The story and the names of "sources" are fictionalized.)