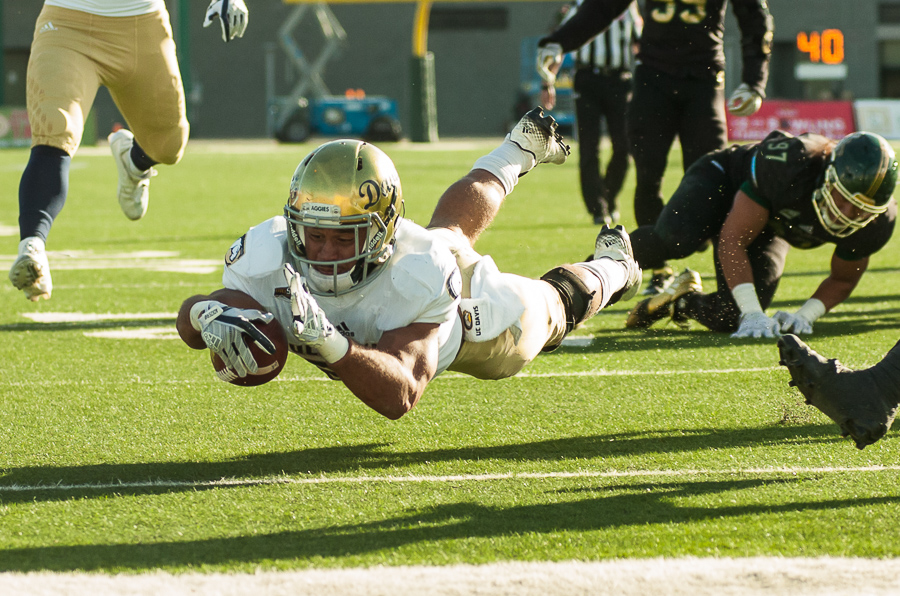 UC Davis football nearly overcomes large deficit, loses final game to Sac State
For its final game of the season, the UC Davis football team suffered defeat at the hands of cross-town rival Sacramento State in a thrilling 64th Causeway Classic. The Nov. 18 contest was a 60-minute offensive showcase between the Aggies' prolific passing attack and Hornets' punishing run game. The teams combined for a total of 1,250 yards of offense and 99 points. Twice facing a 31-point deficit over the course of the afternoon, the Aggies scored the game's final 26 points before watching the clock run out on them, falling to the resilient Hornets by a score of 52-47.
Going into the game, the Aggies had defeated the Hornets in each of the previous two meetings between the programs. Determined to rewrite recent history, Sac State played inspired from the outset, energized by the Hornet Stadium crowd that celebrated the team's seniors before kickoff. With a 6-4 record, Sac State also recognized that a win over UC Davis would help the team's chances of securing a spot in the postseason.
The Hornets found the endzone on each of their first two drives, twice gashing the UC Davis defense for scoring plays of over 20 yards. Finding themselves behind by two touchdowns just half a quarter in, the Aggie offense responded with an eight-play, 79-yard scoring drive sparked by big receptions from junior receiver Keelan Doss and junior running back Namane Modise. Once inside the redzone, UC Davis called on its senior running back, Justin Williams, who broke free from several tacklers and stumbled his way into the endzone, stretching across the goal line before going down.
A Sac State field goal then extended the Hornet's lead to 10 going into the second frame. After UC Davis failed to convert on a fourth-and-one situation in Hornet territory, Sac State capitalized on the Aggie turnover by scoring on a 42-yard run just four plays later. On their next drive, the Aggies responded with some ground attack of their own. Modise broke off a 48-yard rush down the Hornet sideline to set up a three-yard TD run by his fellow running back, Williams, three plays after. With 8:20 left in the first half, UC Davis was very much still in the game, trailing 24-14.
The contest did not yet tip in the Aggies favor, however, as the Hornet offense exploded for another two touchdowns before the break. A few drives later, Sac State quarterback Kevin Thomson threw his third touchdown pass of the afternoon –– a 53-yard bomb on a seam route to senior receiver Andre Lindsey. Thomson and the Hornet offense got the ball right back again after UC Davis turned the ball over on downs for the second time. This time Thomson used his legs to find the endzone, scrambling for an eight-yard score to put Sac State on top 38-14 at the half.
The second half did not begin much better for the Aggies. Sac State began right where it left off, scoring on a six-play drive to open the third quarter. Trailing by a daunting 31 points, UC Davis responded with a seven-play drive that was capped by sophomore quarterback Jake Maier, who rolled off a play-action fake and completed a quick pass to junior running back Ethan Hicks. But before Maier recorded his first touchdown pass of the game, the drive was sparked by three straight completions to Doss –– the first of which sent Doss into the record books as the UC Davis single-season receiving yards leader. He would finish the game with a game-high 13 catches for 173 yards, contributing to his season totals of 1,499 yards on 115 receptions (also a UC Davis single-season record).
"UC Davis has great receivers –– legend receivers," Doss said. "I'm really honored to be a part of that group. It probably hasn't hit me yet […] but I'm just glad to be a part of that group that came before me and we'll see what else I can do here at UC Davis."
Just when UC Davis had something positive going again, Sac State made sure to keep its foot on the gas pedal. Thomson continued his aerial onslaught with a 73-yard pass that set up the Hornets for the team's seventh touchdown on the next play. Through 36 minutes of play, the Aggie defense had allowed a whopping 52 points.
Down by 31 for the second time of the game, UC Davis did not seem to bat an eye. The Aggie offense when right to work again, moving its way down the field in 13 plays to set up a 19-yard rushing TD from Williams. The senior finished his final game in an Aggie uniform with three touchdowns on a team-high 13 carries for 86 yards.
The Aggies made quick work of their next possession as well, finding the endzone in just four plays. Doss recorded his first career rush and rushing touchdown all at once, taking a fly-sweep handoff and cutting up field for a 42-yard scamper. Doss even admitted that he was "kind of surprised" that he got the ball on that play, and gave credit to his teammates for creating an open running lane for him. The Hornets were able to stop UC Davis from converting the two-point try, but the consecutive TDs nonetheless gave the Aggies some much-needed momentum heading into the fourth quarter.
Trailing 52-34, UC Davis continued to apply pressure as the game rolled into its final act. Leaning on Doss and freshman running back Tehran Thomas, the Aggie offense completed an 11-play drive to pull within 12 points of the Hornets. Although the Aggies' two-point try was thwarted for the second time, Thomas' five-yard rushing TD was enough to pull UC Davis within 12 points of the Hornets. Thomas would finish his career night with 126 yards on 12 carries.
The UC Davis defense, to its credit, continued to step up late in the game. The Hornets were shut out on each of their five possessions after scoring their final points in the third quarter. Senior linebacker Ryan Bua was again at the forefront of the Aggies' defensive squad, leading his team with 11 total tackles on the afternoon.
"We were able to stop them because we changed a couple schemes," Bua said. "We started blitzing toward where we expected the outside zone to be […] taking things that weren't even in the game plan and we threw them in there and they worked."
With the defense holding strong, the Aggie offense found the endzone for a fourth straight time off a short shovel pass to sophomore tight end Wesley Preece. Amazingly, the scoreboard now read 52-47 –– UC Davis had scored 26 unanswered points and now trailed by five with three and a half minutes to play.
"The mindset was to score once" Maier said. "Then when we scored once, score again. The mindset wasn't, 'we're going to score 30 straight points right here.' It was, 'we're going to do this one at a time.' We're going to get first downs, use our tempo and we're not going to care about the score. It was just a matter of us keeping our head down […] did it one play at a time."
After a Sac State three-and-out that ran a mere 22 seconds of the game clock, UC Davis appeared primed to score yet again and complete the enormous comeback. With the ball back in their possession, the Aggies quickly found themselves in an all-important fourth-and-one situation. A false start pushed UC Davis back five more yards, forcing the Aggies to change their play call. This helped the Hornets force an incomplete pass on the game's next play, ultimately preventing UC Davis' miracle, come-from behind victory from coming to fruition.
This final loss dropped the Aggies to a 5-6 overall record, completing the program's seventh straight losing season. In a year that had many promising moments, suffering defeat in this final game was not easy on the team where aspirations had been incredibly high. As a consistent defensive standout and a key older member of the program, Bua finished his final season with a team-leading 93 total tackles, claiming that he will "always be an Aggie."
"It hasn't hit me yet, that this might be my last time putting on pads," Bua said. "We didn't get the outcome we wanted but I had a lot of fun during this game. And if you have fun playing, what else can you ask for, really. It's tough and it's emotional."
Looking back on his first full season as the UC Davis head coach, Dan Hawkins chose to see the many positives that he believed came out of this year. He was pleased with "the buy-in" by the team as a whole, acknowledging that his squad's attitude was one that he admired.
"I told the seniors, It'd be great to be 6-5 and be a 'winner,'" Hawkins added. "But these guys are winners. All you gotta do is be around these guys. Their record doesn't define them. I think they've laid a good foundation for where we need to go and what we need to do. We've got a great group of young dudes coming up. Really excited about the future."
Thus wraps up the 2017 UC Davis football campaign. Although the team finished with yet another sub-.500 record, Hawkins seems to be guiding this program in the right direction. Both the team's standout pass thrower and record-setting wideout will be returning next fall, among many other big contributors. And with a new, talented recruiting class entering the mix, the future of Aggie football appears bright. With any sport, however, the wins and losses do matter. Until UC Davis can make a return to the postseason, its fan base will remain restless.
Written by: Dominic Faria — sports@theaggie.org