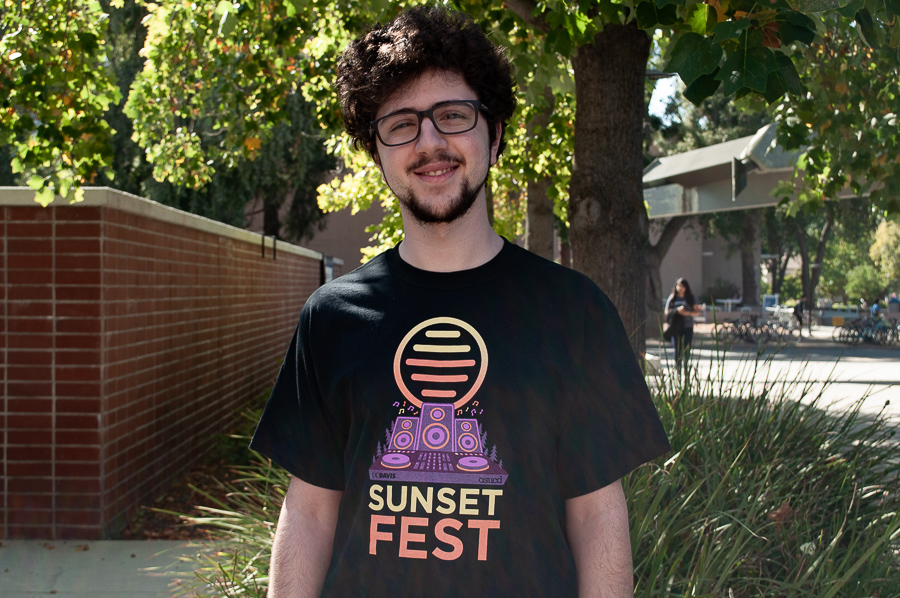 Former Judicial Council member aims to restructure, improve 'problematic' bylaws
The Sept. 27 ASUCD Senate meeting saw the confirmation of Devo Leichter as the newest member of the Senate table. The fourth-year political science major will fulfill the remainder of Danny Halawi's term, who announced his resignation from his Senate position in early May.
Halawi was one of three senators elected during the Fall Election last year to resign early. Daniella Aloni was confirmed as an interim senator in April to fulfill the remainder of Andreas Godderis' term, and a third interim position, yet to be filled, has now opened after Jake Sedgley's recent resignation.
Leichter believes ASUCD is undergoing a kind of "identity crisis," which is hindering its ability to operate as effectively as possible.
"A lot of ASUCD is these different limbs that come off Senate that don't necessarily always tie back to Senate very well, [and] there's always this degree of separation within the association itself between the different moving parts," he said. "We need to regroup and figure out ways to stay interconnected more and figure out what our purpose [is] here on campus. We don't really have a whole lot of people coming to us and … we're not coming to them very well."
Leichter served as a member of the Judicial Council and was part of a select group of appointed students tasked with re-establishing ASUCD's third branch of government after students voted to abolish the judiciary body two years ago.
Leichter did not fulfill the entirety of his term on the Judicial Council — a council member position is a two-year term, and Leichter served in his position for about one year.
During his time serving on the council, Leichter studied the ASUCD Bylaws closely and found a number of flaws and areas of concern. He is approaching his position as an interim senator with a running start, with serious plans to improve ASUCD's governing codes.
"I've already written a constitutional clean-up amendment — it's basically our constitution, but edited to get rid of inconsistencies, being more clear with the terminology and structured in a way that makes sense," Leichter said. "I've already written a bill to rewrite the elections code. Senate hasn't addressed that yet which is a problem because last election was problematic."
Last year's Winter Election was characterized by a large number of candidates, disqualifications, a number of allegations, a lawsuit and a recall attempt. Leichter said witnessing the election from his position on the Judicial Council was a unique experience. The large number of cases filed with the council concerning the election was "not a good sign," he said.
A case filed by a former Senator which alleged voter fraud was dismissed by the council because of a bylaw requirement that all complaints concerning an election be filed before the announcement of election results. Required to uphold the bylaws in his position as a council member, Leichter said he felt the requirement was unfair and he has chosen to remove it in the amendment he recently drafted.
"In the cases where information might come out after an elections closing, there should be ways to remedy that," he said. "Whether that results in automatic disqualification of a member or impeachment of a member, it should be on the table and it should be dealt with in an appropriate manner, which I don't believe it was. Once again we see the bylaws proving problematic for its own cause."
Leichter said the cases brought forward during the election revealed larger cracks in the association — "from a pure legal standpoint," he said, "it was interesting to see how the bylaws were sabotaging themselves."
He also discussed last year's attempt to recall ASUCD's executive team from their positions. The attempt to file a recall petition ultimately exposed a convoluted process resulting from "years of legislative tinkering."
"There's so many overly-complicated aspects to the bylaws that either people aren't following or don't fully understand — or both," he said. "It's important that we go back and make a core set of laws that are clear and structured. People who are not within the ASUCD government can look at those and get a clear picture of how things are run, [but] it's not in a place where it's easily accessible for everyone."
Leichter hopes to adopt the Housing Advising for Undergraduate Students unit and Unitrans and work with the Aggie Public Arts Committee and Mental Health Initiative.
"I want to be someone who is friendly and accessible to anybody, inclusive to everybody and able to listen," he said.
Written by: Hannah Holzer — campus@theaggie.org