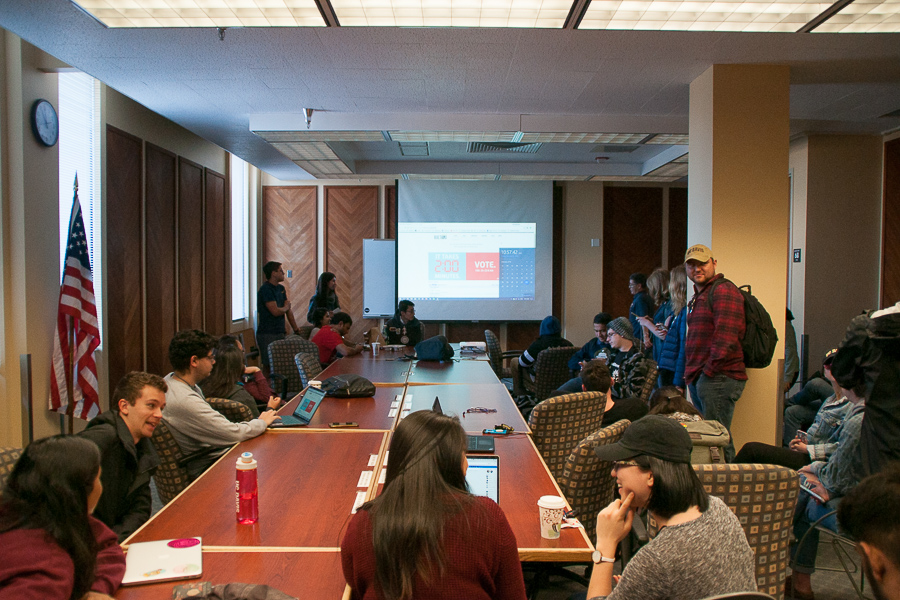 Cases dismissed, citing bylaw requiring complaints be filed before results revealed
On March 2, recently-resigned Senator Andreas Godderis filed five separate Judicial Council complaints with the following five recently-elected ASUCD officials: President Michael Gofman, Vice President Shaniah Branson, Senator Atanas Spasov, Senator Alisha Hacker and Senator Brandon Clemons. All five ran on the Unite slate.
Allegations outlined in the complaints included an unbylawful solicitation of votes in freshman dormitories and in the CoHo as well as 20 votes tied to one IP address — implying shared technology to vote.
Recently-resigned Gender and Sexuality Commission Chair Becca Nelson claimed that Unite's "staff were soliciting votes in CoHo & Dorms, [which is] not allowed, and were having people vote on their phones in front of them."
All five reports to the Judicial Council alleged that "a Unite campaign staff member" had been "reported by residents in Redwood Hall, Tercero, [for] intimidating and soliciting them to vote for Unite in the residence hall."
A residence advisor had "been contacted by several residents reporting this," according to the report. "[Another student] also witnessed Unite staffers walking through [the] CoHo asking people if they had voted and having them vote on their phones in front of them."
Judicial Council Chair Ryan Gardiner responded to these claims in an email obtained by The California Aggie, stating that the five reports had been consolidated into one and were subsequently dismissed on the grounds that "complaints must be filed before the announcement of election results."
In the email, Gardiner explained the Judicial Council's reasoning for case dismissal. The email stated: "After reviewing the case, Judicial Council unanimously voted to dismiss Godderis v. Gofman et al.  due to any potential adjudication being in conflict with ASUCD Bylaw Section 406(B)(a)(ii), which states "All complaints must be filed before the announcement of the election results.""
Nelson said that making it so election complaints must be filed before results are out throws "accountability out the window." According to Nelson, before, "there was a structure to file complaints post-election and then have an immediate recall."
"I realized that this bylaw is seriously flawed given that it prevents any actions of accountability," Nelson wrote in an email sent to Godderis and former Senator Rahi Suryawanshi obtained by The Aggie. "How are we supposed to file for fraud in time when the election period is 3 days, and the results are revealed the morning after polls close? How does that allow time for a well written complaint with a proper amount of investigation?"
In November of 2017, Senate Bill #18 passed with a 12-0-0 vote which aims "to amend and improve Chapter Four (4) of the ASUCD Bylaws." SB #18 was authored by then-interim Senator Michael Swalberg and co-authored by three students, including former Elections Committee Chair Naeema Kaleem.
Kaleem said "the exact same language from Section 413A (the preexisting bylaw stipulation regarding the complaints deadline) is used in what is now Section 406(B)(a)(ii)."
Additionally, Swalberg said SB #18 "was a non-partisan bill that anyone sitting on the Senate table at the time (or really in ASUCD) was more than welcome to assist with."
"I'll just [emphasize] Naeema's response that the contents of the bylaw in question weren't changed at all," Swalberg said via email. "Yes, they were renumbered when we streamlined Chapter 4 but the contents weren't changed."
Gofman responded to the initial claims of voter fraud, saying "all allegations made were completely false [and] unsubstantiated."
Written by: Aaron Liss and Hannah Holzer — campus@theaggie.org