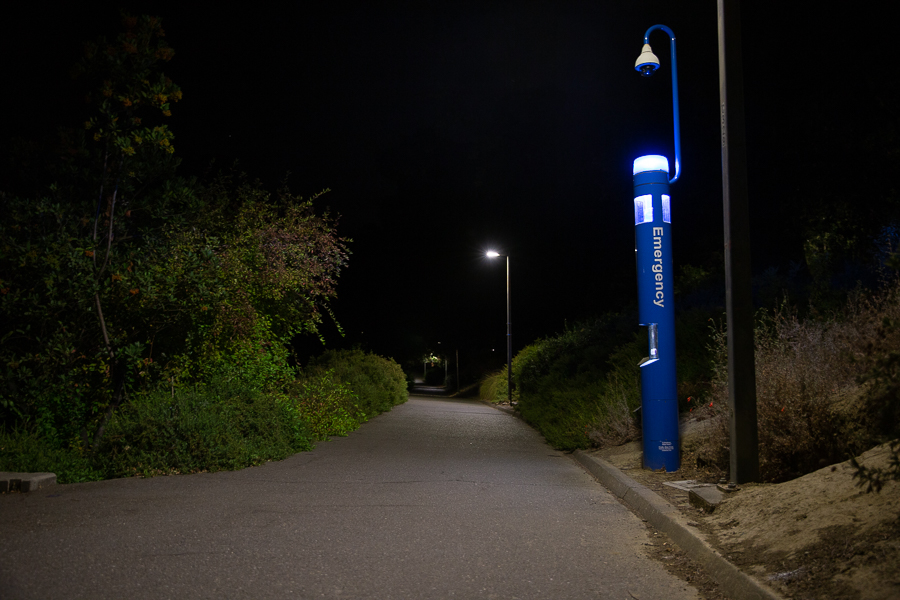 Students reflect on campus safety after recent crime increase
Many parents send their children to UC Davis with the expectation that it is a safe and nurturing college town for students to flourish. With what seems like weekly crime alert notifications, however, students are left to question their sense of safety and security walking around campus. Since Sept. 7, there have been 10 crime alerts sent out via email, the majority being robberies or residential burglaries and one being a homicide in the greater city of Davis.
Bill Beerman, the patrol supervisor of the UC Davis Campus Police Department, believes that Davis crime rates have spiked in the past several months.
"It is very rare for us to have two robberies in a row so having two back-to-back is very suspicious in my mind," Beermann said.
He argues however, that these statistics may be skewed, because the UC Davis Police Department and the City of Davis Police Department are two separate entities. The UC Davis Police Department simply chooses to release crime alerts for crimes committed off campus. Therefore, students may receive a crime alert for a crime committed miles away from campus and mistake it for an on-campus crime.
"When there is a crime adjacent to the campus, we put out an alert to make them aware that there is an issue going on and make themselves safe" Beermann said. "Crime reports sent out by the city of Davis often get linked to us because students have the misconception that the crime occurred on campus."
Beermann maintains the belief that Davis is still a safe place for all students.
"I believe the UC Davis campus is a safe place," Beermann said. "I have a daughter that just graduated from UC Davis. If I thought it was an unsafe place I would not have had her attend here."
One area that has been a repeated target for theft is Parkway Circle, a complex located across from the Student Health and Wellness Center. Of the 10 crime alerts, two of them were reported to have occured in Parkway Circle. Grant Matheson, a resident of the complex, has felt the effects of campus crime first hand.
"Several of my friends have had their cars vandalised and the speakers were stolen from inside our house," Matheson said.
As a fifth-year, Matheson is struggling to reconsider his idea of Davis as being a safe, small town.
"This is never something I had to worry about until the last couple of months, and now I feel like I have to triple check that everything is locked," Matheson said.
In addition to household robberies, thieves at coffee shops have been stealing laptops directly from the hands of customers. Two separate incidents have occurred at different coffee shops – one at Peet's Coffee & Tea and one at Temple Coffee Roasters, both located in downtown Davis. Bill Beerman argued that these attacks have become a "trendy thing to do" which has resulted in a copycat effect. Matheson believes that the earlier crimes committed "may have given cover for more people to commit crimes, because they notice that these crimes go unsolved and they think 'maybe I can do that too.'"
According to Beerman, these incidences are "hard to command" and he emphasized that "where one puts themselves in a coffee shop combined with being aware of one's surroundings can be very helpful."
Third-year civil engineering major Emma Yenerich lives off of Russell Boulevard and has encountered numerous safety concerns this academic year.
"We have had people try and get our door open while we are inside, we have had someone in the backyard and people lingering on our front lawn which does not make me feel safe at all," Yenerich said.
Yenerich also worries that the UC Davis Police Department is not doing all it can to protect students. Only after several requests to send someone to patrol the area around her house did the police department send a car.
"As a student who is feeling threatened or unsafe, knowing that law enforcement is reluctant to send an officer is kinda disappointing." Yenerich said.
She too struggled to adjust to this change in safety, and feels that the spike in crime this year has taken a toll on her sense of safety on campus.
"I have never really felt so nervous or on-edge just being at home before" Yenerich said.
Beerman believes there are certain actions and precautions that students can take to better protect themselves against crime.
"The reason we notify students of campus crimes is so they can better prepare themselves," Beerman said.
Beerman also heavily emphasized being aware of your surroundings, regardless of location or time of day. One tip Beerman offered is whenever a crime is committed, "be a good observer and get a good idea or what a suspect or a car may look like and try and take down plates."
"There are people out there who are looking to make a quick dollar and for crimes of opportunity, so it is important to look out not only for ourselves but for one another," Beerman said.
Written by Miki Wayne – features@theaggie.org