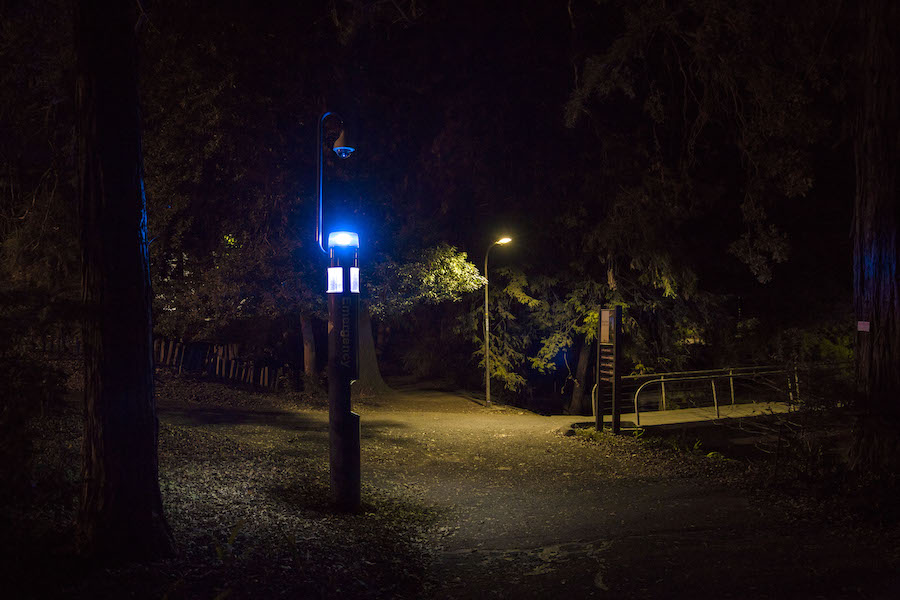 Four new blue lights will shine at central campus locations
On Nov. 7, the UC Davis Police Department (UCDPD) began installing a second series of blue emergency lights at central campus locations. Four new blue emergency lights will be installed on either end of the Quad and Shields Library and near the north side of the Memorial Union.
The lights are an addition to seven existing lights on campus which were installed two years ago and placed along the Arboretum paths and around West Village, according to an article released by the university.
Blue emergency lights are emergency call boxes designed so that those in emergencies or accidents can contact the police, said UC Davis Police Chief Joseph Farrow.
"They're designed in a way if there's an emergency, […they are in] convenient locations where people just pick up the phone," Farrow said. "They automatically dial into our dispatch center, and we can dispatch police, fire, EMR, whatever we have to [because] we already know where the location is because they are all coded."
In addition to serving as call boxes to contact emergency services, the new blue emergency lights are outfitted with recording equipment which helps ensure that incidents receive efficient and direct responses. This way any event that is going on at that location will be captured on film, Farrow said.
He also explained that as technology for these emergency call boxes began improving in the early 2000s, the boxes started appearing as a safety precaution in airports, shopping malls, concert venues and college campuses. UC Davis' blue emergency lights have seen technological improvements since the launch of the first, now discontinued, generation.
"The early version was technology that didn't work as well as we wanted to because it relied on cellular — they weren't hardwired to the ground, so when you picked up the phone you had to wait for the phone to engage … causing a delay," Farrow said. "Some of the people who tried to use the phone thought it didn't work and hung up prematurely."
The seven active blue emergency lights currently near and on campus are part of the second generation of blue emergency lights that include numerous improvements, like being hardwired instead of relying on cellular.
Even if it isn't a "9-1-1 emergency," this technology allows UCDPD to be "immediately accessible to the public to try and help them," Farrow said.
ASUCD, the UCDPD and Chancellor Gary May worked collaboratively on this project after concerns about safety were voiced by students.
"ASUCD ultimately came up with a resolution specifically asking the university to explore the use of more of this technology," Farrow said. "They […] helped us identify some of the areas where they thought it would be beneficial through walks around campus with students."
Senate Resolution #11, which voiced support for "the installation of ten new Blue Emergency Lights on the UC Davis Campus," was passed unanimously by the ASUCD Senate in April of 2018. The resolution acts "in solidarity with marginalized communities on campus and recognizes their need for these Blue Lights."
This resolution was in response to demands made by the #blackunderattack movement, which initiated a conversation that led to the installation of the initial seven Blue Emergency Lights. In February of 2016, the movement reacted "after an African American student reported that she had been assaulted" while walking near her residence in West Village, a UC Davis News report stated.
Each light costs up to $25,000 because of the need to hardwire into the ground, trench the lights, place pillars and cover the cost of maintenance, Farrow said.
"Through the UC system's Violent Acts Mitigation Program, UC Davis police, Risk Management and Emergency Services secured $100,000 for four new call stations," a UC Davis News article stated, adding that further funding from grants may be available over the coming years.
According to an email from Farrow, the emergency blue light project is part of a security initiative currently underway on campus to increase the security and safety of UC Davis community members.
After the new emergency call boxes are installed "at locations in the core campus," the 2019 Lighting Safety Walk, aimed at identifying poorly-lit areas of campus and attended by students and staff, will take place in January.
"Finally, the campus Security Management System project continues to progress  … this will unify campus electronic access control and video recording systems onto a single system, allowing Police to view campus-wide electronic security systems," Farrow said via email.
Farrow elaborated on the police department's perspective of this security initiative and the Blue Light project, saying he sees the department's role on campus as being there for students.
"We truly are here for the students, that's our job, that's the only job we have and we try to do the best that we possibly can," Farrow said. "Traditional law enforcement defines safety as your physical well-being, but on this campus it goes beyond that — it's about your emotional, psychological security, too. […] When we work together on projects like this, people will see that [support for students] is truly what we're working to do and that it's an honor for us to be here and serve."
Written by: Priyanka Shreedar — campus@theaggie.org