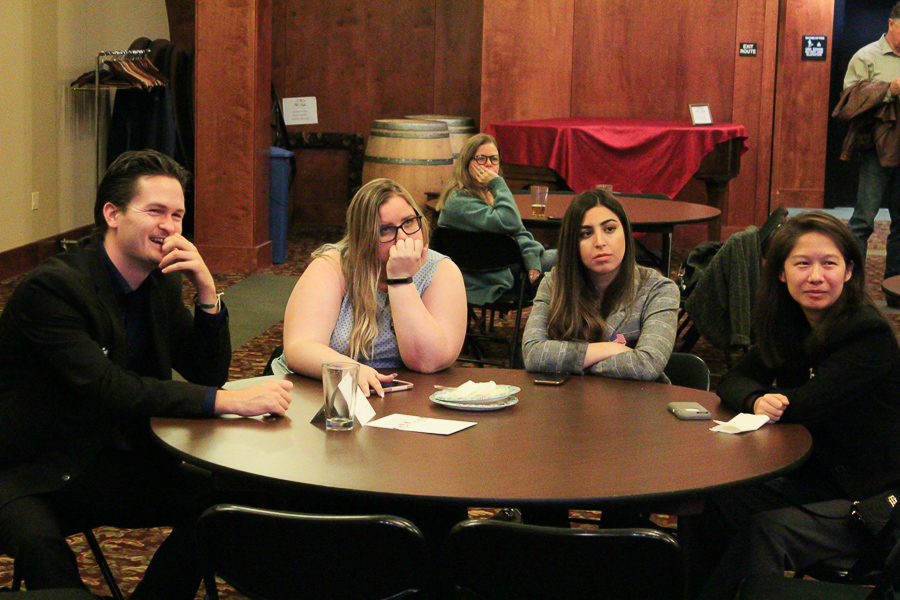 Democrat, Republican student leaders discuss
The Nov. 6 midterm elections ushered in continued success for California Democrats with gains in the House of Representatives and a clean sweep in California races. On the national election front, several key races were too close to call on election night.
Voter turnout in California saw a significant increase in 2018. As of Nov. 14, 50 percent of registered voters cast their ballots compared to 42.20 percent in the gubernatorial election in 2014 and a 75.27 percent turnout on Nov. 8, 2016 for the presidential election.
Yolo County, which resides in California District 3, followed the statewide lean toward Democrat.
On election night, a watch party was held at the Davis Odd Fellows Lodge downtown. The event was sponsored by the Yolo County Democratic Party, Yolo for Hillary, Davis Democratic Club and Garamendi for Congress. The party was slow to start, but as the polling booths closed at 8:00 p.m., the hall began to fill up — at its peak, the watch party had about 50 attendees made up of UC Davis students, local Democratic activists, dedicated campaign organizers and interested community members.
As the network anchors announced that the Democrats had regained control of the House of Representatives, the group reacted with applause.
In the audience was Elizabeth Oramas Diaz, a fifth-year animal science and management major and the former president of Davis College Democrats (DCD), who explained why she voted.
"I was born in San Juan, Puerto Rico," Oramas Diaz said. "We've had 4,645 deaths as a result of the hurricane and United States neglect. For me, casting my ballots today was voting where almost 5,000 people could not, because the U.S. government did not believe that they were important, that their lives mattered. So to me, it's very visceral. It's like I have this privilege and this right to vote, and if I don't do something to make sure that not only am I engaged but other people are engaged, then I think it is a shame."
Alex Meyer, a second-year biology major and the director of membership for DCD expressed what voting meant to her.
"Your vote matters," Meyer said. "Your participation matters. Even if all of the results that you wanted did not happen tonight, it is so important that you let your voice be heard."
JB Martinez, a third-year political science major and a communications director for Davis College Republicans (DCR) who was interviewed the day after the election, said that although the results were not what he hoped for, he was glad that more people came out to vote.
"Obviously, on election night the people have spoken, and I am glad they have," Martinez said. "In that way they are more involved in the process — when they are [driven] by what is going on with politics in the country."
Oramas Diaz spoke about how the DCD and DCR can work together.
"As former president of the DCD, I remember knowing the former president of the DCR," Oramas Diaz said. "We have spoken before. There have been rumors of a debate that might go on, and now that we are past midterm season that could be a possibility."
In an interview held one day after the elections, Ryan Gardiner, a third-year political science major and president of Davis College Republicans, also spoke about how the two clubs can work together.
"I don't think we had a single meeting this year where we didn't have some Democrats there," he said. "Everytime we have discussions, we have events — whether they be social or political — we always welcome Democrats who come and learn more about our party, and who knows? Maybe we will convince them to join our side."
Maiya De La Rosa, a second-year political science and Chicano studies double major and president of Davis College Democrats, broadened the premise of Democrat and Republican students working together to include all students at UC Davis.
"We should pay attention to student issues because [at] the end of the day, student issues are human issues," De La Rosa said. "These are issues that directly impact us no matter where we come from. No matter what our ideologies are. This is the basis of working together."
Mccall Fellows, a third-year economics major who is not affiliated with either club but worked as an intern for California Senator Kamala Harris in Sacramento, spoke about her daily activities at Harris' office.
"I think it is an important election because I don't think we really had one in my lifetime in probably a generation," Fellows said. "We have never had a president like Trump. It seems like this year, everyone is tuning in and more engaged."
Fellows then spoke about the importance of engaging young people in the voting process.
"[Where] I would see a big change is young people voting," Fellows said. "If we had a bigger turnout among young people, it can really turn the electorate one way or another. I think with March For Our Lives and other movements like that, hopefully the younger vote will have a higher turnout this year."
When asked if all politics are local, Fellows said she thinks "it means that when everyone goes to the polls to vote, they are voting based on how they feel about themselves, and the way you feel is based on your life, every single day."
Two weeks before the midterm election, fourth-year English major Eman Abraham was asked about the importance of voting.
"I believe the midterm elections are extremely important for those of us that are unhappy with the current political climate," Abraham said. "For those that are disenfranchised with where we are as a nation, I encourage you to vote and make a change at the local and state level. It is also important for us to vote for those in this country who are underrepresented or do not have the ability to vote."
Written by: George Liao — campus@theaggie.org