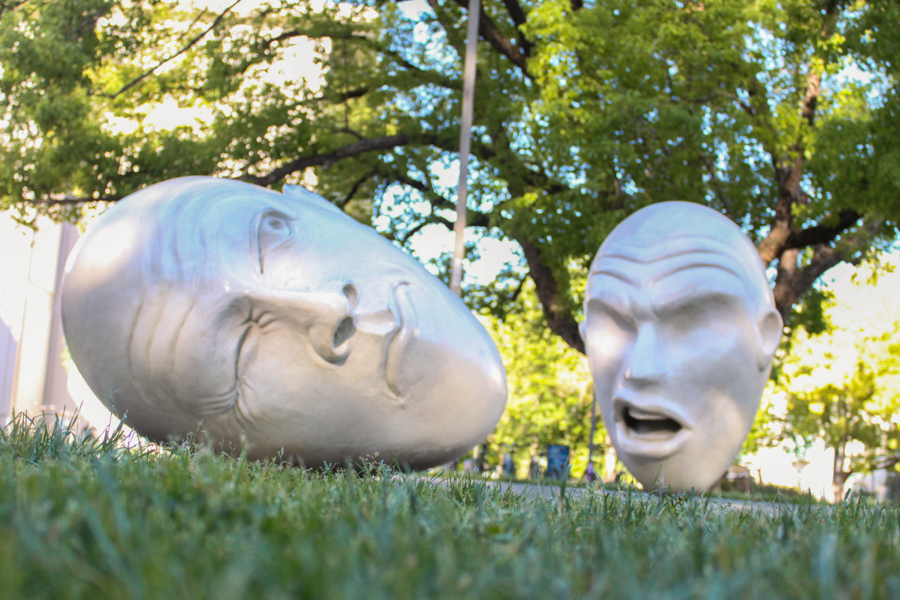 The eggheads have been an iconic part of the UC Davis campus since the beginning of their installation in 1991. As students walk around campus, they're greeted by the sculptures' friendly faces, which are a staple of any UC Davis student's social media account as well as the winner of this year's "Best Public Art" award.
The five egghead displays, created by Robert Arneson, a former UC Davis professor of ceramic sculpture, are located on various parts of campus: "See No Evil/Hear No Evil" at the east of King Hall, "Eye on Mrak" in front of Mrak Hall, "Bookhead" in front of Shields Library, "Yin & Yang" in front of Wright Hall and "Stargazer" behind North Hall. Each egghead was made from bronze, painted with acrylic paint and designed specifically for the UC Davis campus.
"I think one of the reasons why [the eggheads are] more memorable than most campus outdoor sculptures is their accessibility," said Brittany Royer, a graduate student in art history. "In fact the subject matter of them and how they're positioned make them accessible."
Each egghead carries special meaning to the student body, whether it represents campus history or provides an interactive aspect. For example, "Eye on Mrak" symbolizes a power balance between students and administration; the single eye facing Mrak represents the students watching the administration as the egghead's face looks away in hysterical laughter.
"Bookhead" is also popular among students, as it is part of a Aggie tradition to kiss it for good luck before midterms and finals.
According to the Center of Sacramento History, Arneson has been referred to as the "father of the ceramic Funk movement." Funk art utilizes everyday objects to form confrontational social, economic, and political statements.
"They are a commentary on the politics of education systems and how they were being perceived," Royer said. "They are a play on anti-intellectualism."
Although Arneson passed away in 1992, his beloved eggheads remain a popular part of the UC Davis campus.
Written by: Lindsay Floyd and Yvonne Leong — features@theaggie.org