Students have selected the popular apple juice vendor as their favorite farmers market stall
By ALMA CULVERWELL — features@theaggie.org
Apple-a-Day, a family-owned and operated business based in Sebastopol, was voted Best Farmers Market Stall by 41.9% of surveyed students at UC Davis. The stall is best known for its fresh-pressed apple juices and has been a staple at the Davis Farmers Ma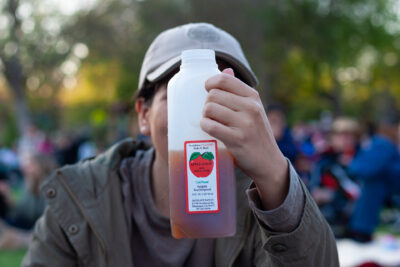 rket for at least 30 years.
The Apple-a-Day ranch is located in Sonoma County where it grows several apples, including the Gravenstein, Golden Delicious and Rome varieties. The ranch was first established in 1924 and has shifted management throughout the years but still holds the same values.
Mike Zarras, who has been running the ranch for the past 10 years, explained the process the ranch uses to create its juice.
"We usually blend a certain taste profile of apples, and we just press them, and it goes straight from pressing to bottle, and from bottling we don't add anything or do anything to it," Zarras said. "We freeze it right away, and basically that's it — [a] very simple process. The only treatment we do is UV light treatment, and we do that treatment because it doesn't heat it up and keeps a lot of the good enzymes alive. We try to keep it as close to nature as possible." 
Zarras described his favorite part about running Apple-a-Day ranch.
"I love our product itself," Zarras said. "I love pure apple juice like that, and I love being out where we are located in the rolling hills of Sonoma County [which is] just beautiful." 
The Apple-a-Day stand has been popular among Davis students for many years due to the products' affordability, taste and more. Lily Matthews, a first-year plant science major, talked about why she frequents the Apple-a-Day stall.
"I really liked the taste and thought that it was a fair price," Matthews said. "It's easy to carry with the handle if you're walking to the farmers market, stores well in the fridge and doesn't lose flavor after a few days. I would say that it's a great way to support the farmers market without going out of your budget. The various sizes also make it great for larger groups or an individual to buy the product."
Be sure to check them out at the Davis Farmers Market on Wednesday evenings and Saturday mornings year-round.
Written by: Alma Culverwell — features@theaggie.org