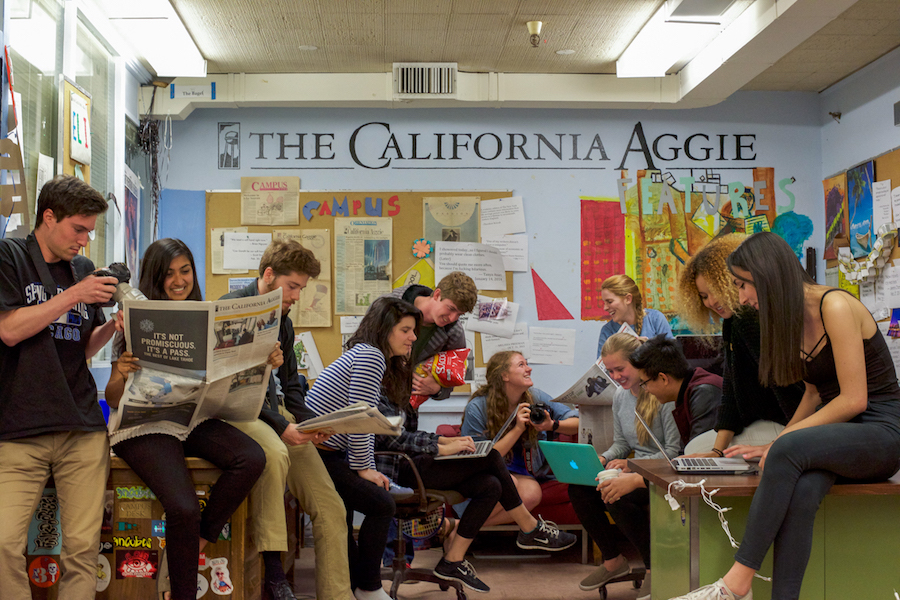 Established in 1915 as The Weekly Agricola, The California Aggie has been UC Davis' official student-run newspaper for the past 100 years.
In 2014, The Aggie went out of print due to financial difficulties and switched to an online-only format. But this past Winter Quarter, The Aggie ran a successful campaign to bring back ink-on-paper journalism through the "Print The Aggie" fee initiative. As a result, The Aggie will be back in print beginning in fall 2016.
According to Ritika Iyer, a fourth-year economics and international relations double major and The California Aggie's managing editor, The Aggie's workspace is a collaborative environment with a diverse array of reporters, photographers, designers, new media managers and more.
Through reporting on the various events and activities that occur both on-and-off-campus every week, staffers strive to create a more informed and in-tune UC Davis student body.
"[It's] really cool to be able to work with over 100 staffers that are all interested in the same end goal," Iyer said. "Just by seeing the production process of when you first get your assignment all the way through [to] when it's on the site and people are liking it on Facebook, on Twitter — you really feel like you're making a difference to campus."
Working at The Aggie does not just help enhance staffers' journalistic skills — it's also an excellent opportunity for professional development. For Iyer, the time she has spent in The Aggie's Lower Freeborn office has helped her develop skills in leadership as well as interviewing, reporting and writing. Iyer encourages anyone who is interested in journalism to apply to work at The Aggie.
"There are always fun conversations, there's always something funny or interesting happening [down in Lower Freeborn]," Iyer said. "It's fun to walk into the office and see people laughing. It makes my day."
Written by: Jacqueline Chu and Jennie Chang — features@theaggie.org