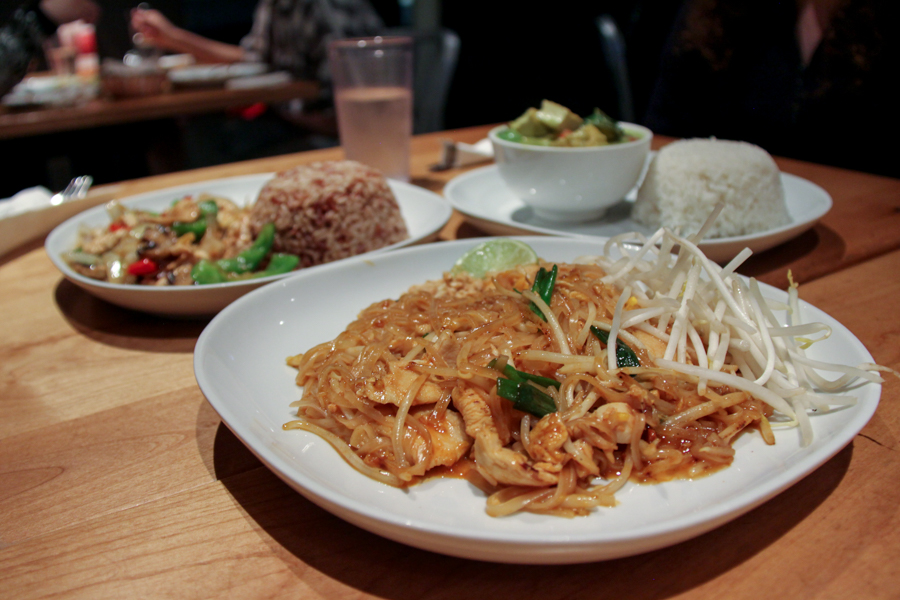 There is no shortage of Thai restaurants in downtown Davis, but Thai Canteen has captured the title of Best Thai Restaurant with its popular Thai tea and specialties such as pork belly and duck. It is a student-oriented establishment that serves lunch, dinner and even late-night munchies at an affordable price. Open Tuesday to Saturday from 11 AM to 2 AM and Sunday from 11 AM to 10 PM, students can easily stop by the restaurant, located on 2nd and  E Street,  for a quick bite to eat or a drink.
What differentiates Thai Canteen from other Thai restaurants is its self-serve design.
"You come in, your order at the counter, we send you off to a table and servers bring food to you. Everything else from there is self-serve [including] water, spices," said manager Peter Sriboonreuang.
Customers can choose from a variety of dishes, ranging from rice plates to noodles to snacks. The prices are also on the lower range, receiving one dollar sign on Yelp and making it a college-student staple.
Whether eating out with a big group of friends or sharing a one-on-one meal, Thai Canteen has the seating for the occasion. The restaurant has long, wooden tables that are surrounded on all sides by chairs as well as  bar seating and tables for smaller groups. During lunch and dinner hours, the atmosphere is relaxed and social, and usually buzzing with conversation.
"Bistro style ordering makes it a convenient place to eat with a group of friends," said second year Biology major Kelly Wang.
Thai Canteen currently partners with Joy Run, which is an app that allows students to order food directly on their phone and have it delivered to them by friends or other app users. This partnership saves students a trip downtown and makes ordering convenient.
Written by: Julia Wu and Veronica Vargo — features@theaggie.org