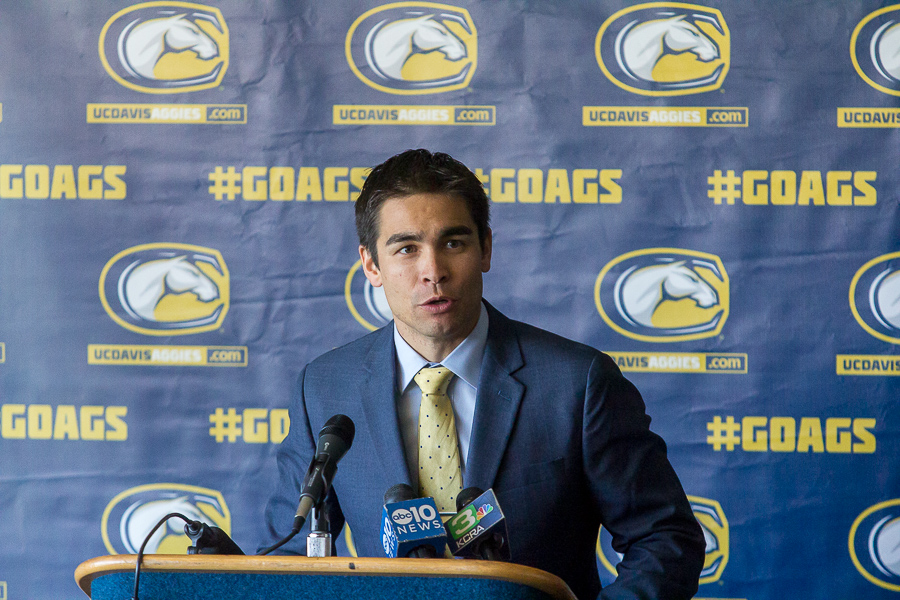 UC Davis sports teams face success, setbacks to open spring season
Winter Quarter has been busy for the UC Davis Athletics Department — teams have started and ended their seasons, and many programs have experienced an overwhelming amount of success.
Most prominently, the UC Davis men's basketball team won the Big West Tournament championship game by defeating UC Irvine 50-47 on March 11. This close win came after a humbling 79-49 loss to UC Irvine to end the regular season, which denied the Aggies the regular season conference title. The men's basketball team pushed through and, for the first time in school history, the team is going to the NCAA Division I Men's Basketball Tournament. The team plays North Carolina Central in the First Four on Wednesday, March 15 in Dayton, Ohio, and the winner will advance to play Kansas in the First Round of the Midwest Regional on Friday, March 17.
"It's a clear indication that UC Davis is able to compete nationally at the Division I level," said Kevin Blue, the UC Davis director of athletics. "The opportunity to play on national television with the entire country watching on Wednesday night will expose a lot of people to UC Davis that have not been exposed to our university before, and if you just think about the sheer number of people that fill out brackets in this country, and you consider the fact that all those people will be learning about UC Davis or at least encountering UC Davis' name during that process is a significant amount of incremental exposure for the campus."
In addition to being undefeated at home, the Aggies hosted a nationally-televised game on ESPNU, which saw nearly 6,000 fans in attendance.
"That was an example of a night where it was fun, people were spending time with friends, people were exhibiting school spirit," Blue said. "It was great that it was a basketball game and it was great that we won, but most importantly it added a lot of value to a lot of people from the community and a lot of students to their undergraduate experience, and that's one of the really powerful things about athletics is those types of events."
Not to be overshadowed, the women's basketball team became Big West regular season conference champions, and, although the team did not make it past the semifinals in the Big West Tournament, the Aggies will attend the Women's National Invitational Tournament in Salt Lake City on Friday, March 17 by virtue of their regular-season crown. Head coach Jennifer Gross was also named Big West Coach of the Year in addition to conference accolades awarded to four athletes on the team.
The women's gymnastics team ended its regular season with a bang, riding a nine-meet win streak into the Mountain Pacific Sports Federation (MPSF) Championships, on Saturday, March 18. Also of note, leading gymnast Alexis Brown has been protesting at competitions in response to police brutality against people of color as a peaceful demonstration that has gained traction and campus exposure in recent weeks.
The swimming and diving team placed third at the MPSF championships in February, and sophomore Solie Laughlin was invited to the NCAA swimming and diving championships after meeting certain thresholds in three of her events. The championships will be held from Thursday, March 16 to Saturday, March 18. Laughlin has qualified for one preliminary race each day, starting with the 200-yard individual medley (IM) on Thursday and followed by the 400-yard IM and 200-yard backstroke the next two days.
The women's tennis team is 11-5 for the season and the men's squad is 9-5 after breaking its 21-match winning streak at home this past weekend. Both teams continue as a force to be reckoned with in all of their competitions.
The women's lacrosse team (3-4), baseball team (5-9) and softball team (9-17) are each seeing different levels of success in their current seasons. The men and women's golf teams are generally finishing farther back in tournaments, but a few competitions remain for each team to turn around their play.
The women's water polo team is 13-13 for the season, which is potentially misrepresentative of the overall quality of the program. The Aggies have faced consistently tough and highly-ranked opponents thus far, and they have only just begun conference play. Expect more wins than losses in the competitions to come, as the team has been able to overcome higher-ranked teams like UC Santa Barbara and UC San Diego in past matches this season.
In a nice start to the outdoor season, the track and field team hosted the Aggie Open last Saturday, March 11. Both UC Davis teams took first, with the men emerging victorious against three other teams and the women against five. The Aggies now travel to Sacramento State for the Hornet Invitational on Friday, March 17 and Saturday, March 18.
And finally, new UC Davis football head coach Dan Hawkins has been hard at work since the start of spring football practices on March 7.
"We're very focused on continuing to build a high-performing culture here, and we do that one day at a time," Blue said. "We try to improve the organization so that it's better off when we leave at night than it was when we arrived in the morning. And that sort of takes multiple forms and each day is probably a different challenge, but overall we're just trying to be steady in terms of our improvement and our growth."
Written by: Bryan Sykes — sports@theaggie.org