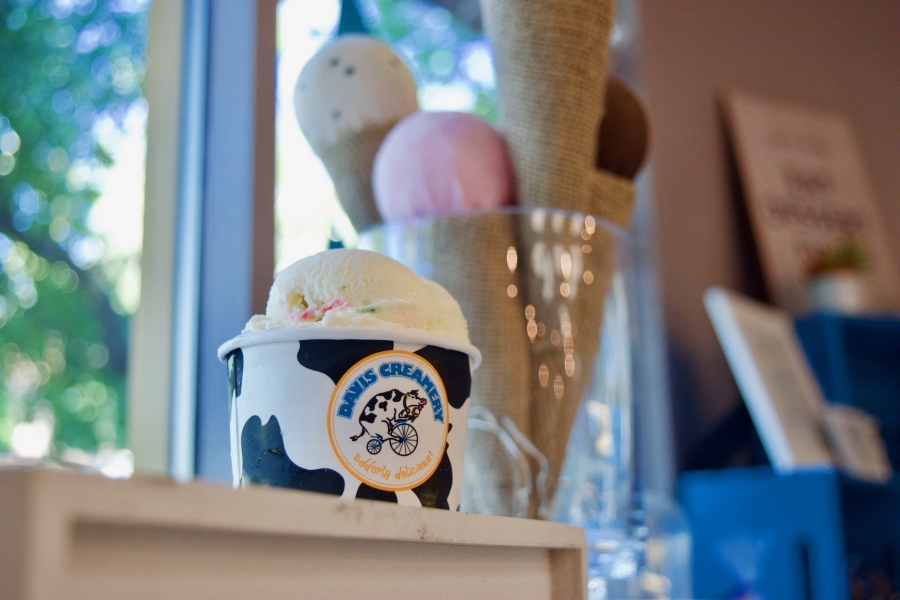 The Davis Creamery has been churning out ice cream for over 15 years. Located on E Street, the creamery is frequented by all kinds of dessert-lovers: ice-cream fanatics who come for the infamous Bracketology series, cupcake lovers who seek their handcrafted desserts, caramel apple lovers who have no idea where else to get them.
Twice a year, the Davis Creamery holds its Bracketology series, in which it seeks ice cream flavor ideas from the community and then runs them against each other, bracket-voting style, slowly approaching a winner. From cherry blossom to raspberry iced tea, it's impossible to know what the final flavor will be.
The creamery doesn't stop at ice cream-based gamesmanship. It also offers daily specials, like milkshake happy hour from 4 p.m. to 7 p.m. on Fridays or $2 scoop night on Mondays from 5 p.m. to 10 p.m.
The Aggie talked to Victoria Bioarsky, a third-year applied mathematics major, who has tried a wide range of flavors.
"I think I tried the […] Boston cream pie filling, the trifecta candy one, I tried honey habanero salt-something," Bioarsky said.
It's not unusual to leave the Davis Creamery with a laundry list of flavors under your belt (or tongue). Bioarsky says this is what sets the creamery apart.
For all of its health-conscious sweet-toothers, the Davis creamery offers a host of vegan, gluten-free and sugar-free dessert options to choose from. Not convinced yet? Head over to the Davis Creamery between 12 p.m. and 10 p.m. and see for yourself why this family-owned classic has made its way into the hearts (and bellies) of Davis-ites.
Written by: Stella Sappington and Emily Nguyen — features@theaggie.org