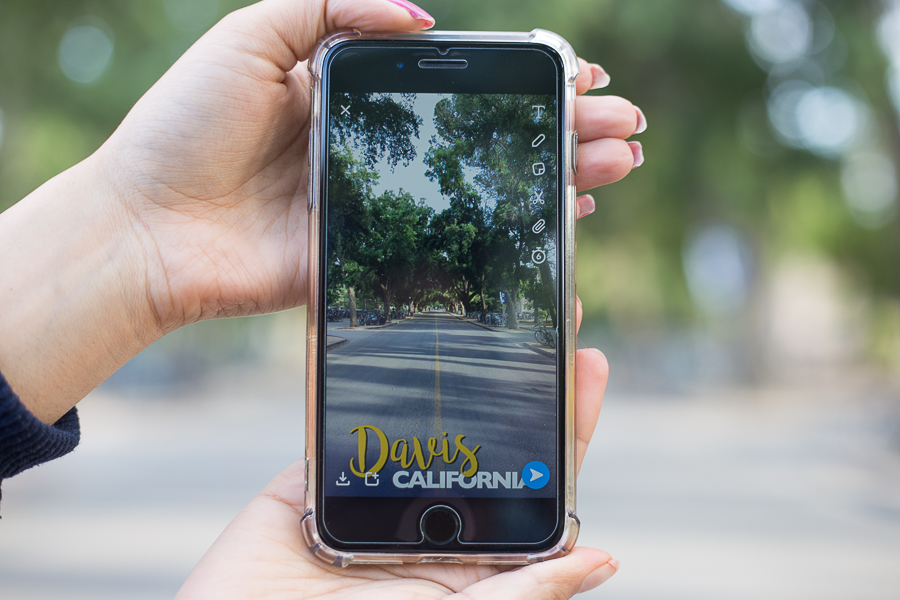 You're sitting in the Arboretum. It's a classic Davis day. The sun dances off of the water, and anywhere between ten and a thousand ducks are waddling about. As the sun finally settles into its "golden hour" position, you make the decision:
"I'm going to Snapchat this right now," you think. It's a surefire move to make sure your Davis pals know that you're not stressing over the intensity of midterms and that your not-Davis pals know that you live in a painting. What filter do you use to claim this location as your own?
The cursive "Davis, CA" filter, of course. Why? It's a classy way of claiming your college town. It gives all of the details. It's got that beautiful Aggie blue and gold color scheme. It's at the very base of the photo so it doesn't distract from what you're trying to showcase (be it that "golden hour" or your golden face).
"That's the prettiest filter," said Talia Basma, a fourth-year English major. "I like the font on this. It looks professional. This one is at the bottom, and I can take a picture in peace."
Peace. Professionalism. Class. These are what Davis students love to decorate their memories with, and that's why the cursive "Davis, CA" snapchat filter is the MVF (Most Valuable Filter) of our campus.
Written by: Olivia Luchini and Jess Driver — features@ucdavis.edu