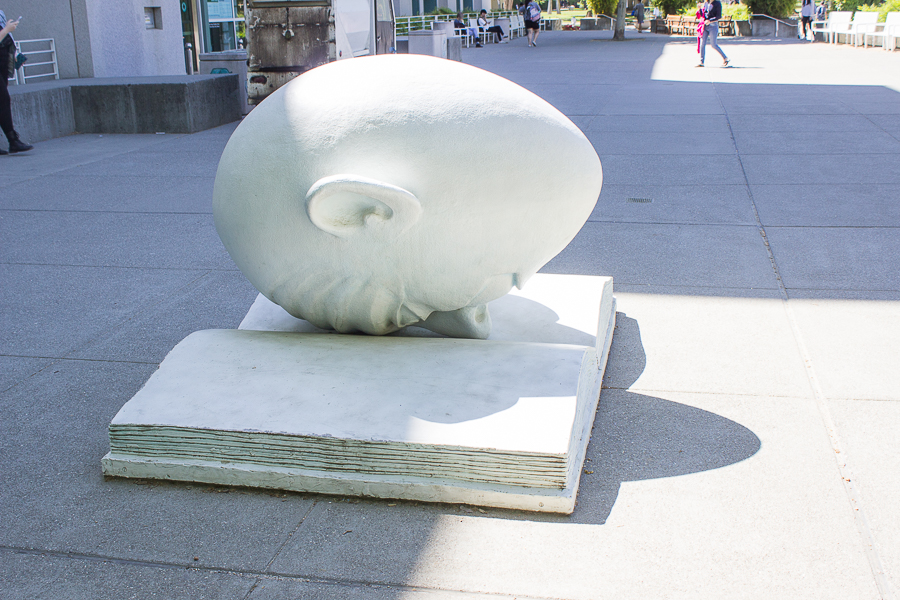 Known for their funny and relatable facial expressions, many students first see the UC Davis Eggheads when they are touring the campus or darting between buildings during orientation.

Created by Robert Arneson, who was a UC Davis faculty member, the Eggheads have been a UC Davis staple since 1991. The five statues that make up "The Egghead Series" can be found scattered throughout campus. Ceramic sculptures of heads may sound simple, but their spirited personalities and artistic presence make them an Aggie favorite.

Bookhead, located in front of Peter J. Shields Library, once again stole the title of the best egghead this year. Bookhead sits near the library doors with its nose literally in a book and its wide eyes forever scanning the pages. With finals right around the corner, Bookhead's win is no surprise. Camila Zaher, a fourth-year biological psychology major, found the statue to symbolize something we are all quite familiar with as students.
"I think this symbolizes student exhaustion," Zaher said.

Zaher claimed that this statue is not only about exhaustion after hard work as a student, but that it represents what we all want at the end of a long night studying.

"It's like, let's open the textbook and hope everything transfers to my brain please," Zaher said.

Bookhead is often kissed or touched by students for good luck during midterms and finals — make sure to stop by and see it this quarter.
Written by: Cassidy Kays — city@theaggie.org