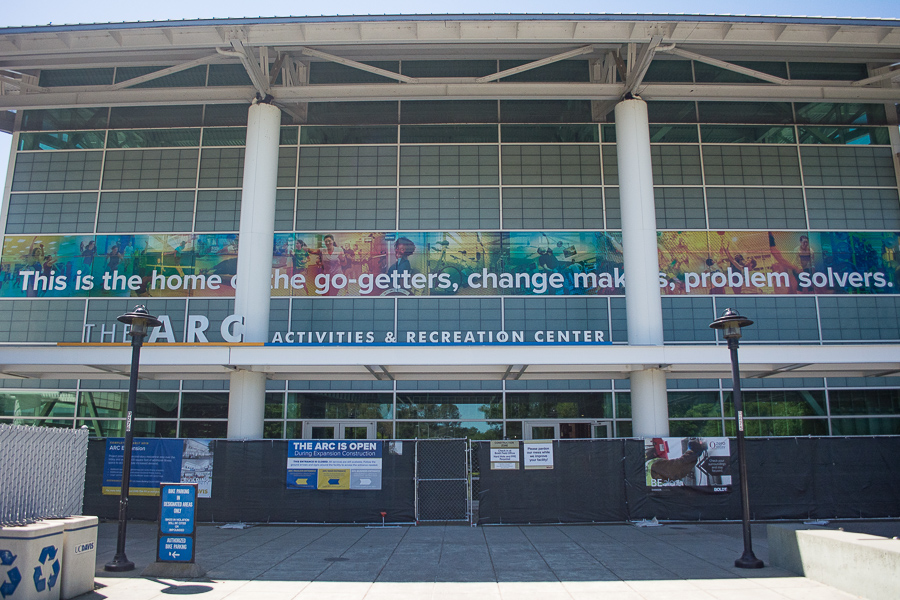 Despite the ongoing (and seemingly never-ending) construction, the Activities and Recreation Center — or "the ARC" — remains most students' favorite place to exercise.
The ARC is home to a climbing wall, cardio and weightlifting areas and programming such as dance classes and martial arts, but it is the convenience factor that won the ARC the gold.
Nicholas Carter, a second-year evolution and ecology major, agrees that the ARC is the best place to exercise, despite the fact that his home at West Village has a gym for residents.
"I pick the ARC because it's close to both a dining hall and classrooms, so I can fit a workout into my day easily," Carter said. "I've adjusted my schedule so I no longer go during times of peak traffic, and I think that's made my experience a lot better."
Maggie Bayer, a second-year human development major and bikini competitor, chooses the ARC as her designated workout place because it has the most equipment options. Judged on her muscle mass, body proportion and symmetry and muscle conditioning, Bayer appreciates that the ARC has the most machines for muscle isolation.
"I also feed off of other people's energy when working out, so I like how there are a lot of people there also working out," Bayer said. "It keeps me energized."
The ARC isn't unique to UC Davis. Enrolled UC students can take advantage of any of the ARCs across the UC system. One might even find themselves working out alongside Kobe Bryant at UC Irvine's ARC.
Whether you're there to win a bikini competition or to not feel as guilty about that TxMx burrito you inhaled after class, stay on top of your 2018 health and fitness goals at the ARC. During the school year, the center is open from 5 a.m. to 12 a.m. Monday through Friday, 8 a.m. to 9 p.m. on Saturdays and 9 a.m. to 12 a.m. on Sundays.
Written by: Liz Jacobson — sports@theaggie.org