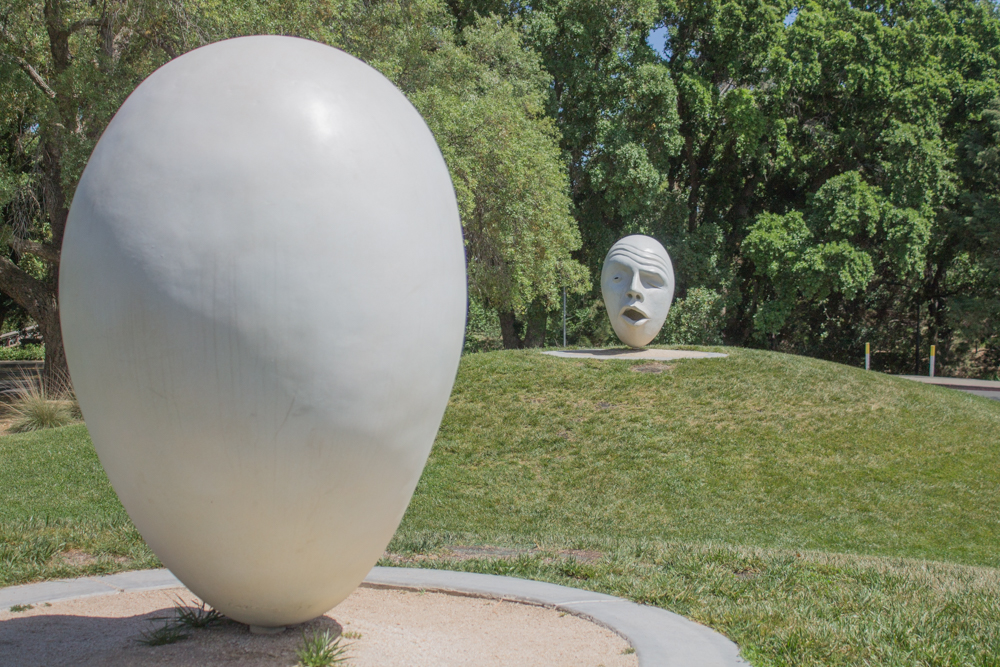 The Eggheads once again reign supreme as UC Davis's best public art. Introduced to the campus beginning in 1991, the Eggheads have established themselves as perhaps the most unique part of the UC Davis campus.
"They're a cool way of keeping our campus from being a generic university," said fourth-year political science and English double major Greg Yerumyan.
Six Eggheads can be found scattered throughout campus. Starting at King Hall, you can find two communicating eggheads, See No Evil and Hear No Evil, on a grassy knoll in front of the law school.
On the lawn behind Mrak Hall, an upside-down laughing head greets guests and keeps an Eye on Mrak, as it's named. In front of the library lies Bookhead, perhaps the sculpture with the most interaction. Kissing or rubbing the head of Bookhead is supposed to bring good luck to students during midterms and finals.
Another pair, Yin and Yang, stand in front of Wright Hall's main theater. The final Egghead, Stargazer, sits near the brick sign on the East Lawn that marks the original entrance to the campus.
Many students seem to be of the opinion that the Eggheads, while quirky, are quite weird.
"I think someone kind of looked in their fridge and saw an egg and was like, 'I'm going to make a sculpture out of that,'" said third-year biological sciences major Angelina Mitchell.
Written by: Taylor LaPoint — features@theaggie.org