Parkside aims to offer a fun and safe environment for the 21+ college crowd
By MONICA ROBERTS — features@theaggie.org
Parkside Bar and Lounge has been established as UC Davis' 21+ hotspot, racking up 58.9% of the votes for "Best Bar" in this year's Best of Davis survey. The bar is a Greek life watering hole, and the small club scene has no problem bringing in a large crowd on Thursdays, Fridays and Saturdays, its late-night days, according to students. 
Anthony Biagi, a Davis local and Parkside customer, attributes the bar's success to its owner, Jason Ojeda. 
"Jason does a great job of catering to the college for what serves them," Biagi said. "They have by far the cheapest drinks in town and have two DJs playing every Thursday, Friday and Saturday, outside and inside."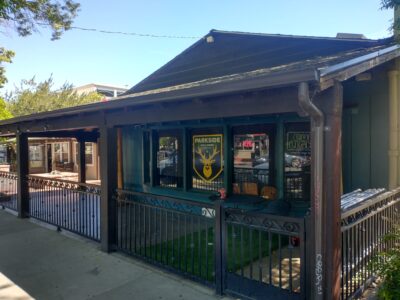 The life-size Connect 4 game and the rows of beer pong tables on the front patio draw in students who are passing by, Biagi said. Parkside takes advantage of its large outdoor space and has turned it into a lounge, game and dance area.
Ben Ojeda, a Parkside bartender and brother of Jason Ojeda, confirmed the bar's "nightclub-like" reputation and specifically called its Thursday through Saturday weekend "organized chaos." 
"Since we've reopened in October, we probably have over 300 kids a night every Thursday, Friday and Saturday," Ben Ojeda said. "At about 10 p.m. it really just goes [crazy] because that's when the DJs come in. Our crowd is mostly Greek life, college kids and clubby. We always try to make it a fun environment."
Parkside is also a popular spot for birthdays, as it offers space rentals and a giant birthday wheel to spin. 
"The birthday wheel is about five-by-five feet and consists of some drinks, some VIP stickers, a bag full of stuff, a pie in the face and other things," Ben Ojeda said. "When it's your birthday, we check your ID, and you come in and spin it, and it's totally free to spin."
Aside from DJs and games, what keeps Parkside customers coming back is its massive "fishbowl" drinks, according to both Biagi and Ben Ojeda. 
"Our 'fishbowls' are basically a giant cocktail with about four shots poured in," Ojeda said. "[Thursdays] we have fishbowl mojitos for $12, and on Fridays we do half-off our original fishbowls. We sell about 75 per night." 
Although the alcohol is cheap and plentiful, Parkside's security means business. Hazel Mohammad has visited Parkside multiple times and mentioned that the bar's security is heavily enforced. 
"They have security cameras, and, the last time I walked in, they took our photo with our ID," Mohammad said. "The security guards also wear bulletproof vests." 
Parkside is also known for its strict dress code, which ensures the safety of bar-goers. Sports team attire, hats and possible gang-associated colors are not permitted at the bar, according to Biagi and Ben Ojeda.
Ben Ojeda said that Parkside's main concern is safety, especially considering its younger clientele. Offering food and water to intoxicated students is a priority to keep the experience positive for newly-legal college students. 
The majority of Parkside customers order their food from Hometown Taiwanese Kitchen & Bar, according to Ben Ojeda. Bar-goers are able to order food from the neighboring restaurant without leaving the bar, as the two establishments are co-affiliated and will deliver food next door. 
For more information on Parkside's hours, events and policies, check out its website.
Written by: Monica Roberts — features@theaggie.org