Highlighting the feline friends who make campus feel like home
By CHRIS PONCE — features@theaggie.org 
Davis is known for its wide array of animals on campus. In this year's Best of Davis, 35.1% of students have voted to name the campus cats the "best campus animals." Whether that be the lawnmower sheep, the turkeys in the Arboretum or the cats on campus, animals are a staple to campus life at UC Davis. Cheeto the cat has become a particularly popular friend on campus, but he's not the only one. The cat living near The California Aggie's office and Voorhies Hall, called Newspaper by Aggie staffers, is a personal favorite for many students working at The Aggie.
Cheeto, who has made his home near the physics building, has grown to become one of the most popular cats on campus. Students often share their moments sighting Cheeto on Instagram. @Cheetodaily, an Instagram account that posts pictures of Cheeto, can be accredited for his growing popularity. The account has 7,480 followers, which includes the official UC Davis Letters & Science account, UC Davis Undergraduate Admissions and Chancellor Gary May. 
On May 12, Cheeto made a statement regarding his growing popularity. He said that it is a touching experience and that he is grateful for every moment of it. 
 "Meow… Meow, meow, meow, meow. Meow," Cheeto said as he ate catnip.
The creator of the @Cheetodaily Instagram account, who wishes to remain anonymous,  discussed the impact Cheeto has had on students on campus and wanted to remind students of the purpose of the account. 
"[The point of the account is] helping people destress and just have their daily dose of Cheeto to make their days a little bit brighter, just like what Cheeto would always do for me whenever I saw him," said the creator via Instagram Direct Messaging.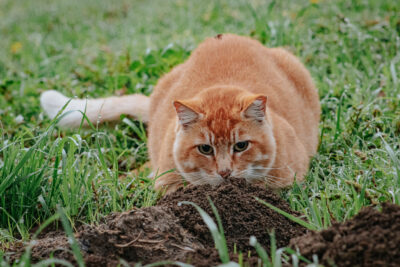 On May 12, Duncan and Vanessa, two third-year students, said they spotted Cheeto in the bushes and wanted to visit him. Vanessa shared that she visits Cheeto regularly, and they both shared their thoughts regarding the cats on campus.  
"He should let us pet him, but he won," Duncan said when discussing how Cheeto was hiding in the bushes. 
"I only ever see Cheeto actually; he's a good campus support cat," Vanessa said. 
"Everyone needs a little Cheeto," Duncan said. 
Duncan shared that Compost was his favorite cat before Compost passed away last October. Compost is one of the many campus cats lost in recent years. Coco, a calico cat who lived near Veihmeyer Hall, passed away due to a decline in health on Jan. 19, according to a memorial located at Veihmeyer Hall. 
The creator of Cheetodaily owes the popularity of their account to the growing number of students who take comfort in the cats — and in Cheeto in particular. 
"I know a lot of other students have similar experiences to me with how they've been impacted by Cheeto [sic] and I just think it's so great that we can all collectively enjoy Cheeto's company and appreciate him through cheetodaily," the creator of Cheetodaily said. 
Written by: Chris Ponce — features@theaggie.org