Students share their worst, and best, memories of the construction site that has been interrupting their morning commute
By UMAIMA EJAZ — features@theaggie.org
Construction sites on college campuses can be a hassle for students to handle, but like in many other cases, UC Davis students have a say in determining which of the on-campus construction sites have been the most inconvenient. 
This year, 61.5% of the students who responded to the Best of Davis survey voted to award the bike circle between Shields Library and Olson Hall the sarcastic title of "Best Place for Davis to Inconveniently Do Construction."
I-Wei Chang, a third-year communication major, argued that the construction was unnecessary at this time of the year.
"I fell once due to the construction," Chang said. "I would suggest that the school does the construction during the summer quarter. This circle happens to be one of the busiest sites on campus during the academic year."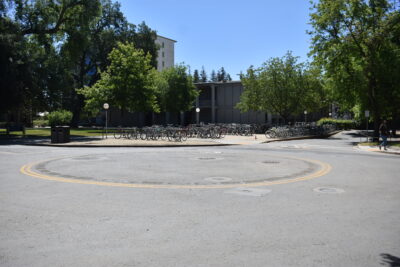 Another student, Ahnyka Lahman, a first-year biochemistry and molecular biology major, had at least two of her classes at Olson Hall every week. Lahman roller skates to her classes every day, and the construction on this route makes it one of the hardest commutes for her.
"Construction anywhere around this area during this time of the year is so inconvenient and unsafe," Lahman said. "A couple times, we just had this one narrow space where people had to walk, bike, and for people like me, to roller skate."
While construction on campus is inconvenient for many, it seems to be a bittersweet memory for some as well.
In the case of Hari Chandana Vuppu, a fourth-year managerial economics major, the construction may be engraved in her memories forever. 
"There are pictures of me wearing my cap and gown at a construction site," Vuppu said. "Can you imagine that? But because I spent the majority of my time as a student at UC Davis either at the library or Olson Hall — which were perfectly fine then — these places are important to me, even when they ruin my graduation photoshoot." 
Written by: Umaima Ejaz — features@theaggie.org