The Academic Assistance and Tutoring Center helps students succeed in their classes and improve their skills
By SUN YIE — features@theaggie.org
Coming away with 45.2% of the vote, this year's best student resource center goes to the Academic Assistance and Tutoring Center (AATC). The AATC provides several engaging educational services that promise to deliver academic help to anyone who needs it, proving it a valuable resource to the UC Davis campus. 
Students who seek help from the AATC can customize their education because tutors operate their lessons with the Big 3 Questions in mind, meaning that they teach by asking questions, giving practice problems and incorporating positive reinforcement. This tutoring style helps students have more agency over their lessons, allowing them to not only learn how to solve their own questions but also learn how to think more critically about their own approach to their class curriculum.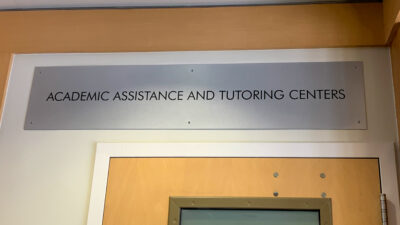 The AATC offers an assortment of services, including tutoring in chemistry and math and assistance with papers at the Writing Center,among others. Its mission is to make challenging and rigorous subjects at UC Davis more comprehensible to students. 
Katarina Schultz, a fourth-year English major, shared her experience at the Writing Center.
 "As a transfer student, I found it difficult to match my community college style of writing to the level of writing that upper-division English professors expected, so this resource was really helpful," Schultz said. "This service not only helped me with my papers, but also helped me to grow more confident and comfortable in my writing voice."
Math and chemistry classes have proven to be exceptionally difficult as well, but AATC mitigates many of the concerns that students have in these larger, "weed out" STEM classes by offering drop-in tutoring, individualized tutoring and workshops. Tutors at the AATC bridge the distance between students and professors, working tirelessly to provide comprehensible guidance in these subjects. 
Kyle Chuang, a fourth-year environmental science major, voiced his appreciation for the AATC Chemistry and Math Departments.
 "Organic chemistry and the MAT21 series would have killed me had it not been for the AATC," Chuang said. "I liked that I could cultivate a relationship with my tutors because it's very difficult to do that with your professors, when you're just one student among thousands." 
Fifth-year electrical engineering major and AATC tutor Prabhyjot Mann reciprocates this admiration for his tutees who have persevered through his MAT tutoring series.
 "I find this work to be even more fulfilling than if I were to tutor someone from K-12 because it feels so much more intimate knowing that I'm helping someone who is struggling in subjects that I used to have trouble with, and so it's nice knowing that I've grown to be in this position and to see the development of my tutees as well," Mann said.
Written by: Sun Yie — features@theaggie.org