There's something for everyone at campus' largest library
By ANGIE CUMMINGS — features@theaggie.org
Whether you aim to "study" with friends or actually grind and get s*** done, Peter J. Shields Library has a spot for you. Unlike other on and off-campus study spots in Davis, Shields is never lacking in a perfect spot to work, meriting 51.1% of the vote for Best Study Spot. It would take at least 30 or 40 minutes to take a complete walking tour of all the viable study spots at Shields, with a total of 350,000 square feet of space to offer. 
"It's definitely the most reliable place to sit and work in Davis, everywhere else fills up pretty quick," said Carolie Hopkins, a third-year computer science major.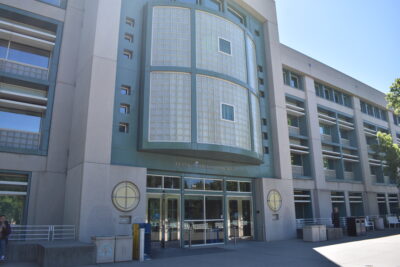 In addition to providing students with large-scale study halls made complete with an ample amount of outlets to charge their ever-dying computers, tablets and cellphones, Shields has quiet spaces lined with individual desks that can truly be made into any student's temporary home as they study for hours on end. These special little desks seem to be designed in a style akin to the concept of blinders for horses, immersing you in a wooden nook with only your study materials (and maybe your phone screen) in your line of sight. 
"I love studying in the cubbies. [They're] a tiny home," said Abby Golde, a fourth-year animal science major. 
One of the beauties of this particular study spot is that there really is no time limit on how long you can stay. What other study spot in Davis (perhaps besides the privacy of your own room) never really closes? While Shield's hours are technically only 7:30 a.m. to 12 a.m. on Mondays through Thursdays (they close at 8 p.m. on Fridays), one can make use of the slightly eerie 24-hour study room — fit with a nifty vending machine and green tiled bathroom. Even if you don't arrive at the library fully prepared for an extensive study sesh, the staff at Peter J. Shields has your back. 
"The fact that they let you borrow chargers is awesome, that's really saved me many times," said Livvy Mullen, a third-year design major. "They're portable so you don't even need an outlet."
Shields Library is more than just a good place to study. With a plethora of seating and a wide variety of environments, it is packed to the brim with amazing (free!) resources for any of your educational (or recreational) pursuits. In addition to having what seems like every book in existence, the library offers things like printers and use of their desktop computers. 
"It's an accessible and sustainable way to get the books and resources you need, whether it's for class or just for fun," Hopkins said. 
Written by: Angie Cummings — features@theaggie.org