Personalize your cup of joe only at Philz Coffee in downtown Davis
By BRANDON NGUYEN — features@theaggie.org
Receiving 41.3% of students' votes in yet another close competition against Mishka's Café, Philz Coffee has been named the Best Coffee in this year's Best of Davis. It's no surprise that Philz has become a staple for UC Davis students to kickstart their mornings or fuel their afternoons, as it offers tailor-made cups of joe as well as a hub for studying.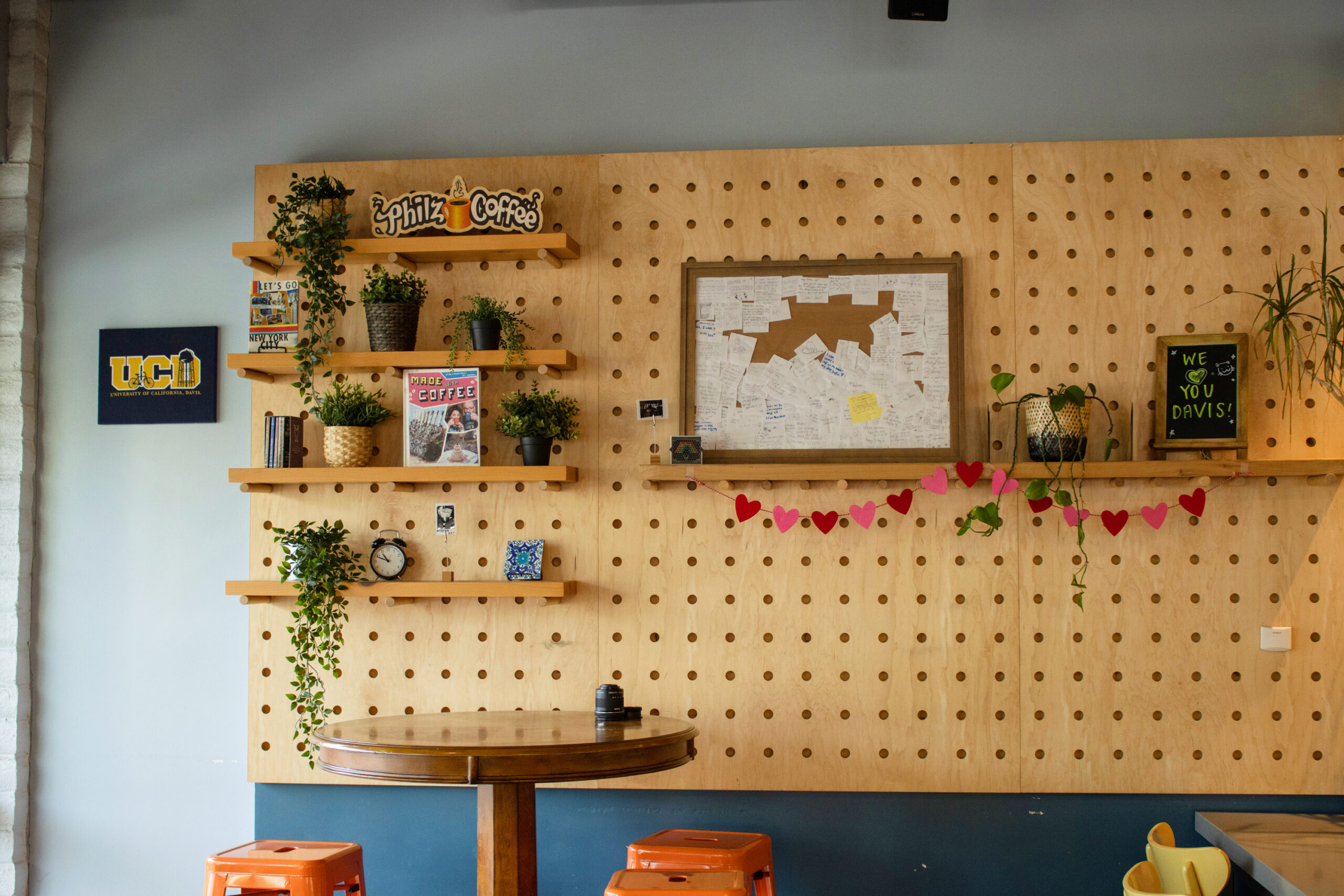 Customers line up to try the chain's famous blends, including the sweet and aromatic "Philtered Soul," the bold and spicy "Jacob's Wonderbar" and the smooth and creamy "Mint Mojito." The store's team of baristas, trained in Philz Coffee's signature "Philz Way" of brewing, are ready to cater these blends to every customer's taste and preference. 
One of the managers at Philz's Davis location is Bonovan Natoli, who offered insight into what makes Philz unique from other coffee shops in town.
"I would say the fact that we don't do lattes, americanos or espresso-based drinks is what makes us different," Natoli said. "Everything here is pour-over, whereas other coffee shops typically have their own pre-made coffee blends. We specialize in just making the best coffee that we can. We keep it simple."
Phil Jaber is the founder of Philz Coffee, whose mission is the principle that, "something as simple as a cup of coffee has the power to transform your everyday into something special" according to the cafe chain's website. With this in mind, Jaber traveled around the world and visited thousands of coffee shops to taste and uncover blends that made perfect cups of coffee. The first Philz opened in 2002 in the Mission district of San Francisco, providing customers with "better days one brewed-to-order cup at a time." 
Having been a long-standing chain with its very own location just a few blocks from campus on the corner of E Street and 2nd Street, Philz is an easy choice for students looking for a caffeine boost between classes. But it's not just the convenience that has made the coffee shop a hit among students — it's the quality of the coffee itself.
Given its history, Philz is known for carefully crafted blends, each one made from freshly roasted beans and brewed specifically to meet customers' taste preferences. This attention to detail has won over many UC Davis students, like Angus Chen, a fourth-year English major.
"The service at Philz has always been something I've thought every restaurant or cafe should mirror, possibly even more than making the drinks themselves," Chen said. "They always ask you whether or not the drink tastes how you like at the counter and will take it back to adjust it on the spot if you ask them to."  
In addition to its unique coffee blends, Philz Coffee also offers a variety of pastries, sandwiches and other snacks, making it the perfect spot for a quick breakfast, lunch or afternoon pick-me-up. The Davis location also boasts a spacious and laid-back storefront with ample seating options both indoors and outdoors — making it the perfect place for students, like fourth-year neurobiology, physiology and behavior major Gabe Deflin, to enjoy a warm cup of coffee.
"The ambiance at the Davis Philz location is what you expect a college town coffee shop to be — studious, smells like coffee and friendly," Delfin said. "Philz might be a franchise, but it's a lot less intimidating than other Davis coffee shops and has such a wide selection that it can even cater to those who don't drink coffee as often."
Echoing Deflin's sentiments, Chen pointed to the attractive nuance that Philz adds with its welcoming environment and decorations specific to this location.
"Ultimately, what makes Philz unique is the format and service of the cafe, and somehow, the place itself encourages you to stay inside for a while and enjoy the drink or food you've bought from them," Chen said. "You can see the baristas pouring your coffee over the high counter, which is not typically present in other locations. In addition to stellar service, they have decorations on the wall, like the bikes and Aggie merch that make the Davis location feel special, despite being a chain cafe. To me, Philz isn't just a place to grab-and-go."
So even if you may not be a coffee enthusiast, it's recommended to experience the unique flavors and handcrafted approach of Philz Coffee at least once. The Davis location is open daily from 6 a.m. to 6 p.m. So why not stop by and try one of Philz Coffee's famous customized blends for yourself?
Written by: Brandon Nguyen — features@theaggie.org