By SARAH HAN — features@theaggie.org
Davis Creamery is a family-owned business located in downtown Davis. It is open daily from Sunday to Thursday from 12-10 p.m., and from 12-11 p.m. on Fridays and Saturdays.
The creamery's main mission is to foster a "welcoming, enjoyable environment for all ages," according to its website. They also frequently partner with local businesses, student organizations and nonprofits to hold fundraisers. 
As a go-to dessert shop for UC Davis students and the greater Davis community, the ice cream shop is loved by many. Alexa Lehnus, a second-year English major, commented on why Davis Creamery is a local favorite.
"I like Davis Creamery because it's a staple of Davis, so it seems to have a personal feel to it," Lehnus said.
Cameron Tescher, a fourth-year wildlife, fish and conservation biology major, explained why the dessert spot garners a wide range of people, from college students to children and adults.
"Because it's a small business that is in downtown with great ice cream, it is worth going to for a great number of people," Tescher said.
One reason Davis Creamery's ice cream is so delicious is because the product is hand made in small batches, incorporating fresh and local ingredients into every flavor. They also have a "rotating menu," so flavors change regularly.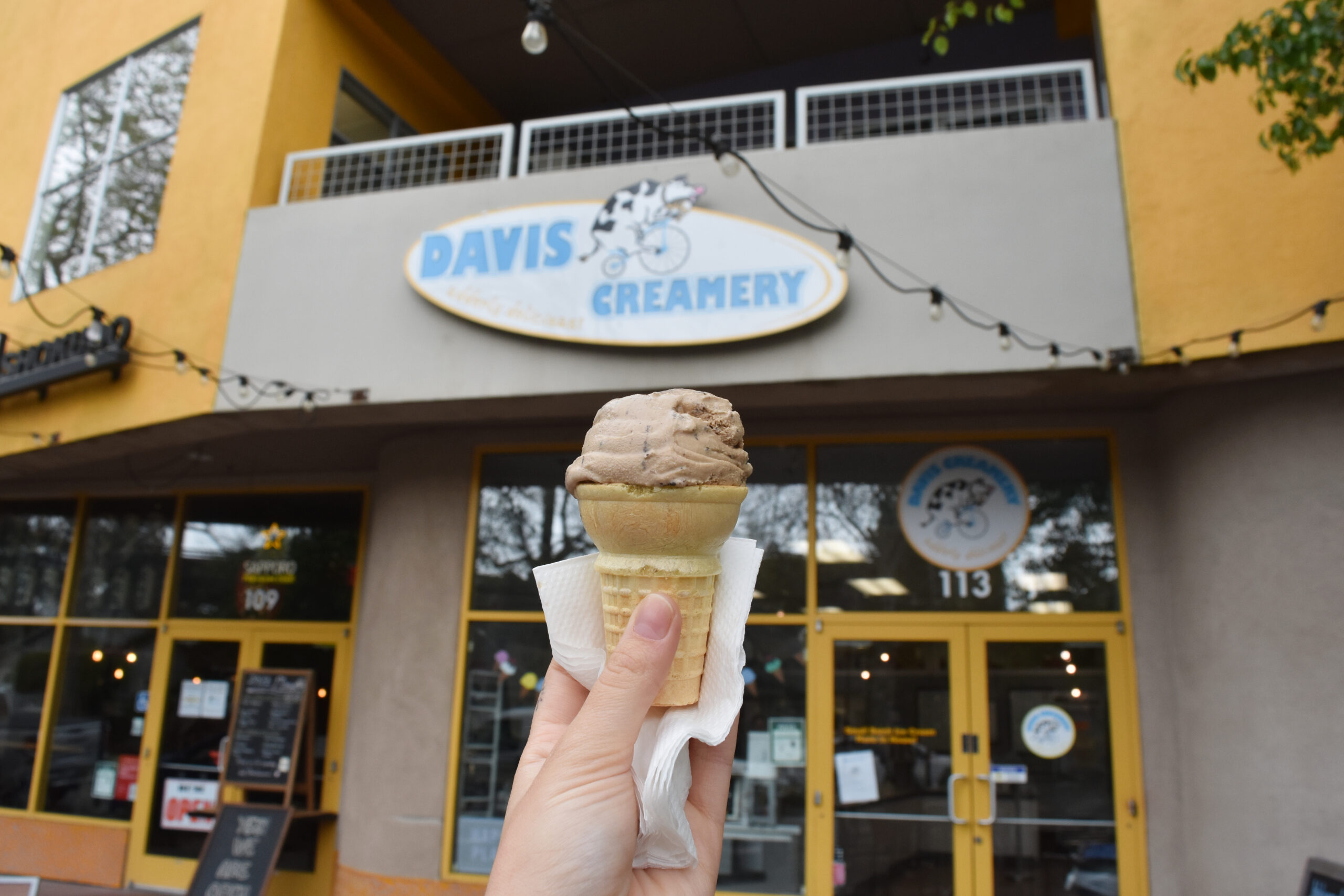 Lehnus elaborated on the diverse flavors provided for customers to enjoy.
"[The creamery] has a lot of cool flavors to try out along with basic ones," she said. "I personally like the coffee Oreo flavor. It's basically my two go-to flavors in one," Lehnus said.
In addition to classic flavors like vanilla and chocolate, the creamery also has more experimental ones, like banana bread, cherry cheesecake, ube, avocado coconut, cardamom rose and others. During the holidays, they sell seasonal flavors such as eggnog, candy cane and pumpkin chai.
"The different sherbets [are good]," Tescher said. "However, the fun flavors of ice cream are great."
The store does not only sell ice cream though — cookies, caramel apples and macaroons are just a few of the other dessert options available. 
Lily Jacobson, a first-year international relations major, recommended some of her favorite ice cream and other desserts.
"[I like] ice cream flavors [such as] coffee, cookie butter [and] ube," Jacobson said. "[For] other desserts, [I like the] cookies [and] sticky toffee pudding."
Additionally, customers can mix and match desserts: upon request, employees can make cookie ice cream sandwiches, customized milkshakes and even lava cake sundaes.
Davis Creamery also provides catering for weddings, birthdays, proms and more, so you can enjoy its ice cream wherever and whenever.
Whether you want to stop by for a quick treat or try out new ice cream flavors, Davis Creamery is sure to satisfy those sweet cravings with its ice cream and a plethora of tasty alternatives.
"I think a lot of people consider it a staple — people say good things about it and it seems like a place new students should try," Jacobson said. 
Written by: Sarah Han — features@theaggie.org