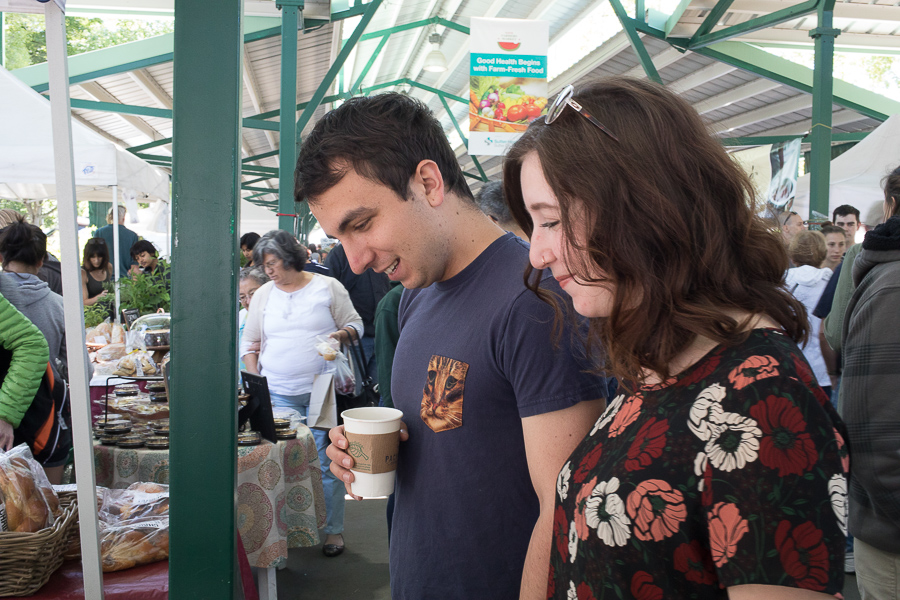 Davis has many places to spend a romantic day — from picnics in the Arboretum to a nice dinner downtown and maybe even petting the Tercero cows. This year, students have decided that the best place to take a date is the Davis Farmers Market.
Open Saturdays from 8 a.m. to 1 p.m. and Wednesdays from 2 to 6 p.m., the Davis Farmers Market sells a wide variety of locally-grown fruits and vegetables, baked goods, arts and gifts, honey, eggs and more.
The market is also home to the International Food Faire and the beer and wine garden. Children can enjoy the bouncing bungalows, two playgrounds, Cenral Park's bicycle-powered carousel, face-painting and Dilly Dally the Clown. Local bands also perform a wide variety of music at Picnics in the Park on Wednesdays from 6 to 8:30 p.m., which set a casual yet romantic mood. Performed genres include rockabilly, blues, folk, bluegrass and pop/rock.
"It's a nice place to take a date," said Mattie Fritz, a first-year biological sciences major. "The weather is always nice in the spring, and you can sample new food together. Plus, there's always a booth that's selling flowers — a nice gesture for your S.O. [significant other]."
So, for anyone heading out for a day of romance with their special someone, consider checking out the farmers market!
Written by: Clara Zhao — features@theaggie.org