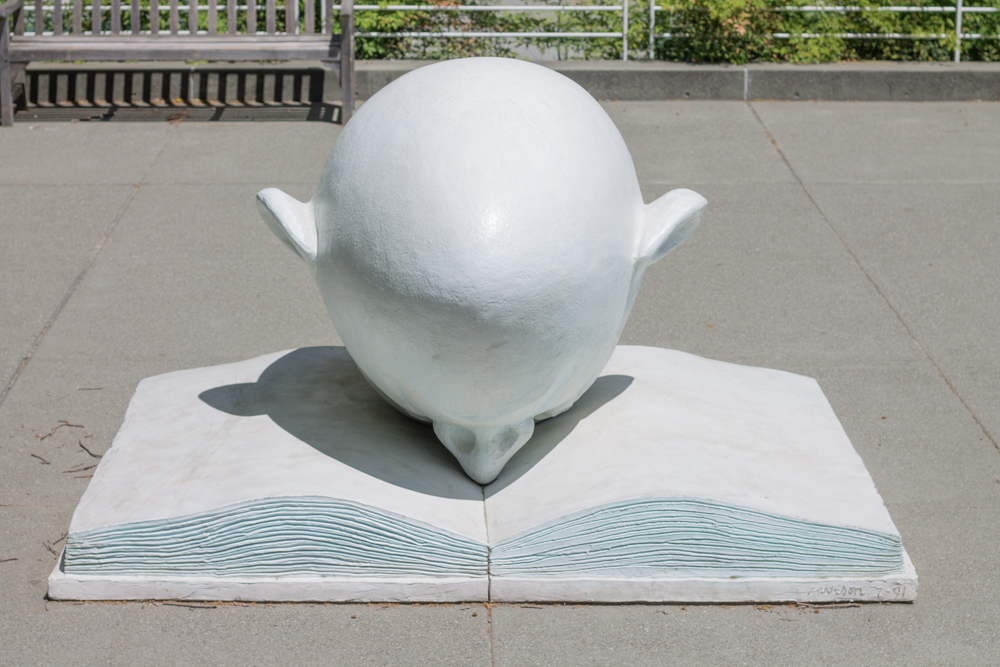 This year's favorite egghead sculpture, the "Bookhead," welcomes visitors to UC Davis' Peter J. Shields Library with its head literally buried in a book.
Renowned UC Davis Art Department professor and artist Robert Arneson, a lauded sculptor whose work can be found in many museum collections, created "Bookhead" as well as the other four sculptures of The Egghead Series. The painted bronze "Bookhead" piece was installed in October 1991 as the first of the series, and it is differentiated from the other eggheads by its light blue coating.
Arneson, who passed away in 1992, established the ceramic sculpture program for the UC Davis Art Department in 1962, which was controversial at the time because ceramics was considered to be outside of the fine arts sphere. Today, Arneson's work allows students to reflect on their own time at UC Davis.
"It reminds me of how I feel about studying," said Jasnoor Kaur, a third-year neurobiology, physiology and behavior major and library assistant.
For Kaur, the sculpture symbolizes the academic process of immersing oneself in literature and absorbing the text. In the midst of midterms and finals weeks, students have been known to kiss or rub "Bookhead's" bald skull. Even during less stressful times, the disembodied head nestled face-first in an open book still captures the attention of students and other passersby.
Written by: Aaron Liss — features@theaggie.org