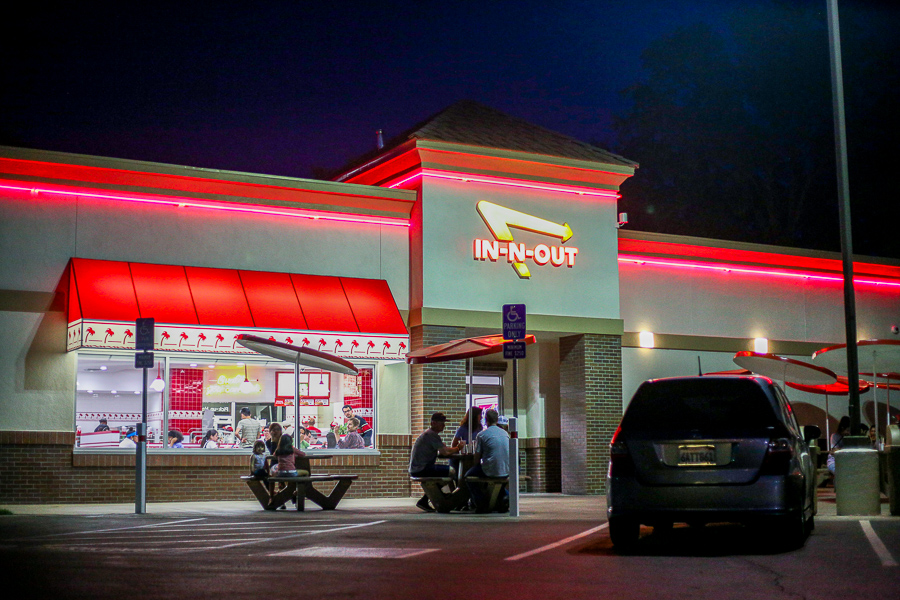 Late into a night of grueling studying, working or partying, sometimes, students just need a snack. In-n-Out is always there in those late hours, its golden arrow glowing in the darkness, a bastion of good eats.
In-n-Out's simple menu only offers burgers, fries, drinks and shakes available for purchase. If a particular patron does not find something for themselves on the menu, there are also plenty of options on the "secret menu" such as fries or burgers "animal style" with cheese, grilled onions and In-n-Out's special spread, "protein style," with lettuce instead of burger buns, and grilled cheese for vegetarian customers. This way, people with all kinds of diets can enjoy In-n-Out's great food.
Cesar Corrales, a second-year environmental toxicology major and In-n-Out fanatic, has a particular favorite meal at In-n-Out.
"The double-double with animal style fries and a Neapolitan shake, with extra spread on the side," Corrales said.
In-n-Out of course leaves plenty of room for personalization and even allows patrons to customize the number of patties and slices of cheese to put on a burger — all the way up to 100×100. Indeed, In-n-Out serves to please.
In-n-Out stays open until 1 a.m. on weeknights and 1:30 a.m. on Fridays and Saturdays for all who wish to satisfy a late-night craving.
Written by: Aaron Levins and Gillian Allen — features@theaggie.org