This food science course is for students of all majors, with valuable real-life applications and professors who pay attention to both the mental and physical facets of health
By LEVI GOLDSTEIN — features@theaggie.org 
The three unit lower-division course Discoveries & Concepts in Nutrition (NUT 010) offers an introduction to food science, giving students vital knowledge that is readily applied outside of the classroom. Voted best class to take online in 2021 and best GE in 2017, 2018 and now once again in 2022, NUT 010 is a clear student favorite with 36.9% of the votes in this year's Best of Davis. 
According to Dr. Liz Applegate, a former distinguished senior lecturer emerita in the Department of Nutrition and Director of Sports Nutrition, the course was designed to be approachable for non-STEM majors. 
"Everybody eats," Applegate said. "This is a topic everybody should know about." 
During her time teaching the course, Applegate developed an online version, and NUT 010 is now available to be taken in virtual (NUT 010V) and hybrid (NUT 010Y) formats.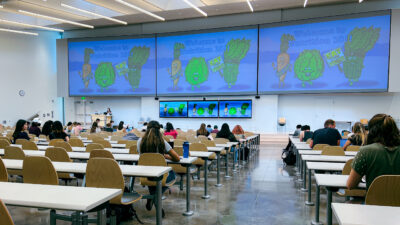 NUT 010 is valuable for students like first-year psychology major Aaliyah Valdez, who is currently taking the course in spring quarter 2022. For Valdez, NUT 010 is a relatively easy GE that teaches how food affects the human body. 
"It shows you the differing ways of what nutrients people need," Valdez said. "What captivated me is how each food goes through your body and how your body processes it."
Dr. Debbie Fetter, an assistant professor of teaching and the current NUT 010 professor this spring, was inspired to study nutrition when she took the course as an undergraduate at UC Davis. Because she had close friends who experienced disordered eating when she was in high school, Fetter strives to encourage more healthy relationships with food among her students. 
"There's no one right way to be healthy," Fetter said. "There's no such thing as a good or bad food. You can't tell how healthy someone is simply by looking at them. Health comes in all shapes and sizes."
Fetter also hopes that her students will develop a filter in NUT 010 for misinformation about nutrition and unrealistic body standards in the media. 
"My goal is to teach students how to think critically about the nutrition information that we're bombarded with in the media and especially on social media," Fetter said. "It's really tough to escape it. But my hope is that students will be able to apply the science-backed skills that they learn from Nutrition 010 to be able to look at a future social media post and question […] the information that they're seeing and also question the source."
NUT 010 students appreciate Fetter's efforts to make the class a safe environment that focuses on mental health as much as physical health. 
"The professor never says, like, these are the amount of calories you should take," Valdez said. "Nothing is really pushed on you."
NUT 010 consistently fosters a supportive environment for not only undergraduate students taking the course, but also for its graduate student TAs. Applegate and Fetter are both grateful for their teams of teaching assistants, who they say are highly motivated and invested in their students. 
NUT 010's lasting impact on students makes it a successful general education course, and it is why its professors speak so enthusiastically about their experiences teaching it. 
"I run into people all the time in other states — I don't mean to sound boastful at all -— but what I get is, 'Oh, hey, I had you at UC Davis, NUT 010,' and then they tell me something they learned," Applegate said. "I feel really good that nutrition has made a difference in their life, and that UCD did, and also that they got the takeaways. To help them understand the importance of what you eat and [how] it can make a difference in your health, that just means a lot to me. I think it is that type of topic that will carry on that way in years to come."
Written by: Levi Goldstein — features@theaggie.org