This week ASW roamed the Quad in search of dapper dudes. I looked specifically for male students who appeared to have put some thought and effort into expressing themselves by showcasing their personal style identity through daily dress.
As a female design student and long-time fashion maven, I always assumed that men had it much easier than women when it came to putting on clothes in the morning. There are definitely students who put little effort into getting an outfit together to go to class, but I've found that being on a college campus changes the context of dress.
We, as college students, are surrounded by tens of thousands of our peers, and many of us feel the need to dress to impress. The three male students I interviewed all spoke of some level of dressing so as "not to face too much judgment from others," as well as of choosing clothes that reaffirm identity and show a sense of self.
It is also worth noting that all the students I interviewed on campus happened to be fourth-years and had time here at Davis to develop a personal style identity.
Erick "Panda" Malver – an American studies major – caught my eye while sitting at the Ski or Snowboard Club table wearing bright red, flouncy harem pants, expensive looking skier / snowboarder sunglasses and mismatched socks.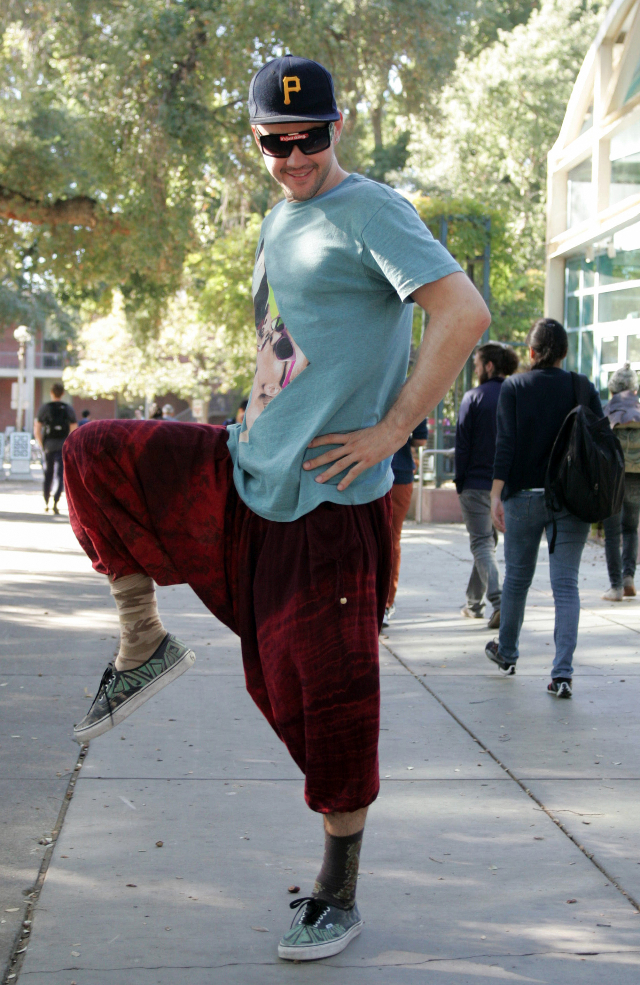 ASW: Can you tell me a little bit about what you chose to wear today?
Malver: I'm wearing some harem pants that my friend brought back from India. They are really comfy and flowy, and they have pockets with jewels on them. I threw two socks on that I found on the floor.
ASW: How would you describe your personal style in three words?
Malver: Steezy and fab.
ASW: What is your favorite item in your wardrobe and why?
Malver: My panda onesie. [It's great for] the ski season. I wear it a lot, maybe a couple times a week. [It's fun to wear] to parties or even when I want to put on cozy pajamas.
Chris Lui's newsboy cap drew my attention immediately. Lui is a fourth-year sociology major from San Francisco. His expressive style reminisces the roaring 1920s but still incorporates some more modern elements such as off-brand Converse-style sneakers.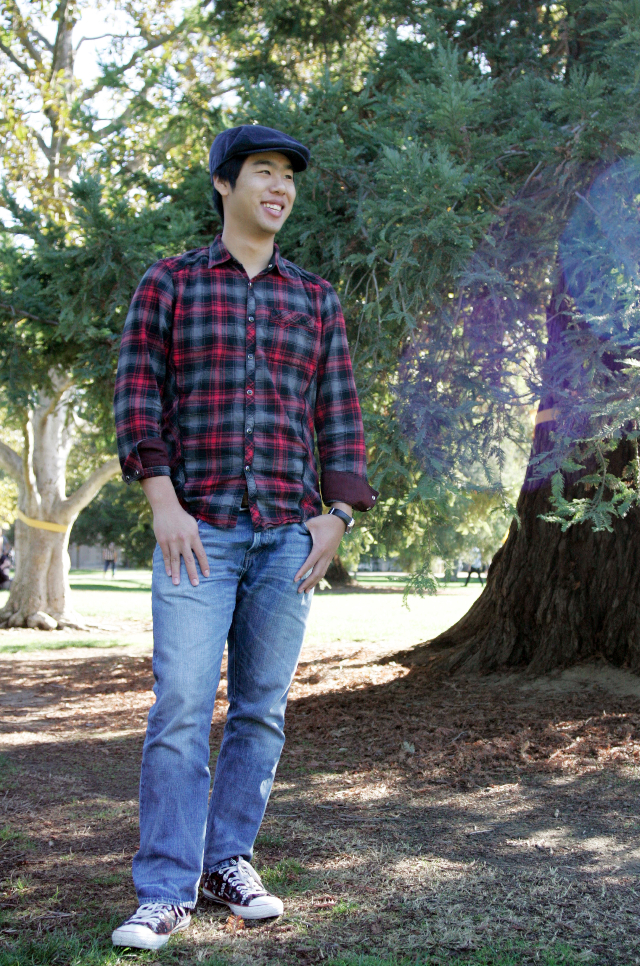 ASW: How would you describe your style in three words?
Lui: Easy, simple and timeless. I don't like name brands or trends.
ASW: Where do you shop for most of your clothes?
Lui: Not anywhere in Davis. Most of my clothing is either hand-me-downs or found at thrift shops in San Francisco. I am lucky because my dad is really into fashion, so I get a lot of his clothing.
I wanted to interview Trevor Ehlenbach because he was dressed in full cross-country athletic wear. Ehlenbach is a fourth-year film studies and Spanish double major. I picked him because it seems to me that exercise clothing has become a new dress norm across campus, and I wanted to see what he might say about this trend.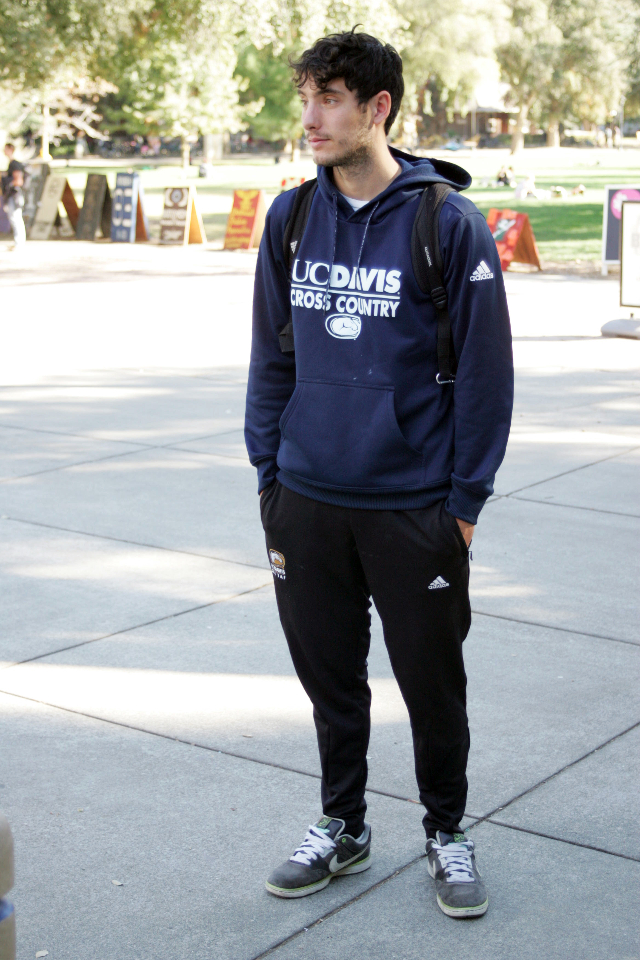 ASW: How many days out of the week would you say you wear athletic gear?
Ehlenbach: When I'm in season it's every single day of the week. The season is about to end soon, so I will take advantage of being able to wear "normal" clothes like jeans and T-shirts.
ASW: How does wearing athletic gear emphasize your personal style identity?
Ehlenbach: One of the reasons why I wear it is for convenience, but another reason is that it definitely makes me feel more Aggie pride. It also makes me feel empowered because only one percent of students are athletes and even less than that are on the cross country team.
Aggie Style Watch would like to thank Malver, Lui and Ehlenbach for taking time out of their days for impromptu interviews and photoshoots that help give students a better idea of UC Davis campus dress culture and understand what it means to express oneself through clothing choice on a daily basis.
Photos by Julia Kinkela