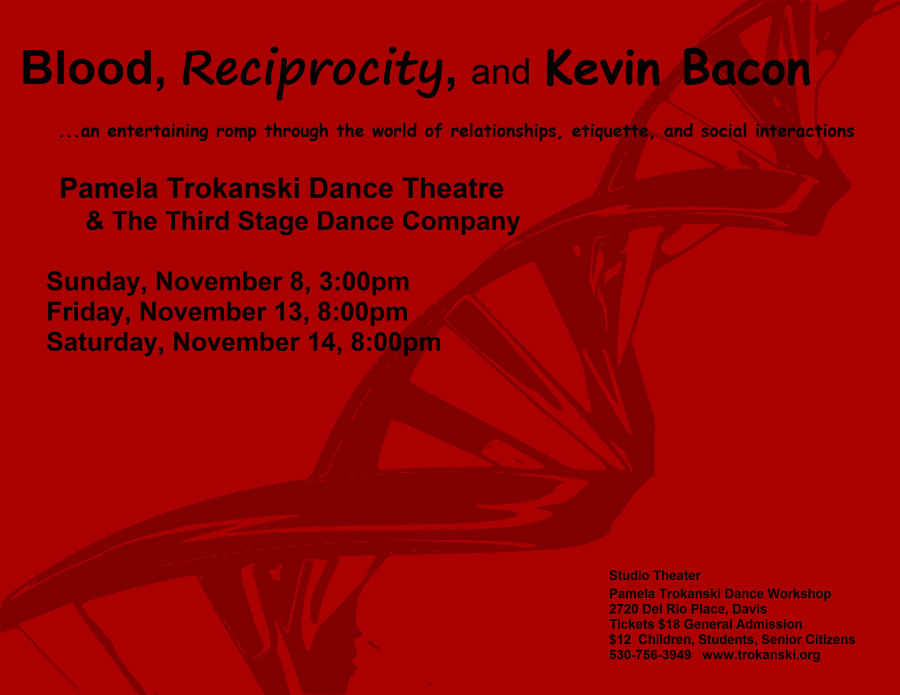 Pamela Trokanski's Dance Theatre presents Blood, Reciprocity and Kevin Bacon.
Dance enthusiasts will be pleased to hear of the upcoming performance by Pamela Trokanski's Dance Theatre (PTDT) titled Blood, Reciprocity and Kevin Bacon. PTDT is a contemporary dance company located in East Davis and has been around for nearly 30 years. Blood, Reciprocity and Kevin Bacon is a performance that aims to reveal the interconnectedness of human interactions and relations.
The director of the theatre troupe, Pamela Trokanski, explained the premise behind the show in more detail.
"[Blood, Reciprocity and Kevin Bacon] is a reflection on both the ways human beings have [created] various social structures that aid in our survival, as well as the implications of our actions on others," Trokanski said.
The concept of the show is that all people are connected to each other, either via family ties, the "blood" part, or through some sort of mutually beneficial relationship, the "reciprocity" part.
"We're basically exploring […] what reciprocity [is], how it evolved and how we connect with others throughout the world," Trokanski said.
The performance uses interpretive dance to answer thought-provoking, profound questions that deal with our everyday interactions with other humans. Trokanski also wants to use the show to answer questions such as why people are excellent tippers, why some are fanatics about recycling and why some always remember to close the lid on the toilet.
The performers of the show have to deal with a variety of complexities, from the technical movements of the dance, to the deeply philosophical questions the performance stirs. Dancer Cindy Robinson says she has been preparing for this show since late August and that the training is quite extensive.
"I usually take between five to seven classes per week on technique, conditioning and choreography. In addition, we are in rehearsal every Sunday for four to six hours, depending on how close we are to the concert," Robinson said.
Without a doubt, much is expected from the dancers, since a production this intricate requires exceptional performers. Trokanski mentioned that this performance will force the dancers to not only perfect their movements, but to tap into their interpersonal experiences to better convey the essence of the production.
When asked about their opinions about the show, some students, like fourth-year chemistry major Alex Smith, feel that answering obscure questions through interpretive dance and theater is both unusual and worth watching.
"Combining really hard-to-answer questions with dance and putting on a show [about] it is pretty unique […] I think it is worthy [to watch] because these questions can be difficult to answer, but if you combine them with dance it can be a lot more interesting," Smith said.
Blood, Reciprocity and Kevin Bacon promises to be an amazing production of vigorous movements and philosophical enlightenment.
The show will be held at Pamela Trokanski's Dance Theatre located at 2720 Del Rio Place, Davis CA and performances will be on Nov. 8th at 3 p.m., and Nov. 13th and 14th at 8 p.m. For more information, please visit the following link.