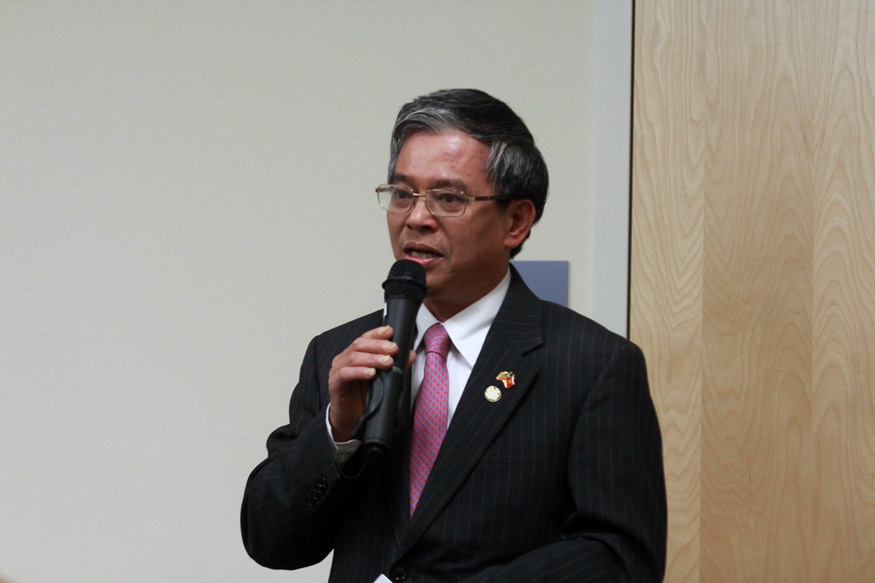 Ambassador Pham Quang Vinh discusses Vietnam and U.S. relations.
On Oct. 20, Vietnamese Ambassador Pham Quang Vinh delivered a speech on Vietnamese and American relations at the Memorial Union's De Carlie Room. The ambassador's visit to UC Davis represents an effort to bridge a connection between the U.S. and Vietnam that will benefit both countries economically, socially and culturally.
The one and a half hour long event, which was attended by approximately 70 people, was followed by a question and answer portion with the audience. The event was arranged by Asian American studies professor Kieu-Linh Caroline Valverde. Ambassador Vinh's visit is the first formal visit made by a Vietnamese Ambassador to a University of California. His visit marks the 20th anniversary of diplomatic relations between Vietnam and the U.S.
"[This event] is in large part for the students," Valverde said. "I want students to know that they can have access to high-ranking dignitaries, and they can engage them in conversation […] I wanted the ambassador to know that Davis has bright, critical-thinking students [who] are not afraid to ask tough questions."
Ambassador Vinh wishes to expand Vietnam's relationship with UC Davis and the United States in several areas, including political relations, foreign affairs, economic cooperation, science and technology, security and defense, education and "people-to-people exchange." People-to-people exchange, which includes tourist visits, studying abroad and working abroad, offers opportunities to citizens of both countries in a bicultural and bilingual experience, according to Vinh.
"For Vietnam-U.S. relationships, I think that this year is an important year," Vinh said. "If you look back in our history of 60 years, it seems that our relationship has been related to what I call cycles of 20 years. 1955 to 1975 we have war, and then from 1975 to 1995 we have embargo and people cannot understand each other. Now from 1995 to this year 2015, we have been developing our relationship, we have diplomatic relations, and then we have a comprehensive partnership […] so I think all the progress we have achieved is so tremendous."
UC Davis has had an established connection with Vietnam through the International Program under the College of Agricultural and Environmental Science, in which UC Davis helps Vietnam along with many other countries agriculturally. Valverde explained that Ambassador Vinh especially wants to expand this relationship with UC Davis to the social science and humanities department to correct the common American perception of modern Vietnam.
"The big reason is because there are misconceptions and misperceptions, and a lack of information and good writing and research about the modern Vietnam," Valverde said. "So these [newfound understandings] will be important areas of growth for a relationship between the two countries, for those outside of Vietnam to learn more about Vietnam, and those inside Vietnam to have access to information and research and training."
Valverde is working towards establishing a center for Vietnamese studies at UC Davis that will support social research on modern Vietnam in order to encourage critical thinking about the future of the country and its relationship with the U.S.
The U.S. and Vietnam's Trans-Pacific Partnership (TPP) was a frequent subject of concern for many students during the question and answer portion of the event, which signaled its significance and controversy among the audience. The partnership is a trade agreement that includes the U.S. and 11 other Pacific Rim countries (excluding China). Among the audience members who raised question concerning the agreement was fourth-year Asian American studies major Ralph Vin Imatong.
"There are plenty of reasons why Vietnam chose to continuously build a strong relationship with the U.S.," Imatong said. "However, just like any partnership of this scale, personal interests are inevitable. I have questions such as what will the U.S. get from this partnership? What will Vietnam do to the poor people that will be displaced by this economic partnership? How will the government make sure that these giant companies will not take advantage of the Vietnamese people?"
Despite such issues of contention, Valverde sees questions like these asked by the students to the ambassador as a positive sign that international issues matter to students. She noted that in the past, certain sectors of the Vietnamese American community have been known to protest events promoting U.S. relations with Vietnam. Valverde believes that the ambassador's visit signals a change in the Vietnamese American community.
"A couple years ago, this would be unthinkable," Valverde said. "There would [have been] lots of protests, agitators, berating, heckling about human rights…but there was none of that. That's historical, that's monumental, it signals a shift. It's saying students want to learn, they want to know, they want to engage, to have access."
Imatong echoes Valverde's insight.
"I do wish to see more events like this on campus," Imatong said. "I think it is important for students to at least have a sense of what is going on in the world stage because whether we like it or not, we are affected by it in some way […] I think these kinds of events provide a space for understanding and empowerment for the students, especially in the Asian American communities."
Ambassador Vinh's visit is the most recent in a series of steps towards establishing a connection between UC Davis, the U.S. and Vietnam. The first step towards U.S. and Vietnam relations began with Vietnam's General Secretary Nguyen Phu Trong's visit to the U.S. last July. During his visit, he met with the Obama Administration to negotiate the TPP.
On a more local level, Trong met with California governor Jerry Brown to initiate the establishment of a sister city between Sacramento and Ho Chi Minh City, which led to Valverde's visit to Vietnam this month to meet with universities and government officials in the country.
Valverde emphasised that the United States' continued relationship with Vietnam depends on the support of the community, including faculty and students.
"Students don't think they can ask for these things, so when they do, people listen," Valverde said.