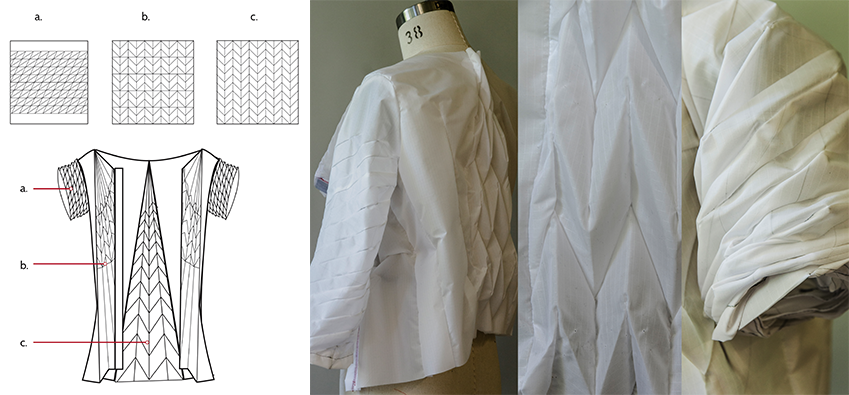 UC Davis professor, design and engineering students create jacket that unfolds, fastens itself
With the help of Assistant Professor in the Department of Design Dr. Helen Koo, two UC Davis students designed and engineered the self-fitting, origami-style "Enfold jacket" for people with body movement difficulties.
Fourth-year design and psychology double major Jason Lin and second-year electrical engineering major Jasmine Zhou collaborated with Koo to create a jacket that would essentially fasten itself, saving the wearer the difficult tasks of buttoning and fitting into a jacket.
"I always had an interest in developing clothing for people who are sitting on a wheelchair, because special clothing would be needed for them," Koo said in an email interview. "When they sit for a long time, their body shape and postures change, [causing] discomfort and pain. I wanted to develop clothing that could automatically [be] put on and off, and that could keep [the wearer's] dignity and privacy and reduce the work of caregivers."
Lin had an interest in the subject, having interned at the UC Davis Student Disability Center and taken a multitude of developmental psychology classes. After listening to Koo deliver a talk at TEDxUCDavis in April 2015, Lin became inspired to design fashion for people with disabilities.
"I realized [fashion] can actually help real problems," Lin said. "[Koo] mentioned, 'What if we could make clothes that helped people who couldn't move very well, and the clothes kind of put themselves on?' It sounded kind of magical."
Lin contacted a peer with cerebral palsy, a movement disorder that often impairs motor skills, and asked her about any clothing difficulties stemming from her disability. The student mentioned difficulties with buttoning, which then gave Lin the idea of a design that might solve this problem.
"A jacket that would button itself up was the idea," Lin said. "The whole point is to give people a sense of independence, because clothing yourself is a really independent activity."
Lin and Zhou both began interning for Koo in spring 2015 at the Fashion Design and Technology Lab (FT Lab). With Koo's supervision, the two students used their different branches of study to complete the Enfold project; Lin concentrated on the design of the jacket while Zhou specialized in the technical field.
"We combined knowledge and techniques of fashion design, industrial design and electrical and computer engineering," Koo said in the email.
The Enfold jacket is made of polyester fabric that is folded, ironed and seamed with shape memory alloy, a wire that can be bent and then straightened with an electric current.
"The jacket would fold up using origami techniques," Zhou said. "In parts of the folds, we would stick shape memory alloy wires, which would return to a straightened position when a current was passed through them. We integrated that with the origami part to unfold the jacket in such a way that the two parts of the jacket would come together and use a magnet to fasten."
Lin applied his 15 years of experience with origami techniques to the Enfold jacket design.
"We were thinking of different ways that you can make clothes change," Lin said. "I've been folding origami for a lot of my life, so that was my concept — putting origami folds into clothes."
An Arduino micro-controlling device was used to run the current through the shape memory alloy wire. The wire is made of a nickel-titanium alloy designed to remember specific shapes that will reform once the wire is heated to a certain temperature– in this case, by the current from the Arduino.
"We had a few buttons that you push to get the shape memory alloy to activate," Zhou said. "The purpose of hooking [the shape memory alloy wire] up with the Arduino is to change the behavior. We could make [the jacket] actuate faster or slower."
Despite their best efforts, there were problems that both Zhou and Lin faced in each of their respective fields during the process. For Zhou, safely adding battery power to the jacket was challenging. Meanwhile, Lin faced obstacles in designing the jacket, including which fabric to use and assembling the pieces of the jacket.
"Trying to make it look good and do what it's supposed to do was a real challenge," Lin said. "It's harder to fold the wire in sharp corners than you'd think, and just getting the two [sides of the jacket] to line up was a real pain."
Due to the weight of the magnets, Lin and Zhou also experienced difficulties getting the wire to acquire enough force to push the magnets towards each other.
Because of these problems, the Enfold jacket was not completed as they had hoped, and various issues regarding the mechanics of the jacket have not yet been solved. However, Koo and her students said they are still hopeful for the future of the jacket.
"We want to develop [the jacket] into various items and designs including different sizes and transforming details," Koo said. "Also, we want it to recover well, so that when we press the button, it can go back to its original shape, to make it easy to put on and off."
Koo and her students considered the project both a learning process and an inspirational innovation for students with disabilities, which could lead to ground-breaking inventions in the future.
"'Enfold' means to fold something, and also to clasp something really lovingly, and that was where the whole project started — from a place of love," Lin said. "We want to help these people that can't really move as independently as other people. We want to give them this jacket that essentially clasps around them and gives them a sense of independence and warmth.
Written by: Allyson Tsuji – features@theaggie.org