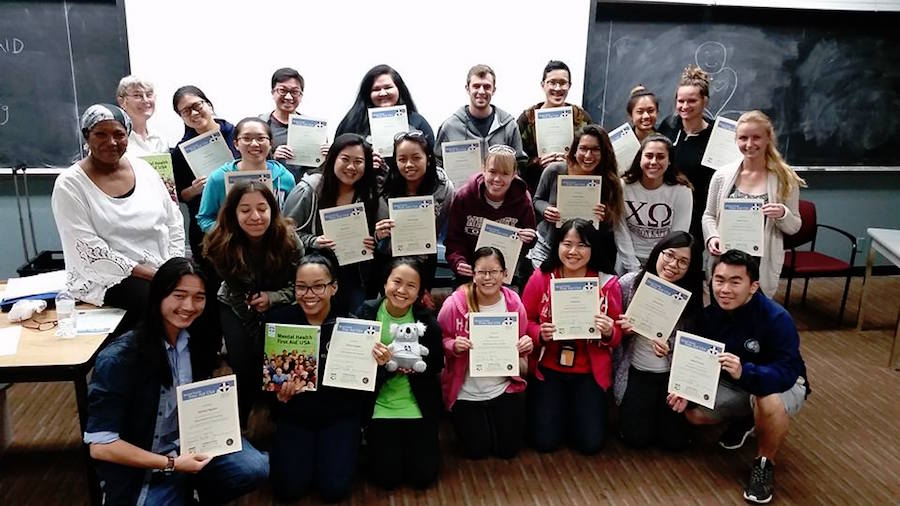 UC Davis NAMI holds first aid training to help students cope with mental health emergencies.
The UC Davis National Alliance on Mental Illness (NAMI) began quarterly Mental Health First Aid Training in February 2015 to help students struggling with mental health issues.
"I attended the first one in February," said Karishma Sethi, a third-year neurobiology, physiology and behavior major and publicity ambassador for NAMI. "It is a training in which students can learn mental health literacy and how to better themselves and the community through those skills."
Students can utilize the Activities and Recreation Center (ARC) to take care of their physical wellness and some work part-time jobs to ensure that they stay financially stable. Yet amidst busy college days, mental wellness is all too often overlooked.
For some, this may result in high stress levels, anxiety and even depression. According to the National Institute of Mental Health, approximately 15.7 million adults 18 or older experienced one or more major depressive episode in 2014.
Making sure that friends and peers get the proper help or reassurance in order to make it through difficult times is the purpose of NAMI's training. The training is provided free of charge by trained volunteers through the NAMI Yolo chapter. NAMI Yolo hopes it will benefit students by exposing them to a variety of mental health literacy skills, including the risk factors and warning signs for mental health problems, understanding mental illnesses, having an action plan for helping someone in crisis and finding professional help.
"It's an opportunity to talk about something that not many are willing to talk about, especially with a group of peers," said Sam Drexler, a fourth-year sociology and communication double major and the president of NAMI. "The event has a max capacity of 35 students per quarter for the event. There is always a wait-list; a lot of people are interested in this profession [and] want to get educated on it."
Although the event is fully booked each quarter, club members assure that the volume of people in attendance does not distract from the value of the experience for each individual. Students come out at the end of their two-day training certified in Mental Health First Aid.
"You're prepared on how to act appropriately when you see someone in distress," said Jackie Leonardo, third-year cognitive science and neurobiology, physiology and behavior double major and NAMI publicity coordinator. "A lot of people know the gist of what to do logically, but this teaches you the little specifics on how to approach a person in distress."
The training is set to take place later this quarter, with final preparations currently being made. As the events continue, NAMI hopes to aid others in their struggles with mental health.
"I came in not knowing a whole lot about how to be prepared for mental health crises," Sethi said. "This training has been very beneficial for me and my well-being. It allowed me to realize that everyone is fighting their own battle."
Written by: Alan Castillo – features@theaggie.org