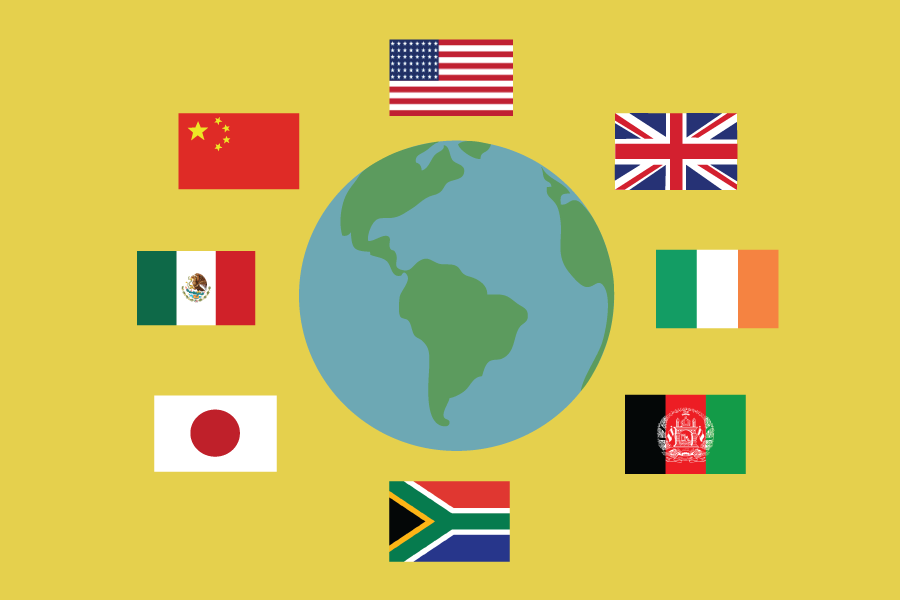 National and international students discuss what it means to feel American
Fourth-year neurobiology, physiology and behavior major Nene Takahashi sits at a blue table on the Coffee House patio, trying her best to keep warm in the bitter winter cold. She's dressed in Lululemon athletic clothing, and fiddles with the sleeve of her jacket as she talks on her iPhone with a friend. She blends in easily with the American students around her. Upon first glance, hardly anything would give away the fact that she's really an international student on an F1 visa.
Takahashi was born and raised in Tokyo, Japan, before she moved to Davis — on her own — as a college freshman.
The reason she blends in? As a child, Takahashi attended The American School in Japan. She knew that, like many of her peers, she'd someday travel to the United States for university-level education, and perhaps even spend the rest of her adult life there.
"Actually, I wouldn't be able to live in Japan, I think," Takahashi said. "Though Japanese was my first language, I'm more fluent in English, especially with my science major and background. I wouldn't be able to communicate scholarly in Japanese. And as a hopeful pre-med, I knew that I wanted to begin my career as a doctor here in the U.S."
Takahashi believes her experience is a little uncommon, especially when compared to those of other international students at Davis. There are 2,813 international students at UC Davis, making up 10 percent of the undergraduate student population. Their backgrounds are incredibly diverse, and yet most are united in their experience of America as a foreign country with new people and a newer culture. Among them, Takahashi appears to be in the minority: she has never experienced a total culture shock, and developed a familiarity with American culture early in life.
"I understand the nuances here. I have an understanding of American sarcasm, jokes and trends. Nothing was too different when I came here," Takahashi said. "I knew about American culture, and how people use body language here. People often touch each other when they're telling a joke, which I think is very different than in most Asian cultures."
Ironically, one of Takahashi's closest friends, fourth-year Tanvi Desai, was more surprised by American life than Takahashi was, and technically she isn't even an international student — she's a national (out-of-state) student. Desai is an American citizen by birth but an Indian at heart. She left her hometown in the Indian state of Gujarat and moved to U.S. just fifteen days before starting college.
"Before moving, I was sure that my experience in the U.S. wasn't going to be anything like India, and it really isn't," Desai said. "Back home, I had a 7 p.m. curfew and I always had to have girlfriends with me; there was no going out with boys alone. Over here, people are more open about everything. Girls are comfortable hanging out with boys all the time, and in India that would be a no-no."
Still, newfound American freedom didn't prevent Desai from missing home — at least, not for long. Once the excitement of attending a new school faded away, she realized she was lacking a convenience afforded to so many of her peers: traveling home. For California residents, a trip home is cheap and doable, and that's often not true for out-of-state or out-of-country students. Desai can only see her immediate family in the summers, and even that has proven more difficult as she's gotten older.
"I didn't realize it freshman year, but now I realize how much it helps to go back home, even just for a weekend," Desai said. "I do have some friends that I can stay with, but it's not the same. I have to Skype or Facetime my family. That's something that's very difficult because I'm very close to my parents, so to stay away from them for four years has been one of the greatest challenges of my life."
According to Dr. Wesley Young, director of Services for International Students and Scholars (SISS), such homesickness is a common experience for new students, and one that UC Davis takes into consideration with the SISS program. SISS aids students in traveling to the country safely and with proper documentation, but continues to provide support even after arrival.
"We want to make sure that our international population feels welcomed when they come to Davis, and feels connected to the community," Young said. "The theory there is if you're connected, if you feel welcome, if you have friends, you're going to be happier and more likely to achieve the academic goals that you came for."
The program has several resources designed specifically for supporting students in their new environment, academically and emotionally. SISS helps organize comprehensive International and National Student Orientations and extended orientations on Smartsite. Students are often invited to participate in events geared towards engaging in campus and community life. SISS advisers provide information for academic or legal concerns (such as a change of major, failure of a class or immigration), and counselor Dr. Sheetal Shah assists with students' emotional challenges.
"When we have a student that's in distress, whether it's culture shock, homesickness or not performing as they expected, that puts a lot of additional stress on them because they often don't have a network of support," said Dr. Tammy J. Silver, assistant director of SISS. "We have someone who can talk to them and help them to work through that. [Shah] has been a very beneficial resource and students utilize her to help them manage their stress and cope."
While neither Takahashi nor Desai have consulted a counselor like Shah during their time at Davis, they suggest that feeling connected to the school and developing a network of friends is vital to create a positive and memorable time at UC Davis. They've found each other, and rely on their friends to acclimate to the culture. Both, however, feel that they'll never be truly American, and will always feel a connection to their homes.
"At the end of the day, I'm Japanese; I'm not American," Takahashi said. "I'm going to live here in America, but just because I can't be fully Japanese by living and learning in Japan, doesn't mean I can let go of my culture."
Written by: Anjali Bhat — features@theaggie.org