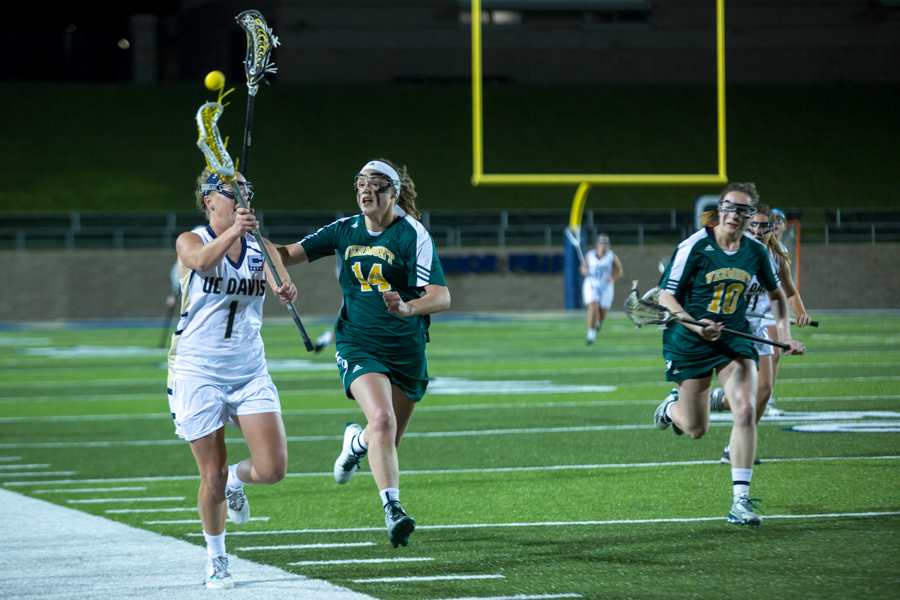 UC Davis women's lacrosse defeats Vermont 10-9 in overtime
On Wednesday, March 8, when senior midfielder Courtney Neff slammed in the game-winning goal during overtime, she proved that a single opportunity is all it takes to make a difference.
For their first time under the lights of Aggie Stadium this season, the UC Davis women's lacrosse team hosted the University of Vermont Catamounts in a match that would end in an Aggie victory.
This 10-9 victory brings the Aggies to an even 2-2 record, and is a perfect springboard for their series of home games.
"We were just so excited [because] it's our home opener and we knew that we've been working so hard in practice and that we had it in us," said
senior midfielder Ellie Delich. "There wasn't a doubt at any point in the game that we were going to pull through."
The first half of regulation was a back-and-forth affair characterized by each teams' defensive plays. The Aggies were only able to take the lead once, but that was short lived as the Catamounts quickly equalized. The half ended with scores tied 4-4.
"There were a few slips, but everyone had each other's back," Neff said. "When the ball hit the ground, we got that ground ball, and if we let a goal in, we hopped back on the line and knew we would get the next one."
Getting the next one was exactly what they did. After the two teams traded goals for 12 minutes of play, Neff scored twice in two minutes, putting out a rallying call for the Aggies. Freshman midfielder Taylor Cuenin and Delich, posting her second goal, answered that call, giving the Aggies a three-point lead.
However, some fouls on the Aggie's defensive end gave the Catamounts three free position shots, which they converted into goals. With only 11 seconds left in regulation play, Vermont looked like it had secured the victory with a shot into the back corner of the net. A judge's ruling changed the ending score when Vermont's Vanessa VanderZalm was called for a charge against junior defender Tess Kevorkian just outside the crease. Regulation ended at 9-9, forcing an overtime.
Three minutes into the overtime, Neff took a free position shot after a foul by Vermont. Just like in practice, Neff put the ball in the top corner,
marking her tenth career hat-trick and giving UC Davis the victory.
Head coach Tee Ladouceur could not have drawn up the night's victory any better.
"Obviously our goal every year is going to be to win the [Mountain Pacific Sports Federation], but overall my goal is for them just to have the best experience possible, and to come out of games like this being like, 'Yes!'," Ladouceur said. "That's what it's all about, that's what we grew up playing for, that's why we're here."
This brand new coaching staff has a lot to prove, but are well on their way to show the Aggie family that they have it all under control.
"I would say, from my perspective, the new [coaching staff] is what is most exciting about [the team] because everyone is experiencing [the new team dynamics] for the first time, it's not routine for anyone anymore," Cuenin said. "So I think even though there are freshmen, all the way up to the senior class, those seniors and those juniors and those sophomores all have that excitement."
The women's lacrosse team will continue play with a home game on Sunday, March 13, at noon, when they host Saint Mary's College.
Written by Aaron Sellers – sports@theaggie.org