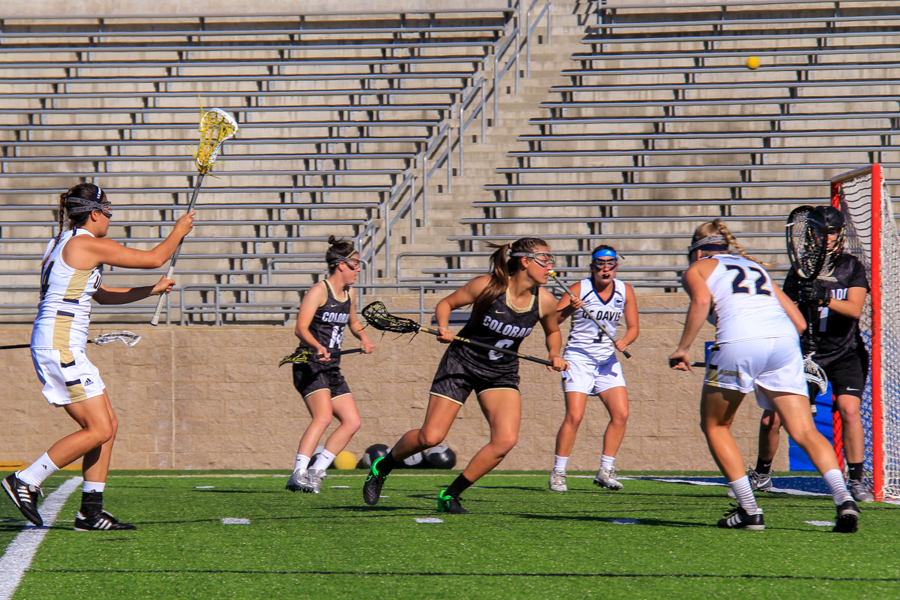 Aggies fall 14-3 to the Colorado Buffaloes in Friday home game
Despite an explosive offensive start in front of a home crowd at Aggie Stadium on Friday afternoon, UC Davis women's lacrosse lost their early momentum by a barrage of Colorado shooting, and they fell 14-3 to the Buffaloes, dropping to 1-1 in conference.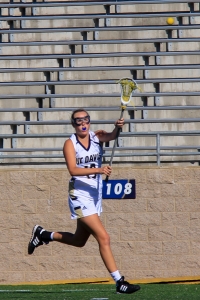 The Buffs pelted sophomore goalie Lauren Ali with 35 shots over the course of the contest, finishing the game on a 12 goal run. However, Ali had a career high day, saving 17 shots and tying for eighth on the all-time UC Davis single-game saves list.
Senior midfielder Courtney Neff started things off for the Aggies with a goal on a free possession shot, just one minute and 10 seconds into the game. Senior midfielder Mary Doyle connected on a rebound and put back a shot just two minutes later, jumping the Ags out to a quick 2-0 lead. After the Buffs leveled the score at two apiece, freshman midfielder Shannon Cross returned the UC Davis lead with a goal off an assist from senior attacker Ellie Delich.
In the final minute of the first half, Colorado intercepted an attempted UC Davis transition and returned it for a goal with 39 seconds remaining, followed by another goal at the buzzer. The two last-minute goals proved to be the turning point of the game for the Buffs, who went on to score nine second-half goals while completely shutting down the Aggie offense.
"The last two goals [of the first half] turned out to be the biggest swing of the game," said head coach Tee Ladouceur. "But we're looking to clean up those tiny little mistakes so that they don't affect us throughout the game. Those are going to be things we look at on film and then come back to and hopefully fix."
UC Davis managed only five second-half shots and were unable to get any past Colorado goalie Paige Soenksen. Offensively, the Ags failed to convert three eight-meter attempts while the other half of the field surrendered four of eight free-position shots to the Buffaloes.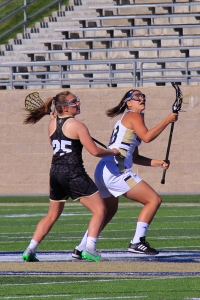 With only one day of rest before their Sunday game against Denver, the Aggies shifted their attention to their third league matchup of the season.
"I think that we just need to rest our legs a bit and re-focus and take the good with the bad with this one," Ladouceur said. "In conference play, we still control our own destiny, so that is our main focus moving forward."
The women's lacrosse team took down Denver 13-6, bringing their conference record to 2-1, and will stay at home to face UC Berkeley on Wednesday at 5 p.m.
Written by George McConnell – sports@theaggie.org