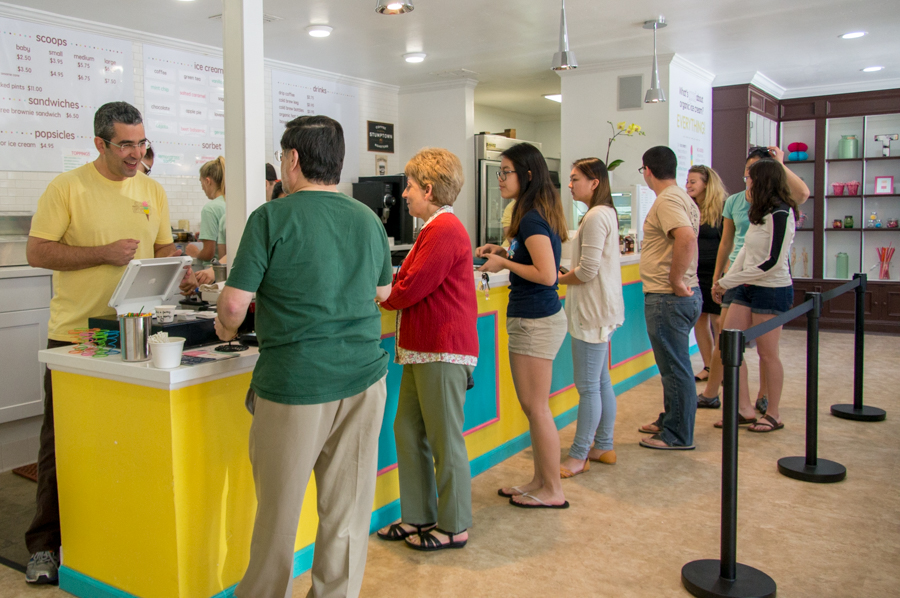 Davis ice cream choices broaden with the opening of The Good Scoop
On Saturday, April 3, Davis's first organic ice cream parlor The Good Scoop held its grand opening downtown. The Good Scoop provides a richer and purer alternative to other ice cream parlors in the area.
The grand opening was kid-friendly and energizing. A DJ played upbeat music near the front of the shop, while a clown made balloon animals. There were also stickers, coloring pages and crayons for children.
Upon entering the parlor, visitors will see a plethora of ice cream flavors available such as Beet Balsamic, Sage, Geranium and Sunflower Seed Butter. Most ice cream parlors display their ice cream behind a glass screen inside a tub. The Good Scoop, however, had their ice cream underneath a metal fridge, making the atmosphere more inviting and classier. The workers were friendly and encouraged customers to sample as many flavors as they wanted.
I thought that The Good Scoop had rich and flavorful ice cream. I sampled the Lavender, Geranium and Pineapple Grapefruit Sorbet. Because the ice cream is organic, the prices are on the expensive side, with a "baby-sized" scoop of ice cream in a cup being $2.50 and a baby scoop of ice cream in a cone being $3.50. The pricing may be
a potential problem as much of the Davis clientele consists of frugal college students.
Although the baby-sized scoop was small, it was filling, rich and creamy. The ice cream itself is also not overwhelmingly sweet. A flavor like Geranium might seem a bit odd but I enjoyed the subtle floral notes and didn't find it to be too soapy at all.
The area behind the register provides pleasant seating for customers. It is cozy and well-lit, making it a nice location to catch up with an old friend or to go on a date. The layout of The Good Scoop's seating area also allowed for a more intimate space than you would expect from other ice cream joints.
Overall, The Good Scoop sets itself apart from your typical ice cream store with its comfortable and cozy ambience, interesting flavors and use of organic ingredients. I highly recommend stopping by.
WRITTEN BY: Jennifer Duong – arts@theaggie.org