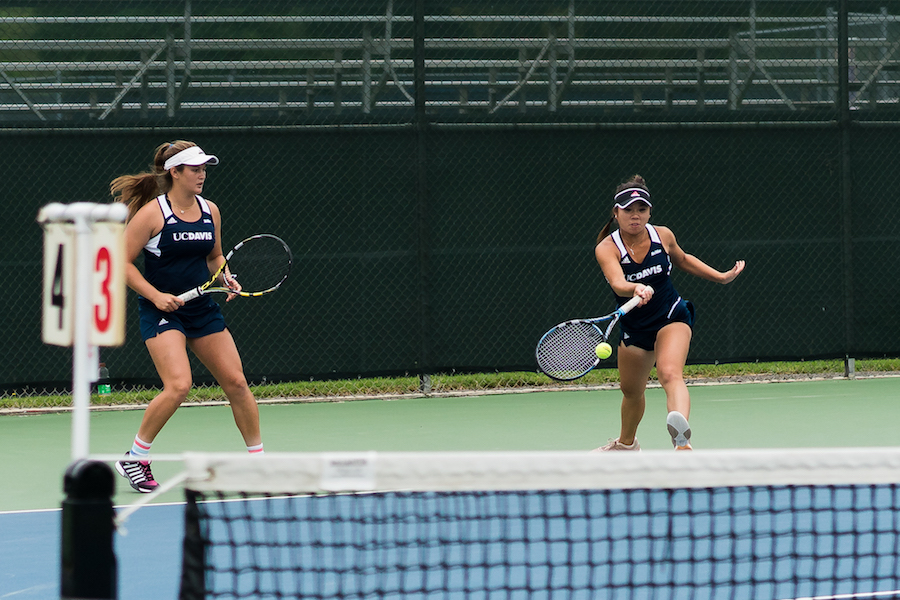 UC Davis women's tennis defeats the Warriors 7-0
On Saturday, UC Davis faced off against Stanislaus State in a non-conference match at the Marya Welch Tennis Center. The Aggies swept the Warriors 7-0, winning all the doubles and singles matches and clocking in their third win in a row. This improved their record to 9-9.
All four doubles matches were won by the Aggies, including a 6-1 win by sophomore Lani-Rae Green and junior Kamila Kecki. Following them were juniors Alex Huie and Samantha Martino, who defeated their opponents 6-2. Sophomores Kristy Jorgensen and Jessie Lee battled through a tiebreaker to win their match with a score of 8-6.
The singles players were equally successful in their matches, with Green defeating her opponent 6-3, 6-3 and Jorgensen posting 6-3, 6-4. Kecki dropped only one game in the second set, winning 6-2, 6-1, while Lee gained
another point for the Aggies with a 6-0, 6-2 win. Freshman Isabella von Ebbe and Martino capped off the day by each posting shutout victories, with a score of 6-3, 6-3 for von Ebbe and a score of 6-1, 6-0 for Martino.
The Aggies will take on Nevada on Friday, April 15 at home.
Written by: Julia Wu – sports@theaggie.org